Disclaimer: Please note this article is not financial advice. The purpose of our blog is purely educational, so please consult a professional accountant or financial advisor before making any financial decision.
These days, we're seeing a lot of popular accounting software programs offering different business solutions that make entrepreneurs' lives easier. Despite this abundance, it's still best to narrow down your options. We've done that for you by pitting two of the best software against each other: Peachtree vs. QuickBooks.
In this article, Unloop will tackle two of the most talked-about accounting software in business, Peachtree—also known as Sage 50—and QuickBooks. Naturally, these two must be on top of your choices, so let us help you decide by showing you a fair comparison that will help you weigh what's best for your own business.
Overview: Sage 50 (Peachtree) vs. QuickBooks
As small business owners and accounting professionals, we must first consider accuracy when choosing accounting software. Managing and auditing your books with highly accurate solutions is paramount, and we know that both software is worth trying, especially if you're an owner looking for a risk-free option.
Key Features
For ecommerce businesses, a mid-tier software is the practical choice when setting up an accounting system for the first time. Sage 50 and QuickBooks Online each offer one with the features that every business owner or accountant will benefit from. Let's put them side by side for comparison.
Sage 50 vs. QuickBooks: Mid-Tier Plan Key Feature Comparison
Features
Sage 50 Premium Accounting
QuickBooks Online Essentials
Number of users
1 - 5 users
1 - 3 users
Inventory tracking
Yes
No
Job costing
Yes
Yes
Cloud capabilities
Yes
Yes
Bank account sync
Yes
Yes
Invoice management
Yes
Yes
Insights and Reports
Yes
Yes
Track expenses
Yes
Yes
Payroll subscription
Separate module
Separate module
Fraud Protection
Yes
No
Support plan
Yes
Yes
Audit trail
Yes
Yes
App Integrations
One of the biggest advantages of QuickBooks Online is its vast app integrations across many platforms, not just for accounting but for payroll and ecommerce with over 750 apps. Compared to Sage 50 with over 120 apps available in the marketplace, QuickBooks easily takes the lead for this criteria.
Sage 50 vs. QuickBooks: App Integrations Feature Comparison
Sage 50
QuickBooks Online
Process and pay your employees with Sage 50 Payroll
Pay your people with Intuit Payroll
Tax-filing feature available in Sage50 Pro Accounting and higher
Avalara AvaTax lets you pay taxes conveniently
Connect Sage 50 to Xero using a third-party integration platform
Direct Xero-QuickBooks integration
Layout and Design
QuickBooks Online's interface is user-friendly. When you pull up the software, you'll first see a sidebar menu on the left side that has all the essential options you need such as the dashboard, banking, sales, taxes, and reports, to name a few.
The main section of QuickBooks Online's interface gives you a straightforward design with few details, yet presents you with the necessary ones in a way that's easy to digest.
Sage 50, on the other hand, gives more detail and looks tighter compared to most accounting software. They are generous with details, so you'll often encounter windows and dialogue boxes that contain lists, dropdown boxes, radio buttons, and other key design features. This is perfect for business owners and managers who want more information and control on how they manage their finances.
Sage 50 vs. QuickBooks: Layout and Design Comparison
Sage 50
QuickBooks Online
Detailed design with multiple tabs and screens
Simple and minimal design
Has a shortcut section on the software's side menu
Includes every essential option on the side menu instead
Detailed top bar menu with similarities to MS Office's top bar design
Top bar menu includes only several icons on the right side of the dashboard
Minimal graph representations of data
Highly visual graphs matched with data
Sage 50 vs. QuickBooks: Price Points
The good news is that both Sage 50 and QuickBooks Online graciously offer special discounts. Moreover, QuickBooks has a 30-day trial period, and Sage 50 lets you take a test drive or view an on-demand demo.
If you do decide to subscribe, here are the available plans.
QuickBooks Online
QuickBooks Online has four plans with varying subscription prices and user capacity.
QuickBooks Online Plan Comparison
Simple Start
Essentials
Plus
Advanced
Pricing
$15 / Month
$30 / Month
$45 / Month
$100 / Month
Users up to
1 user
3 users
5 users
25 users
Suitable for
Freelancers, micro-businesses, beginner accountants or non-professionals
Small businesses
Businesses needed inventory and project management
SMBs (small- to medium-sized businesses)
Peachtree (Now Sage 50)
PeachTree offers three tiers for their online accounting software. Each of the plans are also paid on subscription basis.
Peachtree Online Plan Comparison
Pro Accounting
Premium Accounting
Quantum Accounting
Pricing
$57.17 / Month
$82.09 / Month
$136 / Month
Users up to
1 user
5 users
40 users
Suitable for
Solopreneurs and micro-businesses
Small businesses
MLBs (medium-sized to large businesses)
Sage 50 Accounting Software Highlights
Sage 50 isa tool you can install on a desktop computer. When you look for tools to help you track your business finances, this name will be among the first recommendations you will see. Here are its highlights.
A Tool for Businesses of Different Sizes
Sage 50 has categorized its offers for different businesses: small, medium, and businesses of any size. So, owners can easily pick the services that fit the expanse of their venture. For instance, a small business offer includes cloud-based accounting, time and billing tracking, and workforce management. More and more bookkeeping and accounting features are added to the plans for other business sizes.
Solutions for Different Industries
Sage's service categorization for various industries differentiates it from other small business accounting tools. The software particularly flexes its reliability by being an accounting tool for several for-profit and non-profit industries. The tool's features are tailor-fitted to satisfy the needs of the different trades.
Satisfying Different Business Needs
Nevertheless, if you do not fall into any of the industries mentioned, you can still enjoy these features of Sage 50:
ERP, accounting, CRM, and HR software
Inventory and supply chain management
Business intelligence
Payment processing
Accounting
Startup cost budget templates
These offers will be included depending on the plan you subscribe to. The greater your investment, the more features you will get.
QuickBooks Accounting Software Highlights
Not far behind, the accounting tool many businesses go to is QuickBooks. Similar to most software companies, its maker, Intuit, offers several product lines such as their top-of-the line QuickBooks Enterprise and their powerful starter, QuickBooks Essentials. But the most popular among ecommerce businesses is QuickBooks Online.
You can access this software on desktop computers and mobile phones. QuickBooks is equally reliable as Sage 50 because of the following features.
Live Bookkeeping
When you sign up for a QuickBooks plan, you'll enjoy its live bookkeeping immediately. This feature keeps your books up-to-date by ensuring that financial data from the start of the year to the current month are collected, categorized, and stored. If you sign-up midyear, bookkeepers will track whatever data is missing. Trained bookkeepers will update your books live from then on.
Classic Features for Accounting
You'll also get to enjoy these traditional bookkeeping and accounting features by using QuickBooks:
Invoice generation, sending, and scheduling
Bank reconciliation
Income and expense tracking
Snapping and storing receipts
Making and receiving payments
Tax tools
Data security
Bookkeeping
Inventory management
Time and project tracking
Tax Penalty Protection
Keeping your finances tracked has plenty of benefits, but one is being prepared when tax season comes. With QuickBooks, you'll be equipped with all the data you need. To ensure that all the data you submit for a tax audit is accurate, QuickBooks has a tax penalty protection that guarantees up to a $25,000 payment per year if you get any tax-related inaccuracies and errors from the tool.
QuickBooks Priority Circle
Another perk that sets QuickBooks apart from its competitors is the Priority Circle. This service offers QuickBooks Advanced users in-depth training about software usage and 24/7 customer support. You won't need to go the extra mile by looking for a QuickBooks training program, which will surely cost extra.
Quickbooks vs. Sage 50: The Similarities
As two highly-sought accounting software, Sage 50 and QuickBooks understand what most businesses need when it comes to management. To be competitive, they have to expand what their software is capable of, extending them beyond bookkeeping and accounting. The result is a set of four features similar to each other yet delivered in their own unique ways.
You'll enjoy the following offerings with both QuickBooks and Sage 50.
Business Accounting
Make sense of all the details your bookkeeper has logged in and generate reports of your business income and expenses through accounting features of both QuickBooks and Sage 50. You can rely on both software to store and create accurate reports quicker than manual accounting. Software and third-party apps make the task very simple and less complex.
There are other accounting apps available such as Photeeq, FreshBooks, and Zoho Books. If you have important documents in another software, you can integrate them easily to QuickBooks or Peachtree as both software have the capabilities.
As a result, there will be no need to open several books and Excel sheets to check data because everything you need will be in one place. With these features, you can access real-time business data remotely and generate reports from the latest numbers.
Cloud-Based Accounting
Cloud-based technology is a way to secure data. Before, you'd store important information about the company on an office desktop, which anyone can access. Now, data can be stored in the cloud with impregnable security that requires special approval for each step.
The company's manager can control who can access business information through cloud-based accounting. In most cases, the company bookkeeper, accountant, and finance teams are the only people granted access. Then, everyone with access can see the same information no matter where you access the app.
Time and Project Tracking Capabilities
You can reap plenty of benefits with accurate time tracking and project management. Among them are the following:
You can check the time rendered by all your employees in-house or remotely.
Project progress is visible to you and other members of the team.
Different teams and departments can collaborate.
Business operations are organized.
The software can generate time tracking into invoices for easier payroll processing.
The processed payroll can automatically be sorted as company expenses.
You can store data on time and project spending for future reference.
A small business owner must look for these convenient features in accounting software—both Sage 50 and QuickBooks offer them.
Payments and Billing
Everything these days is automated, so if you run into software that does not offer the automation expectations you have, strike it off your list. Regarding receiving and sending payments, generating invoices, storing receipts, and sorting all these transactions into categories for accounting, both QuickBooks and Sage 50 have got you covered.
So, get ready to link your payment gateways, receiving accounts, bank accounts, and credit cards to Sage 50 and QuickBooks so the software can track all direct deposits and expenses immediately. Wherever you are, when you receive a notification of payment or request to pay, you can process them instantly as long as there is an internet connection.
HR Services
Both Sage 50 and QuickBooks have a service focused on human resource (HR) management, which is essential once you've grown your business and already managed several employees.
The HR feature is especially helpful if you have a diverse team of professionals working for you. This ensures employees' wellbeing is handled well according to the laws and regulations where your business operates.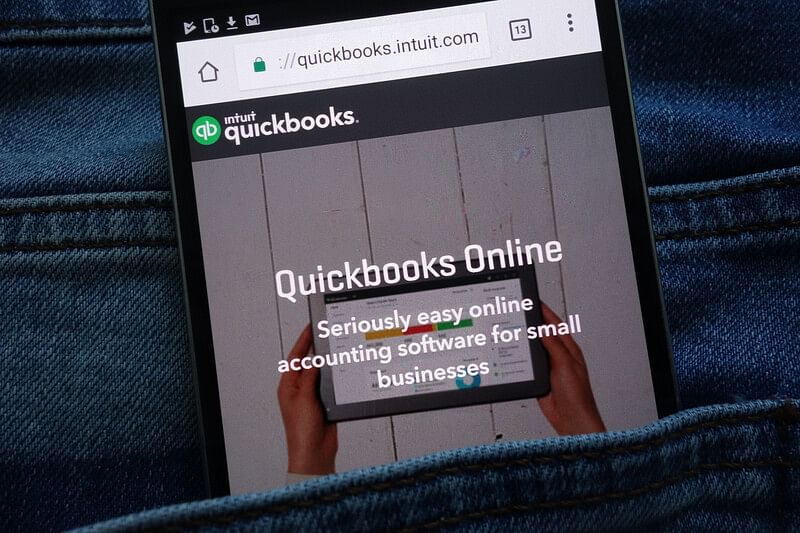 Sage 50 vs. QuickBooks: The Differences
Despite their similarities, the two accounting software also have to differentiate themselves to stand out. Here are the four key differences that may determine whether you'll choose Sage 50 or QuickBooks.
QuickBooks Offers Live Bookkeeping, Sage 50 Offers Live Updates
A prime difference between Sage 50 and QuickBooks is bookkeeping services. QuickBooks has a team of expert bookkeepers clients can consult with via appointment to check how their business is sailing. Once you sign up for QuickBooks's full-service live bookkeeping, these professionals can help you cleanup your accounting data and do ongoing accounting and consultation.
The live bookkeeping function, however, is different with Sage. The Sage Live feature only offers real-time collaboration with people that handle your bookkeeping. As for providing a full service accountant, you'll need to get your own.
Quickbooks Is Simpler, Sage 50 Is More Detailed
In terms of accounting software interface, QuickBooks focuses more on a user-friendly interface with a clean-looking dashboard and a simplified side menu which helps users easily see and navigate through the sections to find out essential information.
Sage 50 gives more detail. It packs a lot of options on its dashboard which includes a sidebar menu and a top bar menu. Users can see different sections and icons on their screen for pointing to a specific segment you need to update or manage.
Sage 50 and QuickBooks Offer Difference Industry-Specific Features
Accounting and bookkeeping are needed in all business types and sizes. Aside from offering general assistance, both Sage 50 and QuickBooks provide industry-specific accounting in niches different from each other. Here are the differences in industries they serve.
Sage 50 vs. QuickBooks: Industry Niche
Sage 50
QuickBooks Online
Checmicals
Churches
Franchise
SaaS and Subscription
Which Is Better? Sage 50 vs. QuickBooks
We recommend QuickBooks Online over Sage 50 because of a few critical factors. It's cheaper than Peachtree because it doesn't require a desktop app and the software can work online. The accounting software also has a user-friendly interface, making it easier for ecommerce business owners to learn. Many accountants also prefer the simplicity of QuickBooks Online.
Unloop's team of bookkeepers are also experts in QuickBooks Online. It's the software we use to help out ecommerce business owners clean up and maintain their financial records so they can make better decisions. If you choose QuickBooks as your accounting software, maximize its potential by having a team who knows how to use it as if your bookkeeping is on autopilot. Give us a call now!