Disclaimer: Please note this article is not financial advice. The purpose of our blog is purely educational, so please consult a professional accountant or financial advisor before making any financial decision.
Have you recently migrated your physical store to digital platforms? And are you already familiar with online business accounting? If not, then it's understandable, as most of us prioritize business operations over financial aspects like this.
Nevertheless, cash flow is what keeps your business afloat. This is one of the key indicators that your online business is profiting or losing money. Without solid tracking, you won't have a clear view of your financial health.
If you're still unfamiliar with online business accounting, the different software you can use, and their corresponding benefits to your venture, this article will be your handy guide. Read on to learn more about the process and why you must invest in your accounting.
What Is Online Business Accounting?
Online business accounting encompasses two interconnected processes. One pertains to accounting for online businesses. It can also mean using internet technology to carry out the accounting process. These may have different meanings, but you can experience both through online business accounting software programs.
In the past, we followed traditional accounting practices wherein you had to hire a bookkeeper or accountant and meet with them. But now, things are more seamless and precise. You don't have to schedule meetings and personally give them your business's financial data.
Online business accounting (or e-accounting) means that all your accounting operations are done and saved online through the cloud, making it more accessible for you, your team, and your accountants. It performs all traditional accounting functions but with added convenience and accuracy.
5 Benefits of Online Business Accounting to Small Businesses
Small business owners can benefit the most from online business accounting. It eliminates the need for dedicated in-house accountants, reducing overhead expenses. Most accounting software providers also offer user-friendly and accessible tools, allowing you to manage finances and track income efficiently.
But these advantages are just the beginning. Explore some additional ways it can be of help.
1. More Accessible
Doing all your processes online is logical, especially if you sell on Amazon, Shopify, or other ecommerce platforms. From there, you can easily consolidate your information, simplifying your record-keeping and financial reporting.
Doing a quick run-through of your overall performance is also a part of your business. Having accurate data will back you up in presenting your progress and profitability to potential investors. It can boost credibility, attract funding opportunities, and seize growth prospects.
2. Automation of Tasks
Printing data and writing on a ledger can be an exhausting task. Not to mention that finishing your books is time-sensitive. These data have to be accurately consolidated for them to be properly analyzed.
Gone are the days through dozens of purchase receipts or checking how many sales went in each of your revenue streams for that month. With online business accounting, data entry is a breeze. Its automation skills can effortlessly log everything into the system, including:
✅ Income and Expense Tracking
✅ Invoicing and Payment Processing
✅ Sales Tax Calculation
✅ Inventory Management
✅ Payments Payable
Automating tasks makes things more efficient and error-free. It lets you breathe easily, knowing your financial records are reliable and authentic.
3. Reduced Paperwork and a Sustainable System
Going digital means you can save a ton of paperwork. All financial data and records are securely stored in the cloud—no need for mountains of physical documents, receipts, or ledgers.
The shift to a paperless system also aligns with sustainable activities, reflecting an eco-friendly approach. Minimizing paper usage reduces the environmental impact and sends a clear message about your brand's commitment to responsible business practices. This resonates strongly with today's eco-conscious consumers.
4. Room for Scalability
This is how business grows: not only are your sales skyrocketing, your inventory is too! Scaling entails catering to more SKUs or increased stock orders, so you'll have to deal with a lot of cash coming in and out. You will also make additional payments here and there.
It's different from online business accounting. Even with high orders, tracking finances becomes manageable through automated and synced processes.
You may not be at your desired business size currently. Still, it's one less problem to worry about in the future, all because you switched to online accounting.
5. Get an Accurate and Real-Time Overview of Your Finances
How many times do you check your sales and expenses tally once a month? Most companies that still use traditional accounting may only be provided with this data at the end of the month.
With e-accounting, you can bid farewell to such frustrations. Real-time, updated, and accurate financial information is ready at your fingertips. You can make well-informed decisions based on actual numbers, eliminating the need for rash choices unsupported by data.
You can also adjust your performance anytime, as it offers an updated overview of your business's finances.
How To Choose the Best Online Accounting Service
With the rise of small businesses come numerous online accounting services, each claiming to be the best solution for your financial needs and long-term goals. How do you know if an accounting service can cater to your needs? Below are key points to consider.
Monthly Revenue
You should have your monthly revenue data before signing up with an online accounting service. These services base their pricing on how much your business earns.
It's reasonable for online accounting services to price services based on earnings because their workload will depend on your revenue. It is expected that the more money your business makes, the more work needs to be done.
Number of Accounts and Transactions Included in the Package
An online accounting service may also charge you depending on the number of accounts and transactions you will let them handle. Some charge per account enrolled in the service, while others offer unlimited transactions, with the pricing depending mostly on your monthly revenue.
Some small businesses think hiring an accounting service that charges per account or transaction is best. This is a good way to start, but it might not be sustainable and scalable.
It's still a lot cheaper for you to invest in a service that offers unlimited transactions. It can accommodate your business's expansion without any unexpected financial burdens.
Technology and Security
Online accounting software is one way to facilitate bookkeeping and accounting activities. Different small business accounting software are available, each with pros and cons.
Best Accounting Software for Small Businesses
QuickBooks Online
The gold standard for cloud-based accounting. It offers accounting features like invoicing, expense tracking, inventory management, financial reporting, and bank reconciliation.
Xero
A double-entry accounting software. This approach guarantees that every transaction is accounted for twice. It can maintain a perfect balance between debits and credits.
FreshBooks
Ideal for service-based businesses. FreshBooks excels in time tracking and project management. It simplifies billing and client collaboration, making it suitable for freelancers and small service providers.
Zoho Books
A free accounting software. Despite being free, it still offers core accounting functionalities, making it an ideal starting point for businesses on a tight budget.
Before hiring an online accounting service, create strong guiding questions about their tools and software. Here are some to consider.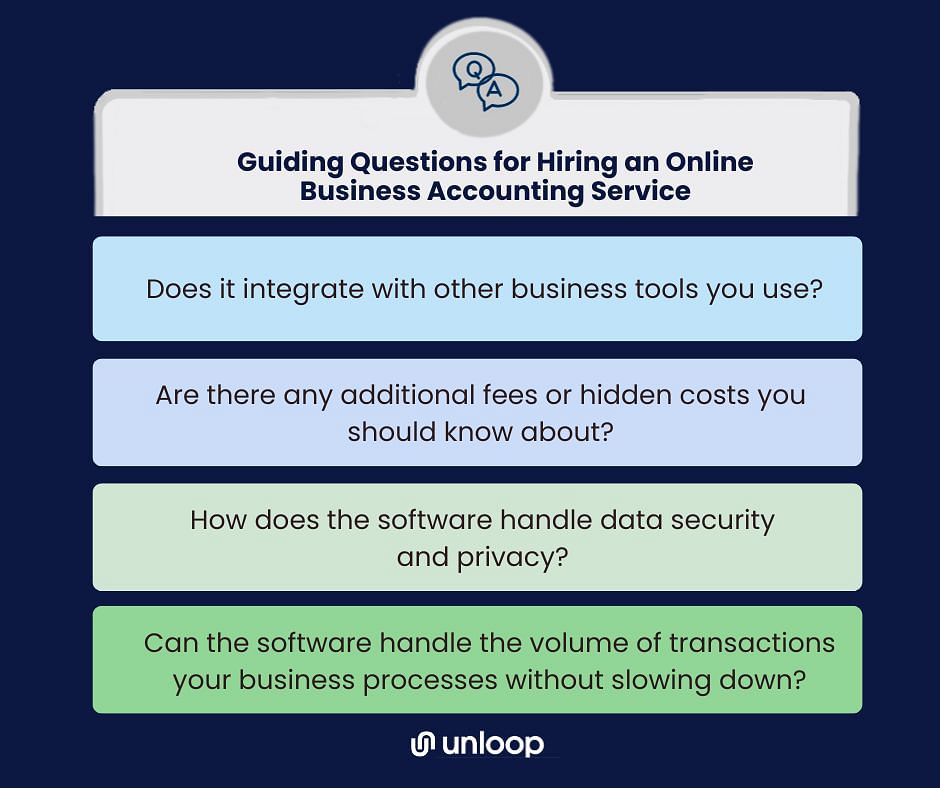 You can confidently assess the capabilities and compatibility of various online accounting services by seeking answers to these guiding questions. Rest assured that your financial management processes will be in capable hands, allowing you to focus on growing and succeeding in your business endeavors.
Customer Service
Accounting can be a complex process, especially if you lack a background. The technicalities involved in software and process flow might seem overwhelming to learn.
It's crucial to recognize that not all accounting services offer guidance, from onboarding your files to receiving your financial statements. Therefore, selecting an accounting team with whom you can communicate openly is essential.
Having a line of communication with their team will help you better understand the financial management process. Their support and guidance can make your business journey smoother, even if you are not well-versed in accounting practices.
Will You Still Need the Services of an Accountant?
The short answer is yes and no. Most online accounting and bookkeeping services do not file taxes since you must work with a CPA firm for that. But at the end of the day, they can expedite your business processes. They can produce the most accurate financial statements with the help of the different accounting software mentioned above.
Unloop is one such online accounting team that recognizes the challenges online sellers face in finding affordable accountants. Our services go beyond providing financial statements; we collaborate with CPA firms at discounted partner rates, saving you the hassle of searching for one on your own.
We offer unlimited transactions and access to Quickbooks Online and A2X. This way, you can base any decisions you make now and in the future on actual data derived from your business.
Get all of these and more when you sign on with us. Book a call today!