Disclaimer: Please note this article is not financial advice. The purpose of our blog is purely educational, so please consult a professional accountant or financial advisor before making any financial decision.
Embracing the digital age has revolutionized accounting and bookkeeping for businesses, and cloud accounting software stands at the forefront of this transformation. Efficiency, accuracy, and real-time data are king these days, and you don't want to get left behind with outdated processes. Learn the benefits of cloud accounting software and make the switch.
When you start using online accounting software, you'll soon realize its advantages. In this article, we are listing seven points to start and an introduction to Quickbooks Online and Xero—two of today's most coveted accounting software.
Disadvantages of Outdated Accounting Processes
It's not easy to let go of the processes you're used to. It's even harder when these systems involve company finances. But is it worth it to keep using outdated accounting processes like spreadsheets?
Here are some flaws you have probably experienced in using Excel sheets:
Accessibility Issues
Excel sheets are difficult to access as they require individuals to log in to a computer where the file is. When one needs a personal copy, they need a USB, an email address, or a shared drive. Getting updates to the main copy is time-consuming as it requires repeating the file acquisition process for the latest version.
Excel files are also prone to corruption, so you must always have a backup file. You won't be able to access the file once it becomes corrupted, and you need to start from scratch again.
Prone to Human Errors
Data input for Excel sheets is manual, which makes it more prone to human errors. Although you can automate computation and summarization of data, the results will still depend on the accuracy of the data source.
With Excel sheets being prone to human errors, you and your team must do frequent and detailed checking, which can be time-consuming.
Doesn't Encourage Collaboration
The bookkeeper and the accountant should work together to ensure books are updated and accurate for reports and the tax season. However, this collaboration can be difficult with a single Excel sheet you can access on one computer. Data collection and constant updates become a burden.
Limited Integrations
Excel acknowledges how important integration is. You can now integrate a few tools like Outlook, Mailchimp, Google Sheets, Trello, Hubspot, and Slack with it. Although these are helpful, they are limited. Businesses also need to integrate applications for banks, payment channels, inventory, timesheets, project management, and more!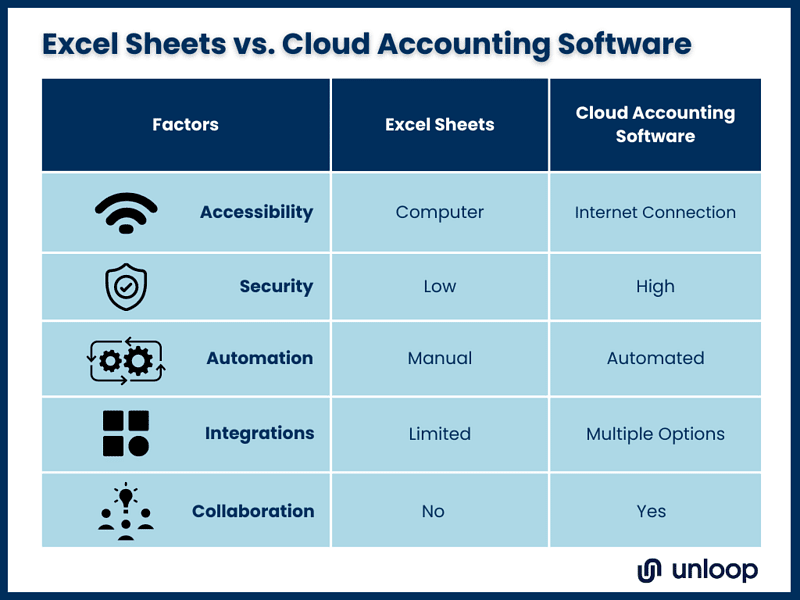 Benefits of a Cloud-Based Accounting Software
Now that you know the limitations of using Excel sheets, let's look at why a cloud accounting system is a worthy investment. Check out the benefits of cloud-based accounting below:
More Environment-Friendly
First is its friendliness to the environment. When you switch from traditional accounting to cloud-based accounting systems, the first thing you'll notice is the pile or cabinets of paperwork on your financial reports. You save all this paper and resources by allotting the money to reliable cloud software.
Automation
Many cloud accounting services offer bank reconciliations, easy transfers, and receipt automation. You can instantly convert documents and receipts from images into text. Integrating eCommerce stores into the cloud-based accounting software for sales and inventory management is also possible.
Invoicing, expense tracking, and bank reconciliation are also covered—everything is automated! All these data are automatically registered in the cloud and seen on your books.
Protection From Data Theft and Corruption
Information and business financial data are kept confidential by locking hardcopy books in cabinets and protecting offline computer programs with passwords. Cloud accounting offers intense data security. With a cloud-based accounting system, your finances are kept with layers of security that are tried and tested against hackers.
Only authorized people you can trust can access these documents. As a result, it's almost impossible for files to get corrupted in cloud accounting systems compared to files saved on a computer or printed on paper.
Collaboration
When you give passwords to your team of bookkeepers and accountants, they can work together and update the file simultaneously. They can skip the hassle of sending the most updated file to their colleagues as the changes are immediately updated in the cloud for authorized people to see.
Quick Generation of Reports
As a small business owner, you can see your business growth and your business financial data in real-time, too, with your team being able to collaborate on updating your books. You can generate the report yourself or delegate the task to your accountant, who can access and get the data they need from the cloud accounting platform in just a few clicks.
Accessibility
The accessibility of cloud accounting solutions contributes to the convenience of data updates and team collaboration. Because it is a cloud-based system and not dependent on specific office computers, anyone can access them anywhere as long as there's a stable internet connection.
Many cloud accounting services these days even go the extra mile to optimize their application for mobile use. This is because of the convenience and the number of individuals relying on smartphones.
Affordability
Cloud-based services are worth your investment because of the time, money, and resources you will have saved.
You save time on resources because everything will be paperless.
Manually updating books is more time-consuming than using cloud platforms, where all transactions are automatically saved on the cloud.
Also, many accounting software allows tailored features that align with your business needs.
Quickbooks Online and Xero Cloud Accounting Software
Which accounting software offers the benefits of cloud technology? Experience the benefits of cloud computing accounting software firsthand with Quickbooks Online and Xero.
Check out how your business may benefit from using these cloud accounting platforms:
Quickbooks Online
Quickbooks Online offers a live bookkeeping accounting solution, so you are sure that your books are always updated, and you can always get reports with real-time data. The data are sorted out and categorized through automatic configuration and customization.
You can create invoices with a "Pay now" button, send them to your customers, and receive their payments. Payments made in different channels will be tracked, categorized, and safely stored in the cloud and in time for reports.
If you manage a team, tracking their time and projects and managing their payroll are also possible with Quickbooks.
Xero
Xero has almost the same offers as Quickbooks Online, allowing you to give out and receive payments in just a few clicks. This process is possible because the cloud accounting software links banks and other payment channels.
Not only can you pay and receive payments, but you can also receive them on time because the accounting tool schedules them. All you have to do is approve the transaction to proceed.
You can also integrate payroll software to ensure that the hours rendered by your employees are paid accordingly.
With the help of the software, salary and tax computation are also taken off your plate, minimizing the headache when tax season comes. In addition, you can see your income, expenses, and other company key performance indicators through easy-to-generate reports in this cloud accounting platform.
Get Assistance From Unloop!
There are numerous benefits to having your accounting processes automated through cloud computing. If you haven't started using cloud-based accounting yet, now is the time to make the switch. Quickbooks and Xero offer many features that will make the accounting and bookkeeping process easier and help you boost your business performance.
Unloop can be your partner if you decide to update your processes. We have a team of bookkeepers and accountants using Quickbooks and Xero. Let us manage your books for you. If you are interested or have any questions, book a call with us, and we are more than happy to talk with you!