QuickBooks Online (QBO) and Xero are two of the best accounting applications dominating the business industry. Both have excellent things to offer and investing in them can make a difference in streamlining your venture's financial management. But what if you must choose only one? This Xero vs. Quickbooks guide can help you decide!
Choosing between two excellent accounting software can be a real dilemma, so let this article give you a better understanding of Xero accounting vs. QuickBooks Online. Keep reading!
The Key Features of Xero Accounting Software
Xero is a New Zealand-based company and one of the fastest-growing and most popular accounting software in the market, with over 3.7 million subscribers worldwide. A two-time holder of the title "World's Most Innovative Growth Company" by Forbes, Xero has a cloud-based system for startups and small businesses. Users can enjoy a more streamlined financial workflow with Xero through the following helpful features.
Double-entry accounting: With Xero, business owners can record transactions using double-entry accounting software, ensuring accounts payable and receivable are tracked.
Collaboration: Small business owners use the program to handle their accounts individually and collaborate with outsourced accountants, as the popular Xero supports unlimited users.
Mobile use: Xero's mobile app allows access from any location anytime—tracking suppliers and customers, inventory management, invoicing, managing bank transactions, and many more!
Reporting: Generate full financial reports by selecting "All Reports," and access data such as business performance, balance sheet, cash flow statement, and bank feeds.
Payroll premium: Manage payroll effortlessly with Xero by providing your company information, payout schedule, and employees' details. Set up tax requirements and choose the payment account with ease. Use time tracking data and scheduled runs.
User-friendly Interface: Xero's intuitive interface includes "Bills You Need to Pay" and "Pay" sections on the right side, and you can also customize the displayed modules. If you still need help navigating it, there are online courses on Xero's website.
Create invoices: You can create and send invoices seamlessly through Xero. Just add bank details and design invoices in the Accounts section.
Unlimited accounts: Offering a bottomless space for accounts if you manage multiple businesses is Xero's major advantage against other accounting platforms.
Xero's Plans and Pricing
Xero offers a 30-day trial to see if this accounting tool is the one for your business. Growing businesses can invest and upgrade to enjoy more advanced features, from Xero's Starter, Xero Standard, to Xero Premium.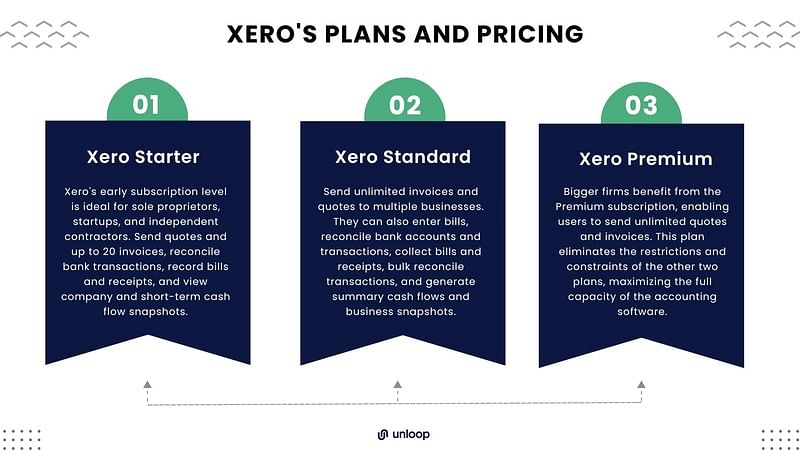 Excellent Accounting Features of QuickBooks Online
Intuit Inc. is an American company known for its financial software, such as TurboTax, Mint, and QuickBooks. QuickBooks, launched in 2002, swiftly gained popularity as accounting software in the United States, holding a 74% market share within three years. By 2019, Quickbooks Online reached a whopping 4.5 million subscribers worldwide.
You may wonder why it quickly became a go-to software for most businesses. Below are reasons they choose Quickbooks Online for their bookkeeping and accounting needs.
You probably wonder why it quickly became a go-to software for most businesses. Below are the reasons they choose Quickbooks Online for their bookkeeping and accounting needs.
Cloud-based software: Initially, Intuit offered desktop-based QuickBooks Pro and QuickBooks Desktop to install on Windows computers. Intuit later released QuickBooks Online, an internet-based software to leverage the benefits of the cloud.
Receipt capture feature and invoicing: It solves common tax season challenges for small business owners by allowing them to take photos of receipts, automatically scan them with optical character recognition, and use the details for invoices.
Data analytics: QuickBooks dashboard offers factual data and analytics that are easy to navigate.
Fully functional mobile app: Small business owners can download QuickBooks's mobile application to check their accounting transactions wherever they are.
Technical Support: QBO offers free support within certain hours, depending on your chosen package.
Data-encrypted backup: Quickbooks Online offers automatic backups and feature updates that can restore firm files and make them less prone to corruption.
Intuitive interface: QBO is user-friendly. Investing time to familiarize yourself with the software and its functionality will make learning easier.
Bank connections: Quickbooks online connects to your bank accounts and automatically downloads and sorts different transactions once you provide your bank details.
Data analytics: When you go to the application's homepage, you will see a dashboard that gives you a quick analysis of your income, expenses, bank balances, profit and loss, and sales.
Quickbooks Online Plans and Pricing
You can have a monthly subscription to QBO or choose among the various plans like the QBO Simple Start, QBO Essential, and QBO Plus. Whether income and expense management, financial management reports, and even sales tax tracking, you can find a plan that suits your needs best.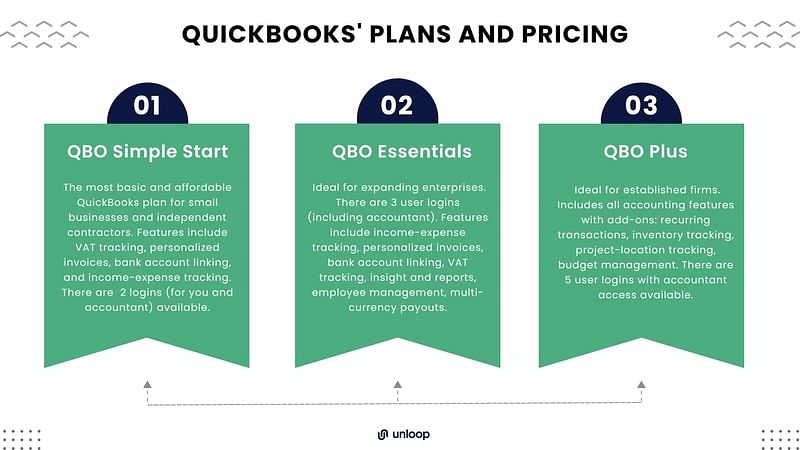 Xero and Quickbooks Online Comparison
After knowing the key features above, we can conclude that both Quickbooks and Xero can give your business solid accounting operations. But more important is identifying which of these two top accounting tools can meet your business accounting needs.
So let's compare the two according to the most important functions any ecommerce business may look for in an accounting tool. One checkmark indicates the feature's presence, while two checkmarks denote a software's dominance over the other:
| | | |
| --- | --- | --- |
| Function | Xero | Quickbooks |
| Managing Expenses and Bills | ✅ | ✅✅ |
| Integrations | ✅✅ | ✅ |
| Tracking | ✅ | ✅✅ |
| Technical Support | ✅ | ✅✅ |
| Invoicing | ✅ | ✅✅ |
| Project Management | ✅✅ | ✅ |
| User-Friendly Interface | ✅ | ✅ |
| Multi-Currency | ✅ | ✅ |
| Customizable Dashboard | ✅ | ✅✅ |
| Inventory Management | ✅✅ | ✅ |
| Scalability | ✅ | ✅✅ |
| Bank Reconciliation | ✅ | ✅ |
| Reporting | ✅ | ✅✅ |
| Payment Gateways | ✅ | ✅ |
| Multiple User Access | ✅✅ | ✅ |
Let's further discuss these software features to ensure the software's suitability to your business needs.
Expense and Bill Management
Both Xero and Quickbooks Online let you scan your receipts and bills for more efficient handling of your income and expenses. They also enable bank reconciliation for seamless expense and bill management. Both accounting tools have an easy process when connecting to banks without compromising the security of their clients.
Xero offers extra expense tracking features through an add-on called Xero Expenses. If you have team members reporting expenses to a centralized system, this add-on can make everything faster and easier.
On the other hand, QuickBooks Online offers expense functionality in all their plans.
Tracking and Support Features
QBO remains superior in claiming expenses, transaction tracking tags, customer service, mileage, and time tracking compared to Xero. Quickbooks Online permits users to claim expenses across all of its subscriptions.
Meanwhile, Xero offers that feature on its highest-tier package. Xero also allows users to generate two active tracking categories (in contrast, QBO allows 40).
Fixed Asset and Inventory Management
If you want a tool to track inventory, Xero is better at inventory management than QBO. The inventory management feature of Quickbooks Online is available only on its high-tier plan. In contrast, Xero makes it available to all of its plans.
Xero is also a step ahead regarding fixed asset management, as the feature is available in all plans. Meanwhile, QBO encourages users to download a third-party add-on or manually set up an asset account.
Ease of Use
QBO and Xero are tied when it comes to the user interface. Both applications are easy to use, and users can easily see results from the dashboard.
If you must keep your books independently, you can do so with Xero or QuickBooks live bookkeeping. Even without an accounting degree, given the right learning curve, you can figure out how to use the different functions of accounting software through online resources and expert assistance.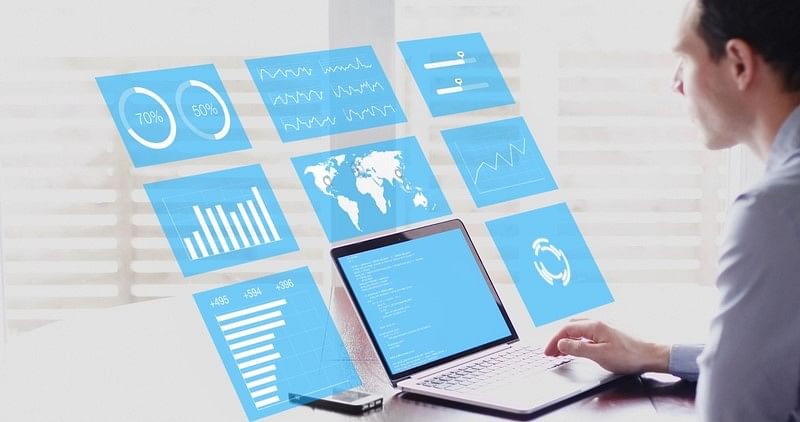 Dashboard Data
Most accounting software dashboards offer a quick overview of how your business is performing and are customizable depending on your needs. However, the respective dashboards of Quickbooks and Xero have a few differences.
QuickBooks Online offers multiple customizability options for clients with unpaid invoices, pending bill payments, cash flow, and more. On the other hand, Xero initially provides you with a minimalist dashboard, which you can customize later on.
Invoicing Features
Issuing invoices shouldn't feel like a chore. It should be fast and accurate. QBO is the dominant one in terms of invoicing because it can support a generation of unlimited invoices. It lets you edit customer information on the invoice page instead of forcing you to navigate to your customer records. This feature can be handy when you need to change the billing address.
In contrast, Xero allows only 20 invoices. Its invoice page is more straightforward, featuring only the most relevant fields, such as invoice number, issue date, due date, and the client.
Scalability
Small ventures will eventually grow into mid-sized businesses. As a result, you'll have to process payroll for more employees, cater to more customers, and manage larger inventories. Thus, you must ensure your accounting solution grows with you and your business.
In this regard, Xero and QuickBooks Online differ slightly. Xero is the go-to choice for rapidly growing businesses and startups because it scales well with them. Meanwhile, solopreneurs and small business owners will find QuickBooks Online more suitable. If you have a bigger business, QuickBooks offers enterprise-level solutions.
Pricing
Comparing the pricing of Xero and QuickBooks Online, Xero is way cheaper than QBO, considering Xero supports unlimited users. Both Xero and QuickBooks Online offer three-tier pricing plans. However, they widely differ in how many features their cheapest online plans provide.
💡 When choosing which plan is suitable for your business, it would be best to check the specific offers of each plan and not just the costs. You'll realize that investing not in the cheapest plan but the one that satisfies your business bookkeeping and accounting needs is the wisest choice.
Xero VS. Quickbooks Online: Our Verdict
It's tricky to declare that one software program is inherently superior to another when comparing Xero and Quickbooks. The decision on the Xero VS. Quickbooks Online topic ultimately comes down to your company, your required functionality, your budget, and the features that matter most to you.
Ultimately, whichever accounting software platform you select—Xero or QuickBooks Online—will enable you to manage and optimize your accounting procedures effectively. Make sure to check out their free trials before subscribing to any plan.
If you are ready to leverage the potential of top accounting software, get started with Unloop! Our team of experts combines their experience in ecommerce bookkeeping and accounting with industry-leading accounting software.
Put your business finances on autopilot. Get in touch with us today, and let our experts do the bookkeeping for you!