Are there moments you find yourself asking, "How often should you reconcile your bank account?"
Bank account reconciliation is an essential practice for maintaining financial accuracy and ensuring timely reporting. The task involves comparing your business's accounting records to your bank statement, identifying any discrepancies, and making necessary adjustments.
Through bank account reconciliation, you are sure that your financial records are accurate. Regularly reconciling your bank account not only helps to identify potential errors or fraudulent activity but also provides insight into your company's cash flow. By staying on top of these reconciliations, you can confidently make informed decisions.
With these, let us know the appropriate frequency for reconciling your bank account to achieve your goals and the benefits that come with it.
How Often Should We Do Bank Reconciliation?
Bank reconciliation should be done on a regular basis, preferably monthly or quarterly, to ensure accuracy between bank statements and accounting records and to detect any discrepancies or errors.
To help you decide better on how often you should do your business bank reconciliation, let us go through the benefits of the different schedules and the process in doing them.
Weekly Books and Bank Statements Reconciliation
Performing weekly bank reconciliations can help you maintain up-to-date financial records and monitor your cash flow effectively. By reconciling your bank account and books weekly, you can spot any discrepancies or potential fraud early on, allowing for swift resolution.
Weekly reconciliation assists you in managing your cash account and accounts receivable more effectively, avoiding overdraft fees, and ensuring sufficient funds for accounts payable.
To perform a weekly reconciliation, have a daily balance sheet and bank statement comparison. Identify and resolve any discrepancies, such as bank errors, adjusting journal entries, or unusual transactions. Reconcile each transaction individually to ensure accuracy.
Monthly Books and Bank Balance Reconciliation
Monthly reconciliation is crucial for tracking and controlling your business's cash flow and financial health. Banks typically send monthly statements for the previous month, making it essential to reconcile your books and bank balance regularly. By performing a monthly reconciliation, you can catch any missed payments, double payments, or accounting errors.
Focus on your daily and weekly cash account balance, and compare it with the bank statement balance. Make sure that outstanding checks, deposits in transit, bank charges, and interest income are all included in the details. If you find any discrepancies, make any necessary adjustments to journal entries or correct calculation errors for accuracy.
Quarterly or Annual Bank Account Reconciliation
Conducting quarterly or annual reconciliations provides an opportunity to review your financial records comprehensively, identifying any possible fraud or accounting errors that may have gone unnoticed during the weekly and monthly processes.
A more in-depth review of your financial records at the end of a quarter or fiscal year allows for a thorough analysis of your cash accounts, accounts payable, and accounts receivable.
Compile the bank statements for the entire quarter or year and compare them with your cash account and general ledger. Review the bank accounts for any unexplained transactions or discrepancies not identified during the weekly or monthly reconciliations. Make any necessary adjusting journal entries to correct discrepancies.
Factors to Consider In Bank Reconciliation Frequency
When considering how often to reconcile your bank account, consider the factors below too. These details can influence the best frequency for timely and accurate financial reporting.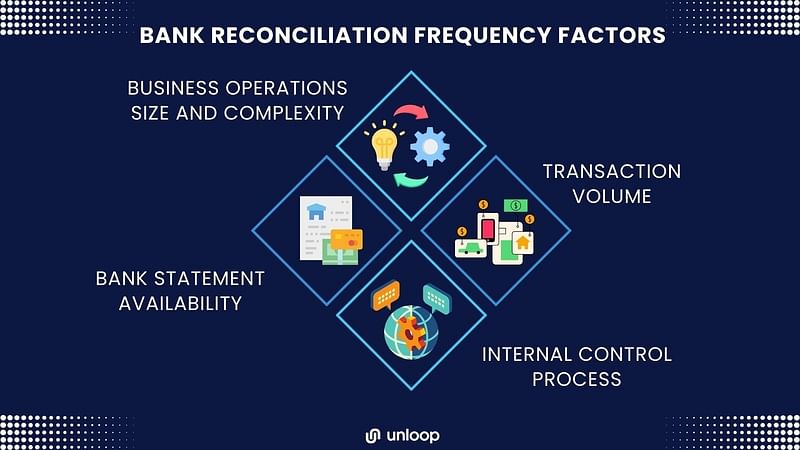 Size and Complexity of Business Operations
Larger businesses with more complex operations may need to reconcile their bank accounts more frequently, as they are likely to have more transactions and a higher risk of fraud or accounting errors. Smaller businesses with fewer transactions, on the other hand, may be able to perform bank reconciliations less frequently, such as on a monthly basis, without sacrificing the accuracy of their financial reporting.
Volume of Transactions
A higher volume of transactions can lead to more potential discrepancies between your cash account and your bank statement. Therefore, if your business has a high volume of transactions, it may be more efficient and accurate to reconcile your bank account more frequently, such as weekly or even daily. Conversely, businesses with lower transaction volumes might find it sufficient to reconcile their accounts on a monthly basis.
Frequency of Bank Statement Availability
The frequency at which your bank provides statements will also influence reconciliation prevalence. Typically, banks send monthly statements, which aligns well with a monthly reconciliation schedule. However, with online banking and access to daily transaction updates, you may choose to reconcile your account more frequently to stay on top of your financial records.
Internal Control Processes
The strength of your internal control processes will play a role in bank reconciliation frequency. Segregation of duties and a thorough review process will allow for timely identification and resolution of discrepancies. You can minimize the risk of fraud and accounting errors whether you choose to reconcile your bank account daily, weekly, or monthly.
Tools and Software for Streamlining Reconciliation Process
Reconciling your bank account regularly for timely and accurate financial reporting will be easier with the various software available. The tools below can help streamline your bank reconciliation process to improve efficiency and reduce errors.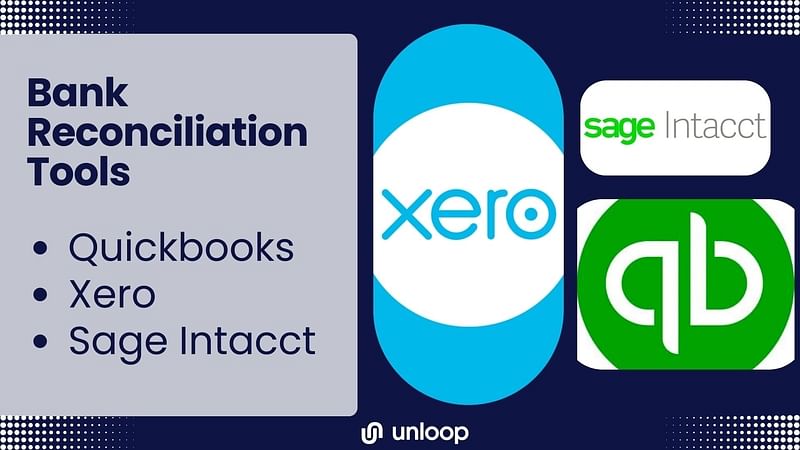 QuickBooks
You cannot miss QuickBooks in accounting. This tool offers features for reconciling bank accounts and credit card transactions, making it easier for you to identify discrepancies in your financial records and keeping financial data correct and updated.
Xero
Another accounting software that can assist in your reconciliation process is Xero. Xero provides tools for bank reconciliation, allowing you to efficiently track and match transactions. Its bank feed feature also reduces manual effort and increases accuracy.
Sage Intacct
Sage Intacct offers automated bank reconciliation capabilities. This cloud-based accounting tool helps you streamline the process and identify bank errors or discrepancies in your financial records quickly and efficiently.
BlackLine Account Reconciliation
BlackLine Account Reconciliation is an enterprise-grade solution that enables users to streamline the reconciliation process, improve productivity, and ensure accuracy.
ReconArt
ReconArt is a comprehensive reconciliation software that provides a unified platform for performing reconciliations across various accounts and sources.
FloQast
FloQast is an accounting workflow automation platform that includes reconciliation capabilities, facilitating collaboration and ensuring accuracy during the process.
SAP S/4HANA
SAP S/4HANA is an integrated enterprise resource planning (ERP) system that includes built-in reconciliation functionality, minimizing manual effort and maximizing efficiency.
Mistakes and Challenges Affecting Reconciliation Timeline
By now, you already have an idea on how often you should do your bank reconciliation for your business. But before you get going check out these mistakes and challenges first. By being aware of these common mistakes and challenges, you can ensure a more timely and accurate bank reconciliation process.
Incorrect starting balances: Failing to use the correct beginning balances in the reconciliation process can result in ongoing discrepancies.
Missing transactions: Overlooking or not including all transactions can lead to inaccurate reconciliations.
Data entry errors: Mistakes while entering amounts or referencing transaction details can cause discrepancies.
Reversing transactions: Accidentally reversing the amounts of transactions can lead to incorrect reconciliations.
Forgetting to include outstanding checks or deposits: Overlooking unprocessed checks or deposits can cause discrepancies in reconciliations.
Incorrectly reconciling uncleared items: Mistakenly marking outstanding transactions as cleared may result in improper reconciliations.
Failure to investigate discrepancies: Ignoring or not investigating discrepancies can lead to ongoing errors in the reconciliation process.
Volume of transactions: A large number of transactions can make it difficult to reconcile each one accurately.
Bank fees and charges: Additional charges or fees imposed by the bank may not be accurately captured in your organization's books.
Unidentified transactions: Transactions without clear descriptions or references can be challenging to reconcile accurately.
Inactive or closed accounts: Inaccurate or incomplete information about closed or inactive accounts can lead to discrepancies.
How Often Should You Reconcile Your Bank Account: As Often As You Need With Unloop
Bank account reconciliation is essential for maintaining accurate financial records and identifying discrepancies before they escalate. By reconciling your accounts on a regular basis, you can ensure the integrity of your cash flow and make informed financial decisions.
For seamless bookkeeping and expert assistance with bank reconciliations, consider partnering with us here Unloop. With our range of financial services, from accounts payable, payroll, and tax assistance, we'll help you keep your records up to date and accurate, giving you peace of mind and more time to focus on growing your business.
Contact us now to get started!