Disclaimer: Please note this article is not financial advice. The purpose of our blog is purely educational, so please consult a professional accountant or financial advisor before making any financial decision.
Many Canadians started online businesses during the lockdown, while some pivoted their traditional brick-and-mortar stores into online ones. Mississauga is no stranger to these businesses. But, these new ecommerce sellers often find it hard to keep track of cash flow, which is why they must hire the best bookkeeping services in Mississauga.
In this blog post, you'll learn how to choose the right bookkeeping services and the qualities that make an accounting firm the best for your business.
Things To Consider When Choosing Bookkeeping Services in Mississauga
You can choose from plenty of bookkeeping support services in Mississauga. But before committing to one particular service, you have to consider two things.
Ask yourself what bookkeeping services you need.
While there are plenty of bookkeeping providers in Mississauga, some of them may provide certain services only. Before committing to a bookkeeping company, you should assess what specific areas of bookkeeping you need help with.
For example, you may need help managing your financial statements, such as cash flow, accounts payable, and payroll. Those are the easier parts of bookkeeping. But there's also the rigorous side of it, such as tax planning. The services your business needs will mostly depend on your company's size.
<$50,000 monthly revenue
Basic monitoring of cash flow
Payroll services
>$50,000 monthly revenue
Bookkeeping
Tax services
If your business has less than $50,000 monthly revenue, you'll most likely just need basic monitoring of cash flow, payroll services, and other areas of financial management. But if you make more than $50,000, you might need to consider bookkeeping and income tax services. This is a good sign because more accounting work means your business has grown more than expected!
Assess how knowledgeable you are with bookkeeping services.
Some small business owners opt to do their books on their own. If you're also thinking of doing that, you need expertise in performing bookkeeping tasks. You should know how to crunch and analyze numbers, and organize and file books. More importantly, you should know the tax requirements in your area.
It sounds like it requires a ton of time and effort, and it does. But as a business owner, you'll want to focus your energy on operating and growing your business. So, if you need help in managing your books, especially with making a bookkeeping and tax services business plan, it's a good business move to trust the experts with it.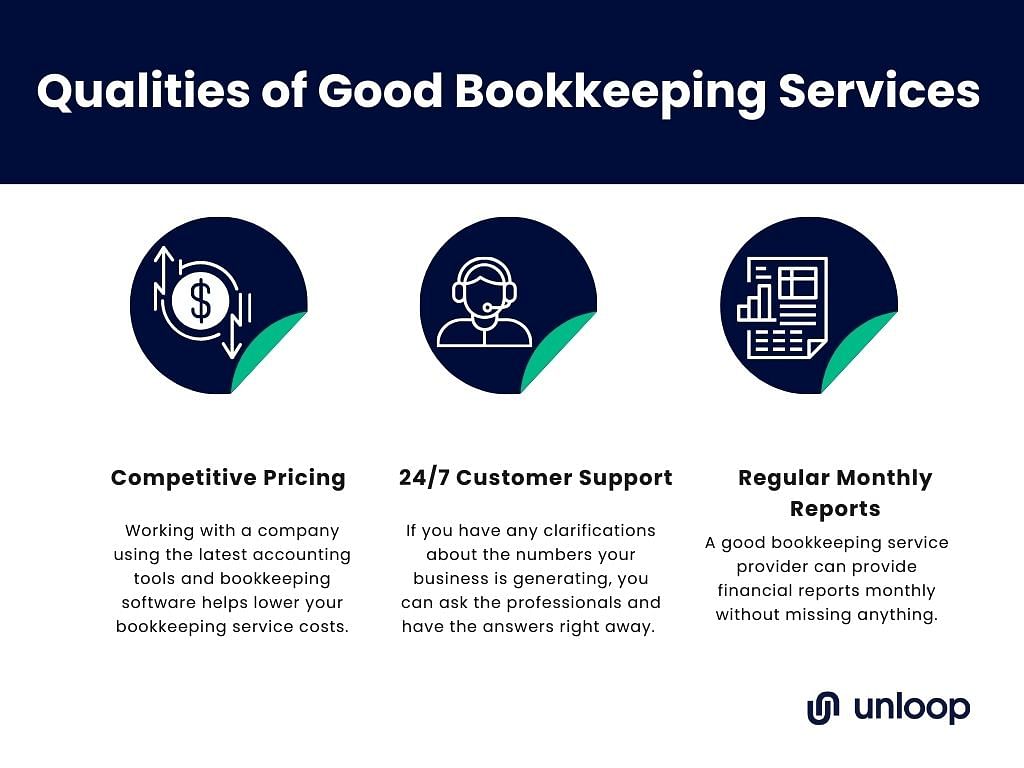 Qualities of Good Bookkeeping and Accounting Services in Mississauga
The two listed above are the questions you should ask yourself before getting bookkeeping and accounting services. After evaluating your business needs, you're ready to move forward and choose which bookkeeping services you will get. Here are some things to consider during your search.
They offer competitive pricing.
Canada's high cost of living can be a challenge for many residents, especially business owners. And it's no secret that accounting and bookkeeping services are costly. After all, this is a fairly technical field, and you'll want to have professional bookkeepers or a hired professional accountant working on your books to ensure everything is accurate.
Since you're in the ecommerce industry, it makes sense to work with a company that focuses on providing the best bookkeeping services using the latest accounting software at competitive prices.
Opting for this will lower your bookkeeping costs, eventually giving you more profit.
They offer 24/7 customer support.
💡A good bookkeeping service should always be available to assist you 24/7.
If you have any clarifications about the numbers your business is generating, you should be able to ask them and have the answer right away. You won't get this if you work with traditional bookkeepers and accountants. These people get extremely busy, especially during tax season. You can barely get a hold of them during this time, but it shouldn't be an excuse to leave you hanging.
The best bookkeeping services can immediately give you clarification when you need it. It gives you peace of mind and understanding about your numbers, leading you to make better business decisions.
They produce your monthly reports without fail.
Numbers are the backbone of any business. That is why checking and analyzing your financial data monthly is important. Through this, you get a detailed report of how well your business is performing, particularly with your sales and overall expenses. These reports will tell you if your business is still profitable or not.
This is especially important In Mississauga, where businesses are competitive. A good bookkeeping service provider in Mississauga can help you succeed in your online business by providing monthly detailed reports.
Work With the Best Bookkeeping Services in Mississauga
Business accounting is a crucial and technical process you should invest in. Understandably, you cannot do it all by yourself. You'll need the help of a trusted Mississauga bookkeeping service company.
Unloop provides expert accounting, bookkeeping, and even forecasting services targeted toward online businesses in Mississauga. With the help of partner accounting firms and accounting service integrations such as Xero and QuickBooks, we will provide you with the best bookkeeping service in the city.
Ready to focus on growing your business? Book a call with us today, and let us do your books for you!