Today, we will talk about one of the best accounting software in the market: Xero Accounting Software—a means for accountants and bookkeepers to track data and transactions easier and safer than manual means.
If you are already considering signing up, let us encourage you further and help weigh your options by providing eleven benefits to reap using Xero small business software.
11 Essential Features of Xero Accounting Software
Accounting is a broad and difficult area to traverse in business, especially for those with little experience and knowledge. Tasks like invoice creation, expense or income tracking, payroll, and transaction processing can often be headache-inducing.
Thankfully, accounting systems like Xero have begun popping up recently to assist mid-sized and small businesses in need. But what makes Xero among the top accounting solutions?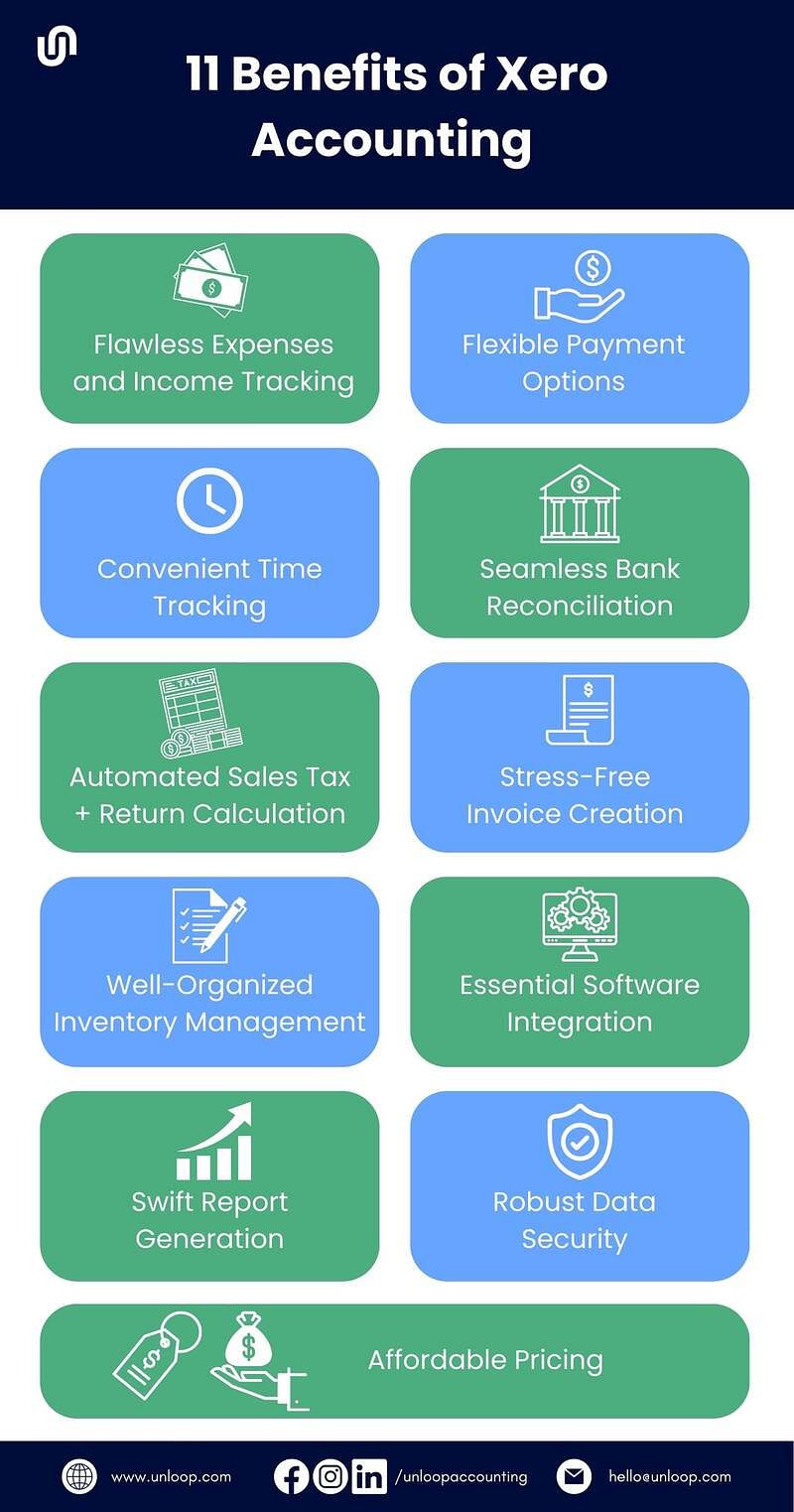 #1: Seamless Expenses and Income Tracking, Including Multicurrency
Among the accounting tasks you or your accountants and bookkeepers need to accomplish are income and expense tracking, which are much better done automatically.
Through Xero Software, your bills are tracked through automated online payments or by taking photos of the receipts.
The payments from your clients are also automatically stored in the system, especially when they pay bank-to-bank or via credit and debit cards. The multicurrency feature lets you enjoy this regardless of the currency used.
#2: Flexible and Comprehensive Payment Methods
A wide range of payment options benefits you and your clients. You can quickly pay vendor dues, and your clients conveniently pay you through these payment options:
| | | | |
| --- | --- | --- | --- |
| Bank-to-bank transactions | Credit cards | Debit cards | GoCardless |
| Stripe | PayPal | ApplePay | Transferwise |
Through Xero, your business can adapt to the trend of cashless transactions. All the money coming in and out of these payment options is automatically tracked by Xero through bank, Stripe, Paypal, and Transferwise feeds.
#3: Convenient Project and Employee Work Time Tracking
Below is a breakdown of Xero software's project and employee time-tracking benefits.
🕜 Organizing Projects and Employee Time: If you work on different projects with several employees, you can organize the projects together with the time rendered by each worker through Xero.
🧾 Automated Invoicing: By the end of every cutoff, the data you get from the timesheet automatically turns into an invoice for payment. It then falls under your expense data.
🤝 Client Quotes and Collaboration: Send client quotes about projects for approval before collaboration begins.
📨 Electronic Payments: Clients can swiftly send electronic payments at the end of a transaction.
📞 Contact Management: Xero's contact management feature makes client and project tracking easier. This feature allows you to add contacts and list essential details about them, such as their name, email address, phone number, etc.
🗒️ Notes Field: Suppose specific information needs attention with an invoice or bill, like a payment due date or special instructions for payment processing. Xero allows you to create essential notes for each contact and ensure easy access.
#4: Seamless Reconciliation with Bank Accounts
You can easily reconcile bank transactions with Xero. Once your bank account is connected to Xero, business transactions are automatically imported to the software, neatly sorted, and categorized for tracking and reporting. If some details are not indexed, Xero will send you an alert. These transactions either required tagging or investigation in case of issues like fraud.
Reconciliation should be done daily to keep your system up-to-date. You can also bulk reconcile transactions to check if the bank money matches the data on Xero.
To easily track these activities, Xero provides a Bank Transactions tab, where you can do the following:
View a list of all your transactions, search for specific ones, or filter by date range or type of transaction.
View bank statements. If you've imported a bank statement from Xero Cloud (or another accounting platform), it'll be displayed here so that it's easy to reconcile against the information in Xero Cloud.
Export a bank statement for future reference, or send one to your accountant.
#5: Automated Calculation of Returns and Sales Tax
Taxes are one of the most complicated business areas every business owner must go through. Much information goes into sales tax compliance: rates, exemptions, rules, and regulations. It can be overwhelming to track how these different factors impact your business.
Fortunately, they are made easier through Xero's automatic sales tax and returns calculation. With Xero, you must input as many tax rates as possible for each item for the accounting system to automatically calculate the sales tax.
You can also optimize your data by adding tax rates for specific contacts, products, or accounts. Then, you can generate a sales tax report which you can also use to generate tax returns.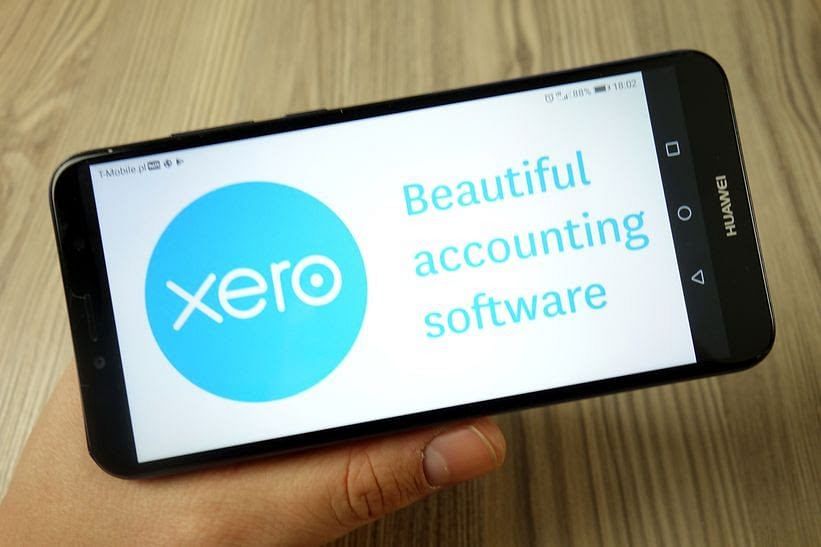 #6: Stress-Free Invoice Management
Are you tired of creating online invoices over and over from scratch, especially for recurring transactions? With Xero's invoicing capabilities, you can easily create a template, schedule the invoices, and automatically remind your clients about the dues they need to pay.
Moreover, you can instantly receive customer payments as invoices appear with a "Pay Now" call-to-action button. The money that enters your account will be tracked accordingly by the system. Note that you can send these invoices whether you are on a computer or your phone.
#7: Streamlined Inventory
If you're a small business owner, inventory management is essential. However, the cost of keeping track of your stock can be a big burden for your cash flow, especially if the quantity of your inventory is too high.
Xero allows you to import and update CSV files directly from marketplaces like Amazon and eBay so you can keep track of your inventory immediately. You can also see how much cash flow has been earned through sales or returns on these platforms and even receive notifications when new purchases are made.
Bonus: Xero's built-in search feature makes it easier to find items from across all areas of your business, including customers, suppliers, and contacts.
#8: Integration of Essential Software into Xero
Xero's software integration allows you to look at a single software to assess your business's financial health instead of going back and forth. Here are some of the tools you can integrate:
Trello: Trello is a project and employee tracking software you can incorporate into Xero.
Gusto Payroll: Gusto is an application that calculates payroll automatically. You can integrate this into Xero payroll to place all essential details in your Xero system.
Gmail and Office 365: Conveniently import contact details to Xero to generate invoices faster.
#9: Swift Financial Report Generation
Many reports are generated automatically on Xero's dashboard, such as expense claims, income, profitability, unreconciled bank transactions, and your company snapshot. Business owners and managers can use these reports to set budgets, plan investment strategies, and make other essential business decisions.
Plenty of templates exist; you can customize the reports to check specific data or key performance indicators.
On top of these reports is Xero Analytics. It focuses on tracking your cash flow. The feature generates reports based on all the data tracked by the system. It can also show a forecast report on your cash flow if the same trends continue.
#10: Top-Quality and Robust Data Security
Xero has passed different data security standards, so rest assured confidential business information is protected.
You can share financial information through a multi-faceted feature, allowing team members to view their own data and select data from others, including customers, suppliers, and other teams. This might raise some data privacy and security concerns on your end. Luckily, you can still protect the financial particulars of your business using the access control function.
For example, you can enable multi-factor authentication to get a notification and accompanying authentication code whenever anyone tries to log into your account.
#11: Budget-Friendly Tool
With all the assistance you can get from the software, you will surely get your money's worth. Xero offers various plans to suit your business size, but from just $25 per month, you can already enjoy some of its top features.
If you want unlimited access, you can sign up for the $54 monthly plan. Before deciding, check out the details of each plan and consider what your business needs the most.
Explore Top-Notch Accounting Software With Unloop!
The capabilities of the Xero software are impressive with all the manual tasks it can take from your or your accountant's and bookkeeper's hands. You can use the time and effort you save to plan your next steps in growing your business.
If you are still wondering how to use Xero software, we at Unloop will gladly assist you. Thinking of moving to other accounting software like QuickBooks Online? Unloop experts are also experienced in running such tools!
Book a call now. We have a remote accounting and bookkeeping team ready to help you anytime!