Financial forecasting is the backbone of good financial planning. Many things can affect a financial forecast other than numbers and some formulas. Fortunately for business owners, technology makes forecasting easier through financial forecasting software tools.
Businesses use several budgeting and forecasting software to help predict future performance and plan future budgets. To help you choose which is best for your business, we've listed some of the best forecasting software options.
6 Best Budgeting Forecasting Software Tools
Financial forecasting directly affects your budget planning, business strategy, and investments. Even a structured business model needs financial forecasting to prepare for the future.
It's a big problem when businesses run out of cash or are unprepared for the surge of expenses to keep their business running and retain their clients. Accurate financial forecasts are valuable to every business, whether big or small.
Most businesses start with an Excel spreadsheet to develop their financial forecasting. However, forecasting in spreadsheets can be complicated and restrictive due to the following reasons:
Data entry in spreadsheets is manual and highly prone to human error.
Excel sheets make it difficult to collaborate.
Without a central database, you still have to double-check formulas, references, and other data manually.
Forecasting in Excel is doable, but it is time-consuming and may not always be reliable. Developers continually make software solutions for more progressive, innovative, and convenient forecasting.
Here are the top budgeting and forecasting software products you should check out.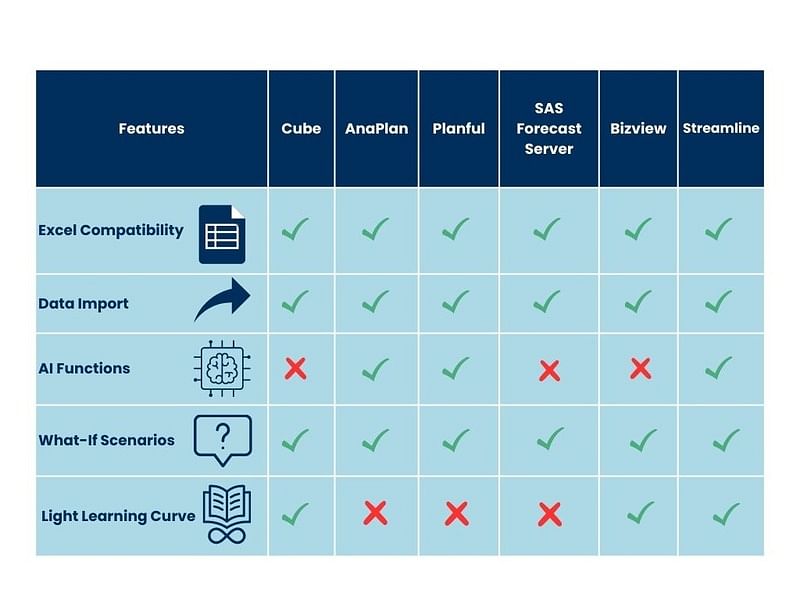 1. Cube
Cube is one of the top-rated forecasting software for businesses. It is the best budgeting and forecasting software for startup businesses that want to quickly transfer their data from manual spreadsheets to forecasting software without studying complicated interfaces. Here is a quick overview of its benefits:
Cube has a spreadsheet-style interface, so businesses that come from Excel won't have difficulty adapting to a new software solution.
It significantly lessens manual work and gives real-time data into your business's financial needs.
The software gives you access to teams with expert experience in financial forecasting and budgeting.
It promotes faster workflows and is optimized for easier collaboration.
Some of the noteworthy functions of this financial planning software include:
✅Automatic data consolidation
✅Bidirectional Microsoft Excel and Google Sheets integrations
✅User-based controls
✅A centralized database for formulas and other data
✅Customizable dashboards and reports
2. AnaPlan
AnaPlan forecasting software is designed to plan for complex scenarios and do intelligent forecasting for faster and more accurate decision-making. It is ideal for bigger businesses with a dedicated IT team that can handle complex software controls. Here are some key benefits of using AnaPlan:
✅It lets you overcome financial and operational planning challenges using user-owned business models.
✅It keeps you updated with the ever-changing marketing conditions using AnaPlan's model engine.
✅Allows you to view business plans on detailed levels to see how they can affect your business in real-time.
✅Increases the accuracy of your decisions and business outcomes by using predictive analysis and what-if analysis.
3. Planful
Planful is an affordable cloud-based solution for structured and dynamic planning, consolidation, and reporting that suits mid-market companies. Planful offers the following features and benefits:
✅ An annual operating plan to help define your company's blueprint for a year.
✅ Workforce planning helps an organization hone employees to work at their best performance.
✅ Scenario analysis to explore every possible option and steer towards it at a moment's notice.
✅ Financial reporting for key financial insights to make better and quicker decisions: This reporting is fully automated and eliminates errors, so you can trust the data you have on hand.
Planful also has AI-enhanced operations and functions that allow businesses to lessen the number of people they need to hire in the financial department. This reduces expenses in hiring staff.
4. SAS Forecast Server
SAS Forecast Server is one of the popular business forecasting tools because of its ability to generate accurate forecasts quickly. But more than quick forecasts, SAS has many great features to let you be in full control of your business financials:
The forecasting software has an easy-to-use GUI that can:
✅Generate automatic forecasts in batches or interactively.
✅Build and reconcile forecasts created in varying time intervals.
✅Publish forecasting results via the company's portal, the internet, or hard copy.
Its scalability and modeling also offer the following:
✅Freedom to choose the level of automation for the forecasting process
✅Creation of new models by combining two older business models to create more accurate forecasting results
✅Enhanced performance capabilities through the multi-threading of forecasting and diagnostic engines
The SAS forecasting software has many great and advanced features, which makes this forecasting software good for small businesses and large enterprises. However, it can take some time for business owners to familiarize themselves with the software, but the product has official demo videos to help new users.
5. Bizview Financial Planning and Analysis Software
Bizview is another cloud-based solution that can streamline your planning, forecasting, and budgeting processes in one software. With a stable internet connection, you can access this software anytime and on any device.
Here are some of the features of Insight Software's Bizview:
✅Flexibility, so you can control the software to match your business's needs.
✅It continuously monitors and updates forecasts for the entire year to give your business better insights.
✅It develops accurate financial plans across your entire business, including sales budgets, productions budgets, employee budgets, etc.
✅It allows you to access data from your ERP system and other data sources to create reports without relying on ITs.
Bizview has an interactive Excel-like interface, so many business owners prefer this software. It is also the most affordable software you can use for small businesses.
6. Streamline Forecasting Software
Streamline is the leading forecasting software for the first quarter of 2023. Its revenue forecasting processes are realistic, innovative, and quick to ensure that your business is on the right track when planning budgets and making strategic decisions. This budgeting and forecasting software suits big and small businesses.
Here are some of the key features of this forecasting tool:
✅The software provides seamless integration of your financial data. You can easily import operational data from your system to Streamline and automatically export financial projections to your ERP system.
✅The software has a scenario planning feature to analyze data and pinpoint potential issues that could happen so you can consider them in your business planning.
✅Financial predictions can involve inventory, cash flow forecasting, and other factors affecting your finances.
✅It has AI-based forecasting capabilities, which ensure 99% accurate budget forecasting at all times.
Swift and Precise Financial Management and Forecasting With Unloop
There are hundreds of financial budgeting software available for businesses to use. It is just a matter of choosing the right software for your needs. The forecasting tools discussed are some of the best examples you can get for your business. But don't be afraid to explore and find budgeting and forecasting tools to suit your liking and needs.
If you need a budgeting, forecasting, and accounting professional, Unloop can do the job! Our services include revenue forecasting so that we can help small businesses like yours in their growth trajectory.
We use your business's historical data to determine and fix any pain points before they happen. We will also set your business up with an excellent and suitable reporting tool for accurate financial forecasts and continuous planning.
Book a call with our experts today and monitor your financial performance!