Financial management can be daunting for small business owners. Bookkeeping tasks often demand valuable time better spent on business growth. Luckily, automated bookkeeping continues to transform how small businesses control their finances.
Automating makes it easier to keep accurate records and make smarter decisions. You can find various bookkeeping software that can do most of the work for you, from cloud-based solutions that offer real-time updates to affordable options you can tailor to your needs. With the right tools, bookkeeping automation can help you focus on scaling your business and making a profit.
This guide will delve into the advantages of automated bookkeeping and explore some of the best software options available to help you get started. Let's get into the details!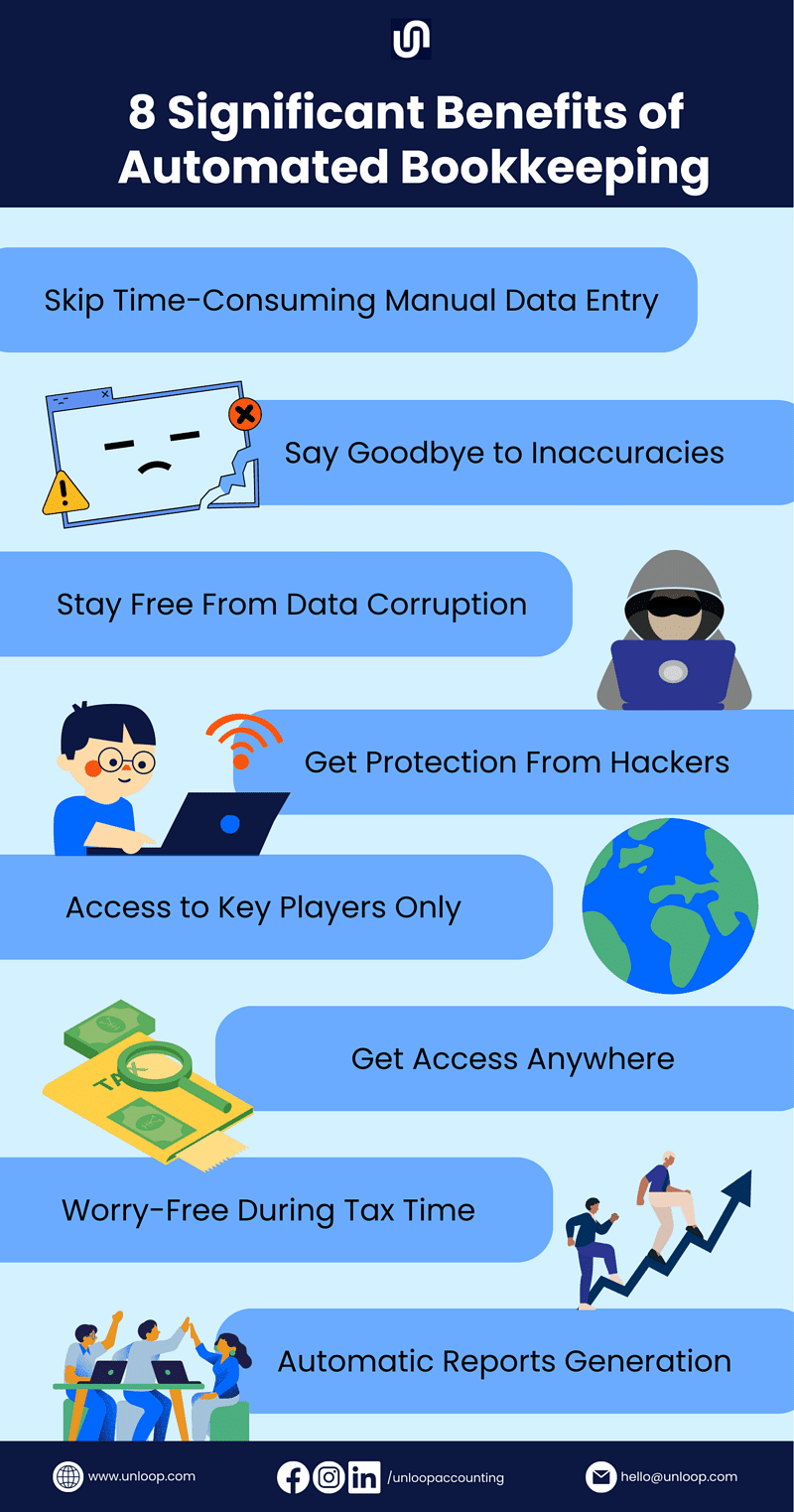 Are you planning to switch from manual bookkeeping to an automated system? Or are you a budding entrepreneur seeking to embrace automation for your financial management? Regardless of your level of expertise, automation has the potential to revolutionize your bookkeeping and accounting tasks.
Below are eight compelling benefits of bookkeeping automation that prove you are making the right choice.
1. Skip Time-Consuming Manual Data Entry
As a business owner, you have a lot of things on your plate. Freedom from manual entry could save you the trouble. Simply look for optical character recognition software that allows you to capture receipts or documents and convert them into text. You can then integrate this tool into your main accounting software for categorization.
In addition to automatic data entry, you can incorporate your bank into your bookkeeping system, so the deposits and withdrawals are immediately recorded. If you get your data from other channels, like ecommerce sites and other tools, you can also integrate them into your bookkeeping software to automate data collection.
2. Say Goodbye to Inaccuracies
The biggest downside of manual bookkeeping is inaccurate data. No matter how seasoned a bookkeeper is, a minor mistake on the keyboard or calculator can snowball into huge miscalculations.
But with automated bookkeeping, you can say goodbye to inaccuracies once and for all. Whether generating income tax reports or calculating sales taxes, automated systems flawlessly perform these tasks. There's no room for typos or calculation errors that can plague manual bookkeeping.
3. Free From Data Corruption
A typical scene for bookkeepers using Excel sheets is data corruption. One day the Excel sheets are functioning well; the next, they're not. Various factors contribute to this situation, including:
Big Data
Incomplete or Incorrect File Transfers
Inaccessible File/s
Most automated bookkeeping solutions run on cloud storage, easily addressing this problem. The cloud has layers of protection, saving your financial information from corruption and unauthorized access.
4. Protection From Hackers
When data corruption occurs, it raises a red flag for the potential threat of cyber attacks. Hackers are known to target websites and databases, making your company's financial records vulnerable to these threats.
But because your books are saved on the cloud, guarantee that they are protected from such threats. The cloud has a technology called data encryption which translates the information while it is moved from one storage to the cloud. Even when hackers try to interfere, they won't decipher the message.
Only those with access to your account can access and understand this private information.
5. Access to Key Players Only
Your financial security is not only threatened by external factors but also by potential risks from within your organization, which is why you should always exercise caution about who you share your financial data with.
Compared with traditional accounting processes that anyone can access, automation employs a more stringent approach. Only authorized personnel with proper login credentials are granted access to the data. This exclusivity of access lessens breaches and internal malpractices, maintaining integrity and privacy in your bookkeeping process.

Unloop Pro Tip:
As much as possible, keep your financial team small. These individuals should know how to handle sensitive financial information.

Create a confidentiality agreement and put it on paper, so those who will break the agreement can be held legally accountable.
6. Access Anywhere
Gone are the days when you could only access information on the devices where the document is saved. You can now monitor your books effortlessly from anywhere, as long as you have an internet connection.
Modern bookkeeping and accounting software are optimized for mobile devices. You can log in and check your finances by downloading the app onto your smartphone or tablet. You can easily stay informed about your financial data in the office, meeting, or traveling.
7. Worry-Free During Tax Time
Because all your financial data is in one place, you won't have difficulty preparing for tax season. Income and expense tracking are simplified and consolidated within the automated bookkeeping platform. It computes the taxes you need to pay yourself. From there, you can file tax documents and pay on time.
If there are instances when you must remit sales taxes, the tax software and your accounting system will show you how much exactly you need to remit.
8. Automatic Reports Generation
Understanding the data in your books means creating reports from them. Hence, the practice of automated bookkeeping. Some of the basic accounting reports you'll want to see regularly are the following:
Balance Sheet
Income Statement
Cash Flow Statement
Statement of Owner's Equity
These financial reports will allow you to see the health of your finances. They are also helpful during investors' presentations and when applying for loans.
Unloop Pro Tip:
Many software have report templates that can quickly be filled out in just a few clicks. And if you need to customize these templates, many software programs allow you to do so.
The Best Automated Bookkeeping Software
QuickBooks and Xero are two of the best bookkeeping and accounting software for small businesses. These programs automate repetitive tasks and provide efficient systems that save you valuable time and resources.
How? Let's take a look:
Accounting Automation From QuickBooks
The answer to your question, "How to automate bookkeeping?" could be answered by simply having Quickbooks. QuickBooks is one of the top choices for bookkeepers and accountants because of the following features:
Scheduled Invoices for Recurring Transactions
Time and Project Tracking
Live Bookkeeping
Mileage Tracking
Payroll Management
Cloud-Based Accounting
Inventory Management
Generation of Reports
Wide Integration Compatibility
All these features work together to provide small businesses the convenience of tracking income and expenses and transforming them into easy-to-understand reports.
QuickBooks is an excellent choice for business owners because you can automate your bookkeeping for affordable prices. The QuickBooks Priority Circle also provides training and support, making it an indispensable resource for both beginners and experienced users.
Wide Array of Integrations With Xero
Xero is another option you can look into when picking bookkeeping and accounting software. This tool can help in your various financial management needs due to the following features it offers:
Pay Your Bills on Time Through Scheduled Payments
Manage Expense Claims
Bank Connections and Reconciliation
Invoicing
Payment Acceptance From Different Channels
Time and Project Tracking
Payroll Management and Integrations
Contact List Management
Generation of Financial Reports
In-Depth Analysis of Numbers Through Xero Analytics
Sales Tax Calculation
Inventory Management
Some software don't have a sales tax feature, but not Xero. The tool's data analytics capabilities also back you with invaluable data for making informed business decisions.
Automated Bookkeeping Services by Unloop
The benefits of automated bookkeeping can significantly benefit your business. From saving time on manual data entry to reducing errors, automation can take the hassle out of managing your finances.
QuickBooks and Xero are two great options for reliable bookkeeping and accounting software. But if you're unsure where to begin, look no further than Unloop. As a trusted accounting firm, we combine our financial expertise with cutting-edge accounting software to automate your business bookkeeping.
Don't let bookkeeping consume you. Take the leap into automation with Unloop's professional services. Book a call now!