Keeping track of your finances can be tricky and overwhelming, especially if you lead a hectic business in the ecommerce industry. But hang on, there are a few bookkeeping tips and tricks that can help you make this process easier and more efficient. With them, you can avoid dealing with financial problems, such as financial losses, tax filing issues, and even bankruptcy.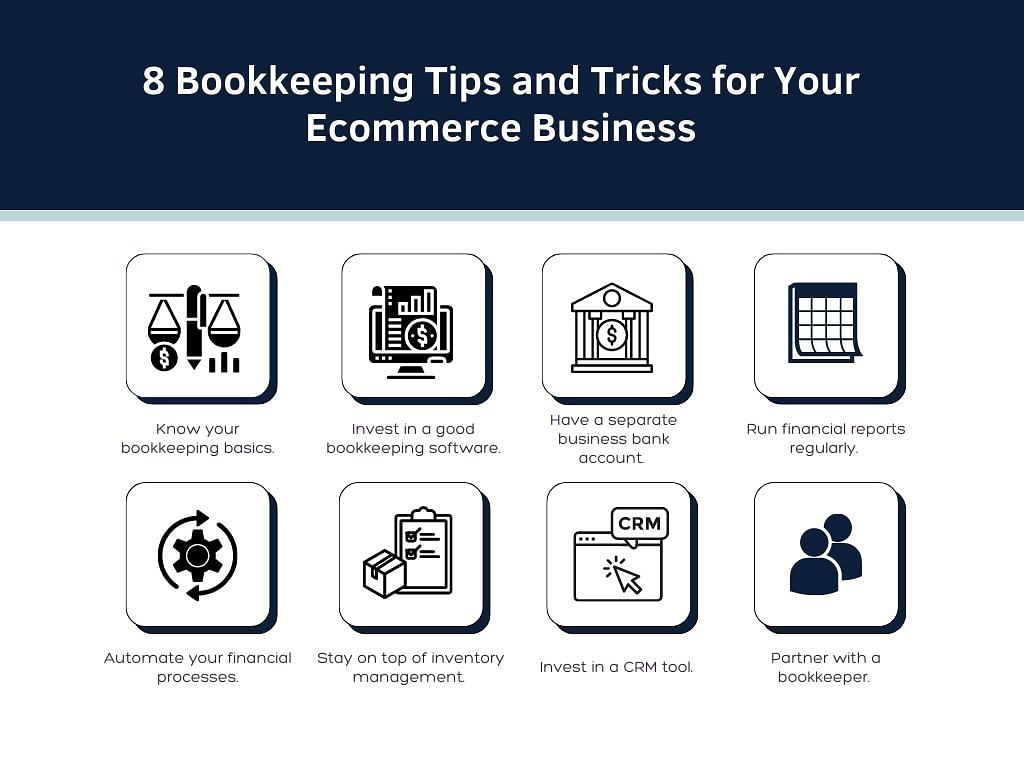 So why not take the time today to start thinking about how you can stay on top of your bookkeeping? With the right information and strategies, you'll be well on your way to steady financial footing for your ecommerce business!
Check out this list of top ecommerce bookkeeping tricks to get your finances in shape:
Know Your Bookkeeping Basics
Before optimizing your bookkeeping processes, arm yourself with basic bookkeeping knowledge first. Begin by knowing that bookkeeping and accounting are separate tasks.
💡Bookkeeping tasks are about tracking and organizing data in a business's books. Accounting, on the other hand, is the task of making sense of numbers through accurate reports.
Bookkeeping and accounting records go hand in hand. If you're a small business owner, you'll have to choose between these two recording methods:
Cash-Based: This refers to the method of tracking money as it comes in and out of your business.
Accrual: Accrual accounting is about tracking income and expenses over a certain period, whether or not cash flows into your bank account.
It is also essential to familiarize yourself with bookkeeping and accounting jargon like assets, liabilities, equity, revenue, expenses, costs, and profits. Awareness of these terms will make it quicker and more efficient for you to check your books and understand reports.
Invest in a Good Bookkeeping and Accounting Software
Investing in good bookkeeping and accounting software can help you streamline and automate your processes. With the right software, you can integrate your data into the ecommerce platform you are selling on so that your data can be categorized and organized automatically.
You can combine this data with the other key performance indicators you track that aren't provided by the online marketplace where you're selling. You can also use the software's report-generation capabilities to make sense of all your business transactions and other financial data.
When there are changes and updates in the books from different departments of the company, they'll also get recorded automatically and everybody can view the most updated data immediately.
Other benefits you will enjoy from having bookkeeping and accounting software are the following:
Paying correct taxes during tax season because the software computes them right away.
Automating invoice creation and sending to remind customers and receive payments on time.
Giving access to your accounting records to only authorized team members.
Backing up valuable financial records as the software operates in the cloud.
Have a Separate Business Bank Account
Having separate personal and business accounts is essential to managing your business finances effectively. Designate different bank accounts and credit cards for personal and business purposes.
This way, all transactions can be clearly labeled to minimize the confusion from mixed-account spending. Both small and large companies will benefit from this strategy as it helps maintain control over monetary resources.
💡There's a higher risk of fraud or misuse of confidential data when multiple accounts are not properly secured or managed.
Run Financial Reports Regularly
Run financial reports regularly to utilize the data recorded in the bookkeeping process. Bookkeeping and accounting tools allow you to generate reports in just a few clicks because they have templates. You can quickly check the following financial statements:
Income statements
Business account statements
Balance sheets
Cash flow statements
Accounts receivable sheets
Make sure that your financial statements are organized and comprehensive. To organize your records, start by documenting all your transactions as they occur. This might mean including additional details in every entry, such as dates, transaction codes, and receipts.
Also, save any emails or other correspondence related to the transaction so that you can reference them later if needed.
As a startup ecommerce business, it's best to run reports as often as possible. Doing so allows you to see your business's successes and duplicate the best practices that led to those wins. On the other hand, if there are alarming numbers reflected in the reports, you can create mitigation plans quickly and improve your financial performance.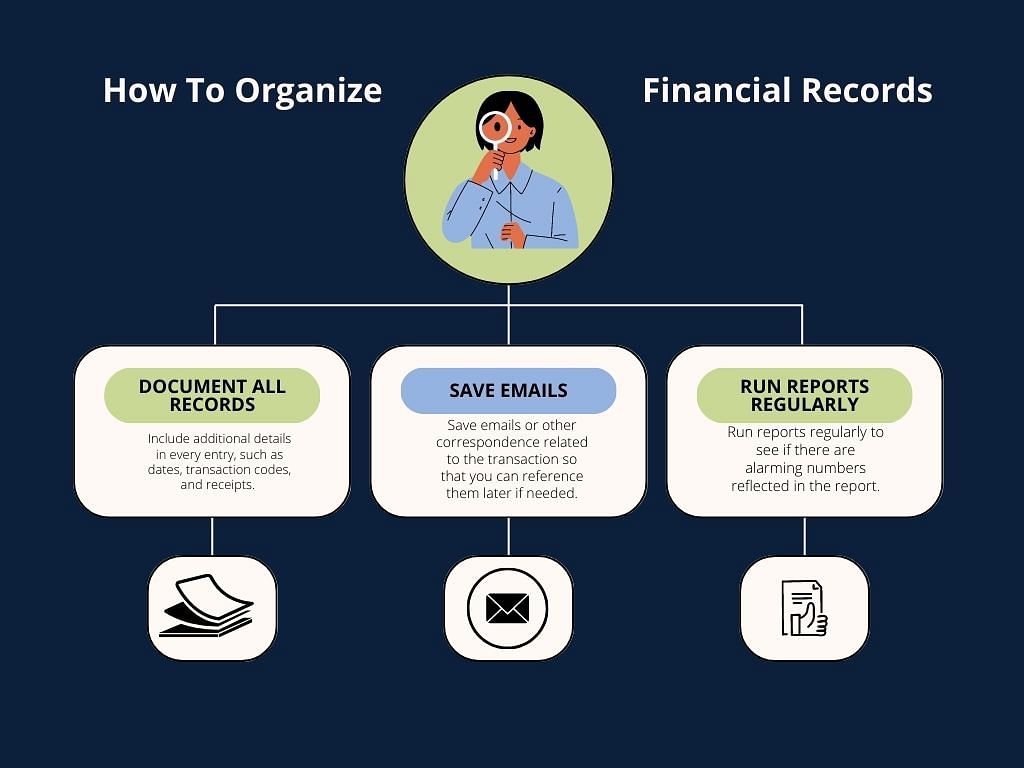 Automate Your Financial Processes
When it comes to ecommerce bookkeeping, one of the best things you can do is to automate your financial processes. Doing this can save you from a lot of hassle in the long run. Set up online access to your accounts to conveniently view your balances and keep track of any changes or updates with ease.
You can also set up automatic withdrawals from your bank account to go straight into your bookkeeping software. This way, you don't need to enter all of your financial transactions manually.
You can also set up automatic payments for your bills and invoices. By doing this, you won't have to keep track of when each bill is due, and you won't have to worry about forgetting to pay a bill on time.
Finally, link your ecommerce bookkeeping software to your credit card and bank statements so that all your transactions will be automatically imported into your software.
Stay on Top of Inventory Management
Another area of your ecommerce business you need to be on top of is inventory management. Customers get turned off by stores with products they want but can't buy because of a lack of supply. When your inventory isn't organized, you miss out on plenty of sales opportunities.
The good news is that most ecommerce sites have an inventory management feature, so you only need to integrate the data into your primary accounting system. You can add the numbers to other data stored in the tool to determine the cost of goods sold and delivery or fulfillment costs.
The collated data and reports will guide you in deciding whether your fulfillment methods are efficient. You can also use your findings to know what kind of promotions to launch and which products to focus on to boost or maintain sales.
Invest in a Customer Relationship Management Tool
One of the most underrated accounting and bookkeeping tips is investing in a tool with a customer relationship management (CRM) feature. This practice will make your business operations even smoother.
The data you'll get from a CRM tool might not be in monetary value, but you can get just that by combining them with other data stored in your accounting and bookkeeping software. Because customers are your business's lifeblood, you must include these details in your bookkeeping.
So, give yourself and your bookkeeper the convenience of having customer insights within your main accounting tool.
💡A CRM tool saves contacts of leads and customers that can help you conveniently send invoices and do marketing.
CRM tools also store information like the sales journey of a potential customer and the issues they experience in the sales process.
Partner With a Professional Bookkeeper
We've already discussed the basics of bookkeeping and knowing how bookkeeping tools and their features help you optimize your ecommerce business operations. Now, we'll answer a lingering question many business owners like you have: should you hire a professional bookkeeper? Our answer is yes!
Here are the benefits small business owners reap in partnering with bookkeeping professionals:
The peace of mind knowing that a professional bookkeeper is handling your books.
Assurance that the data in the books are constantly updated.
A guarantee that you can make accurate tax payments because of organized books.
Less work, as the bookkeeper coordinates with different teams for data collection and day-to-day book checking and updates
The security that the software you invest in is utilized because a trained bookkeeper is well-versed in using it.
It's tempting to do bookkeeping yourself, but with plenty of tasks on your plate, the best move is to delegate it to experts.
Get Bookkeeping Tips and Assistance From Unloop
By now you know that optimizing your bookkeeping can make your business operations run smoothly. These eight tips may be a lot for some, but implementing them in your business will be worth it.
If you need more bookkeeping tips, assistance using bookkeeping and accounting software, or if you want to delegate bookkeeping tasks to experts, Unloop is here. We have a team of professional bookkeepers who are well-versed in the ecommerce industry, so your books will always be in good hands.
We also specialize in accounts payable services, forecasting, payroll, and taxes. Book a call with us today to get started!