You may find it increasingly difficult to keep up with the fast pace of transactions on Amazon. Tracking revenues, expenses, and inventory can be a burden when fulfilling hundreds of orders daily. Fortunately, this is where accounting software for Amazon sellers can seamlessly automate your finances.
Running an ecommerce business often leads to concerns about accounting and bookkeeping, but you can streamline these tasks and maximize efficiency with the right tools and software. If you want to gain clarity on this concept, read on!
Why Accounting Software for Amazon Sellers Is a Must
Ecommerce sellers like yourself know how bookkeeping and accounting can divert your time and attention from core business strategies. But there's a game-changing solution that can transform the way you manage finances—a quality accounting software specifically designed for Amazon business owners.
Embracing innovative software like this is no longer a choice; it has become necessary for thriving in this competitive marketplace. Here's what you'll find if you try to explore the intricacies of accounting software.
1. Basic Accounting
Ecommerce businesses need to stay financially sound. As such, you must keep track of your accounts payables and receivables and maintain a general ledger for all things money-related. If you are busy being a hands-on business owner, you need help crunching the numbers.
The basic functions of accounting software include ensuring your financial statements are accurate down to a cent. You can expect this bare minimum feature from any Amazon accounting software. You can also delete and forget about the Google Sheet files you had for bookkeeping and let the accounting software take the burden off your shoulders.
2. Automated Invoicing
A good business owner won't neglect to issue detailed invoices. Unfortunately, the Amazon marketplace can get hectic, causing an Amazon seller to unintentionally fail to issue invoices or provide inaccurate ones.
Inconsistent invoicing is a big no-no if you want to keep your books clean and up-to-date. You know how important it is to keep a paper trail of everything in and out of your business, right?
Luckily, accounting software has impeccable and seamless integration with the Amazon platform. They can now generate all your invoices error-free and up-to-date, which can help you maintain reliable financial records.
3. Sales Tax
Tracking sales tax involves untangling a messy web of applicable tax laws. It can be confusing because you must account for everything, including the type of item, order fulfillment date, location, and recipients.
Traditionally, relying on an individual with an accounting background has been the go-to option for handling tax-related tasks. Now, you can depend on software to do the necessary prep work. It automatically filters and computes the applicable tax rates so you can collect the appropriate amount from your buyers.
It also does all the paperwork, from sales tax summaries to comprehensive financial reports. So, when tax season comes, you can easily work with your Amazon accountant to file tax returns.
4. Amazon Marketplace Fee Management
Depending on your business strategy, you may opt for one of Amazon's two selling plans: individual and professional. But regardless of your chosen selling plan, Amazon will still charge additional fees. Dealing with multiple fees can be confusing, so an accounting tool will be beneficial.
Amazon accounting software can handle fee management tasks within your Amazon Seller Central account. It calculates how much you have to pay per item, including referral fees, fulfillment fees, long-term storage fees, and other applicable fees. You can even forecast the money you need for such fees based on your small business' performance.
5. Inventory Management
Do you know how many units of each product you have left?
Inventory tracking can be tricky, especially when you have other business-related tasks. It's your job to keep your inventory levels in check. You also need to anticipate the spike in demand to avoid missing out on potential revenue and keep the momentum going.
Accounting software can do this for you while also keeping track of where your items are. It ensures real-time visibility into the quantities of each product available. It can optimize stock levels by anticipating demand fluctuations, preventing stockouts, and reducing the risk of overstocking.
Amazon Data to Track With an Accounting Software
Aside from inventory and sales tax, here are variables and details Amazon accounting software can track and manage for you: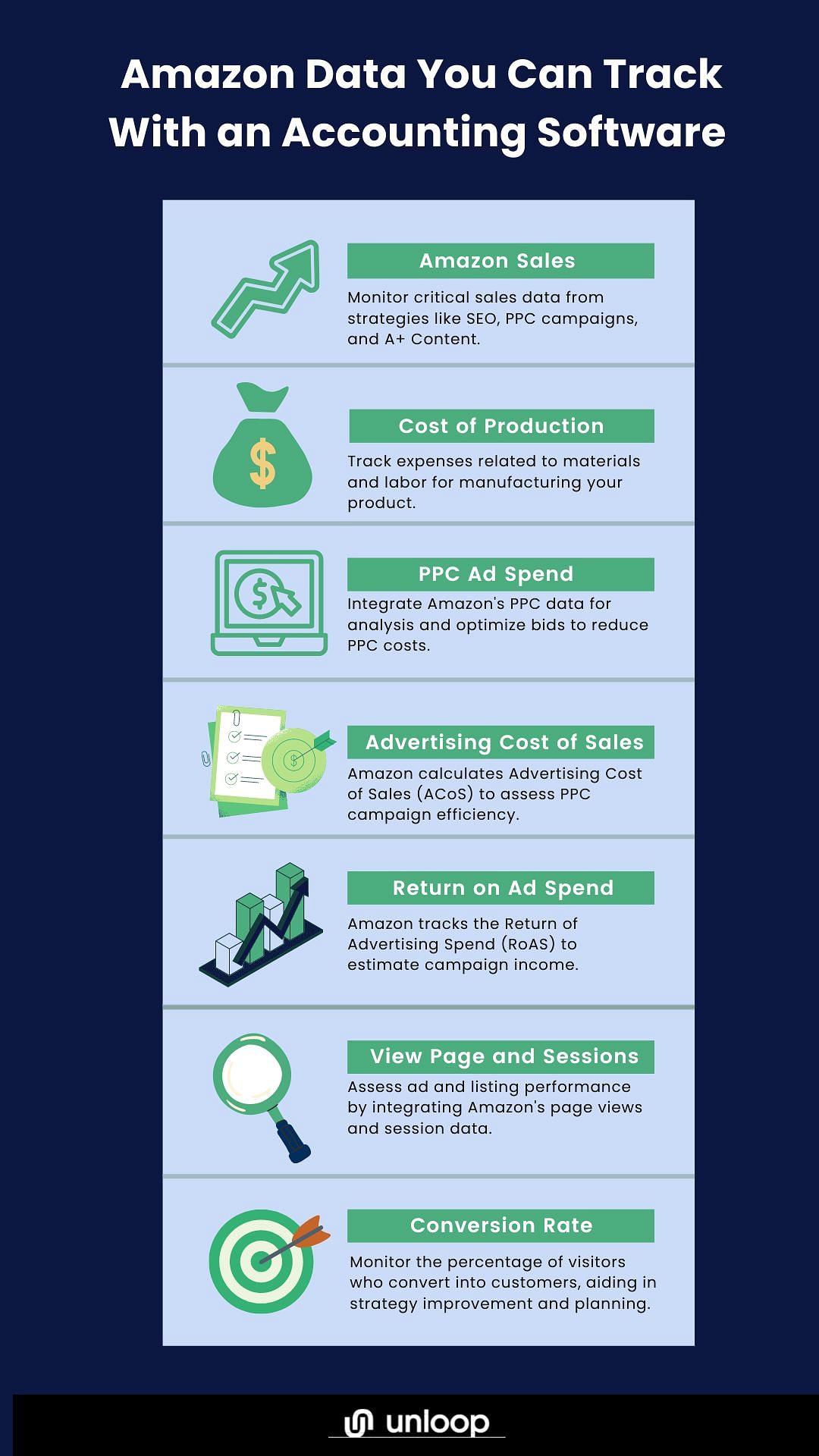 From monitoring Amazon sales to tracking advertising spend, having access to these important data points is truly impressive. With such insights, you can confidently make smarter decisions and unlock your business's full potential like never before.
7 Mistakes When Picking an Amazon Accounting Software
Sadly, some businesses make many mistakes in picking the tool they'll use for financial management. While the situation is understandable, it should not be the case. Knowing these mistakes, you can proactively avoid them and pick the best accounting tool.
Mistake #1: Not Knowing Its Purpose
Beginner Amazon sellers often commit this mistake as they learn the ropes of selling on the platform. Their minds are occupied with many things, and they juggle a plate full of tasks to boost monthly sales. Amidst all this, they forget that establishing clear goals matters when choosing software.
Mistake #2: Economical Selection
Financial prudence is normal, particularly for startup business owners. They see to it that they invest in the right resources. Hence, some resort to free accounting software to save money.
The truth is prioritizing cost over features is not always the best option. Cheap tools may allow you to save, but you won't get the essentials. Think double-entry accounting, sales tax summaries, or detailed financial reporting.
Mistake #3: Limited Accessibility
Traditional accounting means having a computer where Excel sheets are saved or having software that users can access only on a single computer. Although this method worked before, it won't be the same in today's highly hybrid and global work setup.
Such standard tools limit inventory tracking, financial reporting, sales tax report generation, and Amazon accounting because you and your team of accountants can only access data on-site.
Mistake #4: Underestimating Security
In connection with having on-site-only accessibility is the susceptibility of your business financial data to cyber-attacks and hacking.
While Excel sheets offer a less costly accounting method, they aren't readily backed up and are more prone to corruption.  
When files are corrupted, there is a high chance that users won't be able to recover them. Computers are also more vulnerable to getting hacked, especially if you only have a password to protect your files.
Mistake #5: Restricted Database Storage
Amazon sellers like yourself mainly focus on the software's accounts payable and accounts receivable capabilities and financial reporting tools. However, you need unlimited storage space to scale your business.
Neglecting this feature will lead you to eventually choose a new software and migrate your data there, which is both time— and money—consuming.
Mistake #6: Accounting Software With Missing HR Features
As a business expands, so does the team behind it. This necessitates effectively tracking your employees' time, projects, and performance. Not investing in accounting software with integrated HR features can lead to challenges in the long run.
Mistake #7: Uncustomizable Software Features
We all know that accounting software templates offer many advantages, such as providing pre-made options in just a few clicks. You'll have templates for different reports and generating invoices. But despite their convenience, there may be little to no room for personalization.
Customization is essential to make your Amazon accounting data more comprehensive. For instance, you can personalize your invoices for branding purposes. If the software you're considering does not allow any customization, you'll either have to be content with what you have or reinvest in customized software.
5 Best Practices in Choosing the Best Accounting Software for Amazon
Now that you know the most common mistakes when choosing software, you can be more careful when weighing your options. To dive in further, here are some best practices to remember before investing in Amazon accounting software.
Check these tips out, especially if you have little to no Amazon accounting experience.
1. Choose a Cloud-Based Accounting Software
With all your business's essential and confidential financial information, investing in cloud-based accounting software is only fitting. This technology guarantees cybersecurity, warding off hackers and data corruption.
On top of security is the need for enough storage space. It is best to keep financial data in one place to make monitoring financial reports easier. Picking a Microsoft SQL server/MYSQL database-compatible tool will be a great choice in the long term.
2. Consider Payment Gateways and Bank Integrations
You'll cater to different customers that use various payment methods. To handle this seamlessly, you must have an accounting tool ready with various payment gateways. And by integrating your bank, you can monitor the money being deposited and withdrawn in your bank account in real-time.
3. Ensure Device Optimization
The best Amazon accounting software offers both mobile and computer access. If updates need to be made, you can use either of the devices. The Internet is accessible almost anywhere, so checking your business's financial health is easier.
4. Consider Role-Based Access
For additional security, look for software with role-based access. This enables only authorized users in your company to edit the data in your books. Since the tool operates on the cloud, real-time updates are automated for better collaboration.
5. Pick a Scalable Plan
Excellent accounting software should have plans that fit every type of business. If you are signing up for a beginner plan, you must have the choice to add more accounting features to the software as you grow your venture.
3 Accounting Software Options for Amazon Sellers
So, in the sea of ecommerce bookkeeping and accounting tools out there, which is the best for Amazon sellers? We have three great options in mind. Here's what to expect from them.
1. QuickBooks Online
QuickBooks Online by Intuit remains the one-stop Amazon accounting solution for most businesses. The software has the following features:
Features of QuickBooks Online
Accounts Payable and Accounts Receivable
Cash Flow ManagementLive Bookkeeping
Payroll
Invoicing
Creation and Receipt of Payments
Bank Reconciliation
Inventory Management
Projects and Time Tracking
Training
Cloud Accounting
QuickBooks also offers different plans for your specific needs, making it flexible compared to its rivals.
2. Xero
Another reliable accounting tool online sellers can use is Xero. With Xero, your bookkeeping and accounting tasks will be automated, and you can enjoy these functions:
Features of Xero
Income and Expense Tracking
Accounts Receivable and Payable
Payments and Invoicing
Bank Reconciliation
Time and Projects Tracking
Integration of Payroll Tools
Generation of Reports
Analytics
Sales Tax
Tracking
Inventory Management
Xero also operates on the cloud, so financial data is secure, mobile-friendly, and accessible to authorized individuals only.
3. Peachtree/Sage50 Cloud
Another software we recommend for your Amazon business is Peachtree or Sage50. Below are the reasons why:
Features of Peachtree or Sage50
Cash Flow Management
Payments and Banking
Time and Projects Tracking
Human Resource Management
Customer Relationship Management
Construction-Specific Accounting
Inventory Management
Enterprise Resource Planning
Creation of Professional Invoices
Detailed Financial Reports
Sage50 is one of the few software with specialized setups for specific industries.
Accounting for Amazon Sellers With Unloop
Even if you already have the best accounting software for Amazon sellers, know you can still get help when necessary. Unloop can handle your Amazon bookkeeping and accounting, get your numbers right, and use the most reliable ecommerce accounting software.
We began as online retailers and sellers, so we completely understand what you're going through and what you have to do. We have Amazon-specific accounting and bookkeeping solutions for your business. You won't regret making this important decision because it will free up your hands and help you achieve your desired productivity.
If you are excited to start, book a call now and begin your Unloop journey!