Disclaimer: Please note this article is not financial advice. The purpose of our blog is purely educational, so please consult a professional accountant or financial advisor before making any financial decision.
As your business grows, ensuring it runs smoothly will be challenging, especially when managing your financial data. Thankfully, Shopify allows third-party software to enrich your ecommerce experience. Plenty of Shopify accounting software is available to help small businesses like yours. 
Let's discover how online accounting software can help you make quick work of your Shopify business's books!
What Can Shopify Offer Store Owners Like You?
Complete beginners can use Shopify order management, Shopify's POS (Point of Sale) system, fast and secure Shopify transactions, payment channels, and Shopify accounting integration by becoming one of the platform's store owners.
A Shopify seller like you can enjoy the following features that the ecommerce business platform provides.
| | |
| --- | --- |
| Ease of Use | Shopify is easy and intuitive; you don't need to go through a library's worth of documentation to understand its fundamental operations, such as invoicing, cash flow and expense tracking, and inventory tracking. |
| Seamless Setup | The platform unburdens you from hiring an entire team to manage your website's front- and back-end, and manages everything tech-related for you. |
| Reliable Security | Shopify keeps your SSL certificates up-to-date and keeps your store up-to-date with the latest cybersecurity. |
| 24-Hour Support | Shopify offers always-available and responsive customer service. You can reach the technical support team through instant messaging, email, and phone calls. |
| Mobile-Ready Platform | Shopify ensures a mobile-friendly experience for both sellers and buyers. The Shopify platform works great on small and large devices and matches the screen size to the device. |
| Customizable Themes | Shopify has an ever-expanding theme collection for your customizability and convenience. You can also browse the countless themes on third-party sites aside from Shopify's default themes. |
| Store Enhancement With Apps | You can enrich your customer's shopping experience by using Shopify with apps from its app store. The possibility is endless with the number of apps in the Shopify app store. |
| Powerful Analytics | Shopify can help you rank higher in search engine results using its tried and tested search engine optimization (SEO) features. You can further refine your marketing to reach your target audience by utilizing analytics and insights from Shopify. |
What Challenges Will Shopify Sellers Encounter?
Knowing how helpful Shopify is to online sellers may encourage and urge you to set up your own online business. Great! However, every seller will inevitably encounter a few road bumps and challenges in their business venture, especially with accounting. Here are some of them:
Errors and Lost Documents: People who manually input details from physical documents may commit mistakes. These files can also easily get lost or destroyed. Likewise, Excel sheets where you place these details are prone to file corruption.
Inventory Tracking and Management: Shopify has a built-in inventory management system. However, you can only make the most of it by integrating it with an accounting tool.
Sales Tax Tracking: Shopify allows sellers to set the sales tax and include it in customers' details when they checkout. However, the platform does not collect nor remit these taxes. Those complicated accounting tasks will be yours to handle.
Missed Payments: Failure to get payment from customers on time or the inability to pay suppliers immediately affects your cash flow. It is even more challenging when doing cash-based accounting, as you won't get a complete view of your finances.
These problems are common, so your chances of experiencing them are high. Yet, knowing them will lessen the fear and let you prepare ahead of time.
Accounting Do's and Don'ts for Shopify Sellers
In the face of these challenging Shopify hurdles, first-time sellers may tremble in fear and abandon their ecommerce dreams altogether. Don't worry; we've collated a list of accounting do's and don'ts to prepare beginner Shopify sellers when encountering such challenges.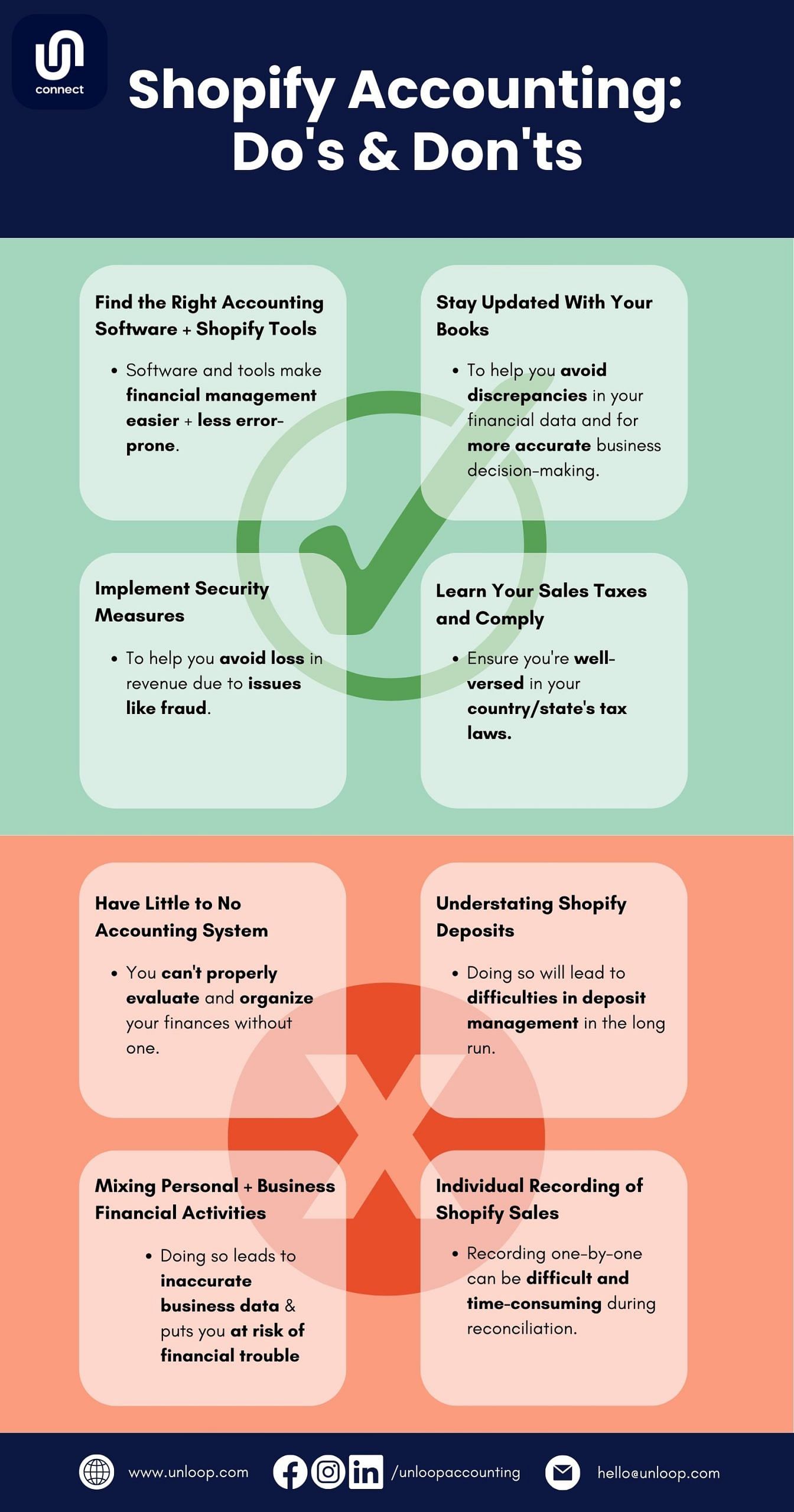 How Can Accounting Software Integration Help My Budding Business?
As mentioned, one of the crucial Shopify accounting do's is to find and use the ideal accounting tool and software for your business.
The best accounting software for Shopify makes it easy for you to take charge of your books and your small business's finances. Here are some of the features that many accounting software may offer.
Syncs Your Numbers Accurately and Automatically
With bookkeeping and accounting, accuracy is a top priority. Only when all the data in the books is correct can you get an objective view of your finances. With accounting software, apps, and integrations, you automate everything and eliminate manual input—the root cause of costly mistakes.
Automation allows users to view organized data from various payment gateways, the business's bank account, inventory management tools, tax software, and more in a single place.
Seamless integration between the accounting software and the Shopify platform can also significantly speed up your workflow. With one click of a button, you can sync your records instantly. Some software can even do this automatically without pressing a button.
Helps Manage Your Inventory
As a Shopify seller, inventory management is a task that will occupy your time. You need visibility on how many items you still have, which items to replenish, and which have enough supply. You also need to see the shipping, storage, and fulfillment costs. These will help you determine which delivery method is best for your business.
Helps You Keep Track of Your Store Whenever and Wherever
You can summon the accounting software mobile app with a single tap on the screen. As a result, you can check on the latest numbers of your business no matter where you are. As long as you have a stable internet connection, you will never have to be apart from your business. You can even perform tasks such as creating invoices while on the move.
Gives Financial Reports in One Click
We know how busy an entrepreneur like you can be. The best accounting software comes with a one-click financial report feature. You don't have to ask your finance guy to check the books for you to get a clearer picture of how your business is performing. You can even generate helpful and insightful graphs and charts to help you make better business decisions.
Let's You Track Expenditures Easily
With so much money going through your business, keeping your books straight can be a handful. However, integration between Shopify and accounting software makes this tedious task a breeze. You can link your credit card and bank account to the accounting software so that it records and categorizes your transactions as soon as you make them.
Keeps You on Top of Taxes
Selling on Shopify requires you to charge sales taxes when applicable. The thing about sales taxes is that they are sensitive to change. When you have apps and software that keep these changes on track, you can charge the correct sales tax every time.
Accounting software allows you to efficiently compute your income and pay the correct dues during tax season.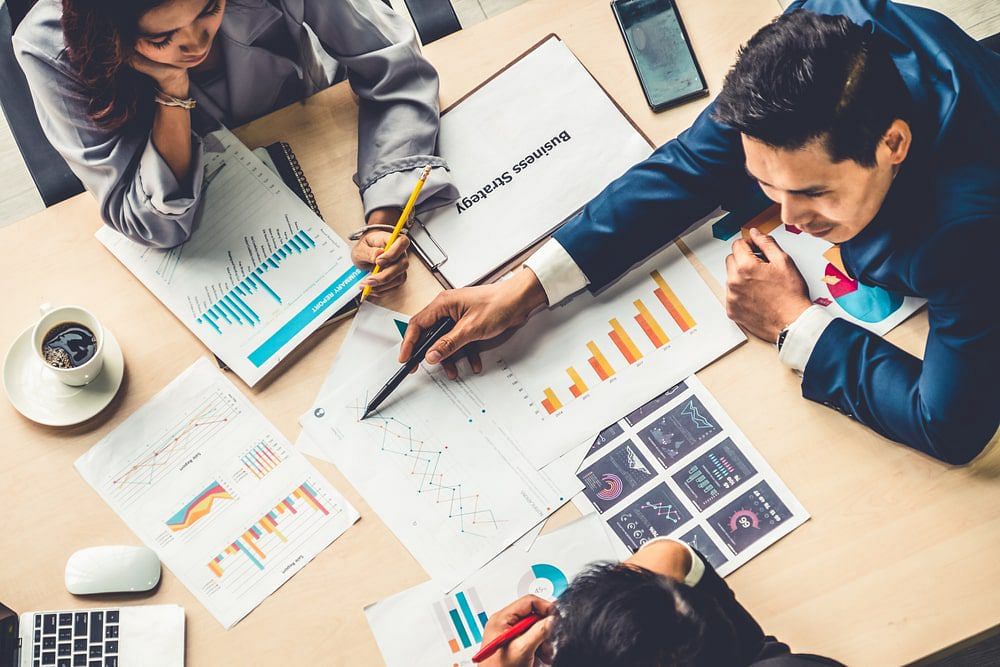 What Are Your Shopify Accounting Software Options?
After learning how beneficial Shopify accounting software and apps are, you will naturally head to Google for the best free accounting software available. However, before you go on and download the first one you see, know that finding an exceptional and suitable accounting solution is crucial (even if it might be a financial investment).
You can only pick the ideal accounting software if you've identified your business needs. Analyze your business status first. What's the current financial situation? What do you need to improve right now, and what are your plans?
Setting your knowledge and expectations of your business will help determine which features you will look for in software. Here are some of the qualities of accounting software that you will want to consider before investing in one:
Ease of Use
Cost-Efficiency
Multiple Software Features
Security and Safety
Device Compatibility
Pricing
When it comes to your accounting software options, the top contenders are QuickBooks Online and Xero Accounting, with other tools like Sage Business Cloud Accounting, FreshBooks, Wave, Zoho Books, and Netsuite closely following.
We've juxtaposed these seven accounting software in the graphic to highlight their differences.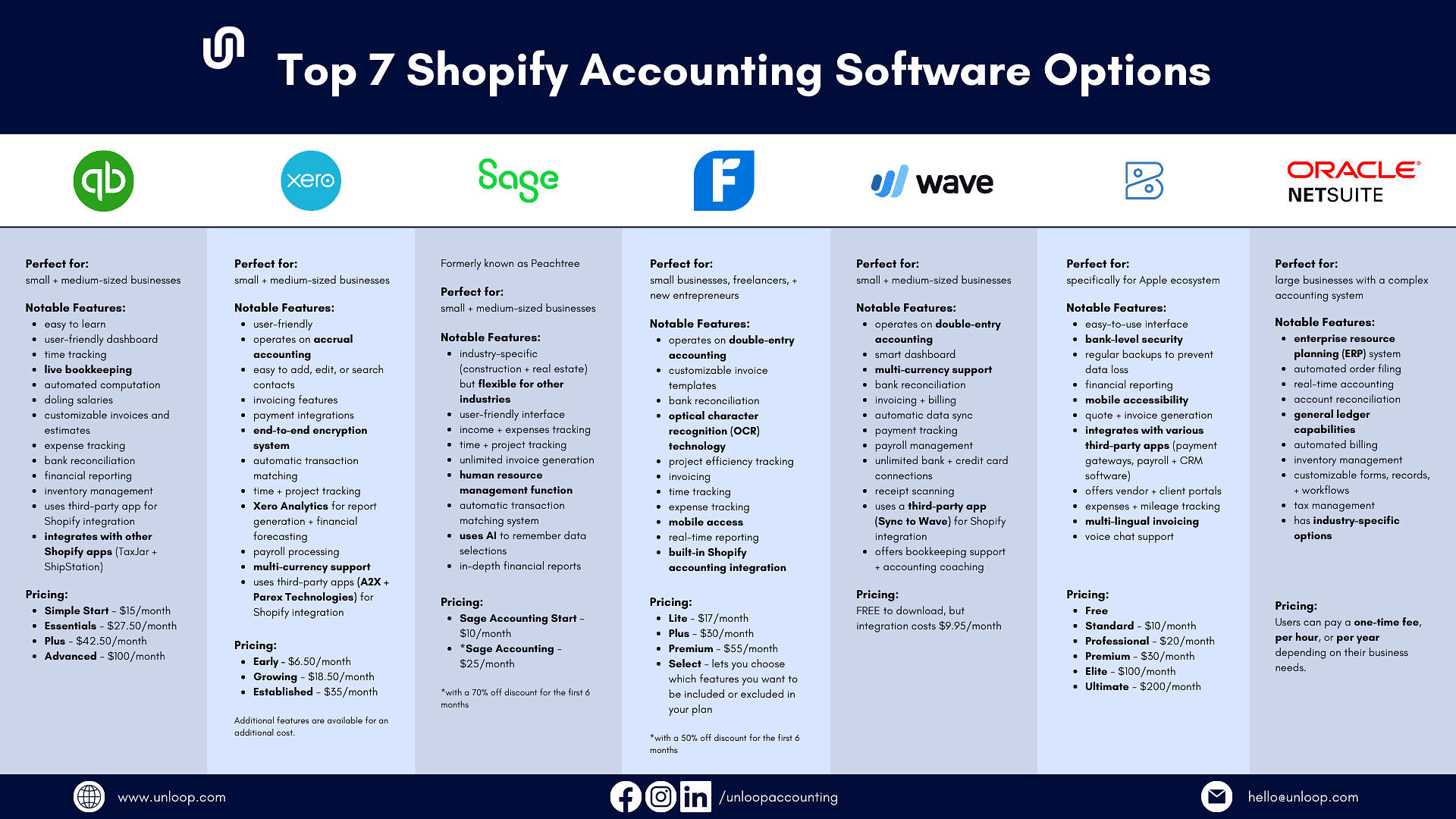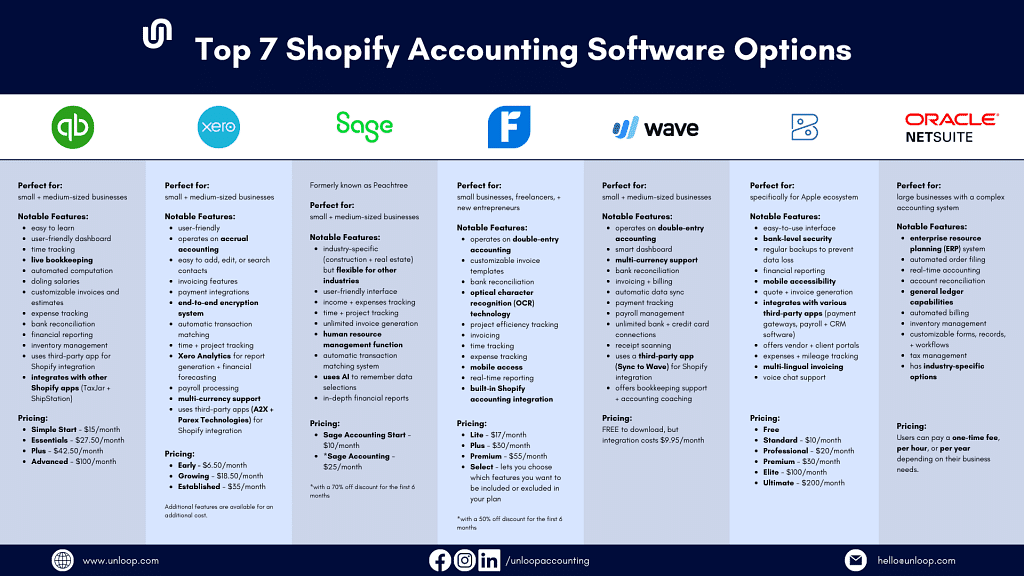 Other Commendable Applications
Software can further help you when you link other applications and integrations. You can enjoy the convenience of having all your data in one place. Be sure to reap these benefits using the following Shopify accounting apps and tools.
For Bookkeeping
A2X gets all financial data you have from Shopify and other ecommerce sites categorized and organized to ensure accurate accounting, reporting, and taxes.
Bench is all about bookkeeping—the first stage of accounting. This tool backtracks the financial data of new clients and keeps their books up-to-date.
For Inventory Management
Cin7 Omni is an inventory management tool for ecommerce businesses like Shopify, but business owners in the B2B and 3PL&EDI businesses can use it, too.
ERPAG is a manufacturing software helpful for Shopify sellers who manufacture their own goods. The cloud-based material requirements planning (MRP) system gives you visibility of raw material costs.
For Accounting
DEAR Systems/Cin7 Core collates all the data in the manufacturing stage, retailing, and selling. You can integrate inventory, sales, and other accounting details into your central accounting system.
Holded is an accounting tool with invoicing, projects, inventory, CRM, ERP, and integrations. It is designed for ecommerce businesses and many more industries.
Reckon One is a tool you can rely on for accounting, invoicing, and payroll. Timesheets, employee expenses, bank reconciliations, and projects are also handled.
For Reporting
Syft Analytics software can help you generate comprehensive reports for your Shopify business. The generated graphs and charts can help you in decision-making.
For ERP
Priority Software is an enterprise resource planning (ERP) software. It lets you manage all your business activities, like accounting, projects and risk management, procurement, and more!
Versa Cloud ERP is another tool to help you optimize your business operations, like manufacturing, distribution, purchases, inventory management features, reporting, and accounting.
For Taxes
Taxomate is a tool that focuses on ecommerce sites like Amazon, Shopify, and eBay. You can rely on it for CoGS, checking inventory value, and multi-currency support.
TaxJar makes sales tax tracking, calculations, applications, collections, and remittances easy. The tool handles these all.
Taxify handles your sales and uses taxes, ensuring that you charge the correct taxes to your customers and remit the right tax amount each time.
Final Thoughts
Managing a business is tough, especially for first-time business owners. Fortunately, cloud-based platforms and tools can make your life much easier.
A combination of ecommerce platforms and ecommerce accounting tools, together with the expertise of professional bookkeepers, will take the burden of managing your business accounting off your shoulders.
Consider employing the help of a reliable finance solution like Unloop!
With a secure and intuitive ecommerce platform, easy-to-use accounting software, and our expert bookkeepers on board, you never have to stress about managing your online business.
Book a call today and let us help your business flourish!