Disclaimer: Please note this article is not financial advice. The purpose of our blog is purely educational, so please consult a professional accountant or financial advisor before making any financial decision.
It's the era of ecommerce, and we're just living in it. As online shoppers continue to soar and online retailers like Amazon grow even bigger, a seller's financial affairs can get overwhelming really quick. Streamlining financial operations, reconciling transactions from various sales channels, and maintaining bookkeeping records become crucial. Enter the A2X accounting app.
Do you want to know more about A2X? This blog post will explore some critical aspects of this accounting solution and why it's becoming an indispensable tool for online sellers.
What is A2X?
A2X is a cloud-based accounting tool meticulously designed for small business owners, major market players, online retailers, and anyone seeking streamlined cash flow management. This third-party application offers great features that deliver stress-free accounting, particularly within a huge marketplace like Amazon.
Gone are the days of manual data entry and painstaking calculations. A2X handles all the heavy lifting by summarizing your sales data and generating accurate financial reports. These reports provide a detailed overview of your financial performance and help you stay on top of your business's finances.
The 6 Key Benefits of A2X for Amazon Accounting
Amazon's dominance in the ecommerce industry presents lucrative opportunities for business. With a staggering 220.49 million visitors from mobile and desktop connections, selling on this platform can exponentially expand your reach and revenue potential.
But capitalizing on these benefits also brings significant accounting responsibilities. You must diligently manage your tasks and keep up with the complexities of this thriving field.
Fortunately, A2X steps in as the ultimate solution. Being used and highly recommended by the most trusted accountants, A2X is proven to solve bookkeeping issues, such as payment reconciliation and cash flow tracking. Its efficacy in simplifying financial operations sets it apart from competitors in the market.
Let's delve further into the factors that position A2X as a competent accounting solution for Amazon sellers:
💱 Comprehensive Support for Multi-Marketplaces and Currencies
A2X establishes a reliable integration to each platform when connecting to different Amazon marketplaces. It retrieves the transaction details from each market and consolidates them into a unified format for further processing.
Since A2X can deal with multiple marketplaces, it can manage transactions in various currencies. This multi-currency capability automatically converts and reconciles sales data from different currencies to a single currency within the accounting software.
📋 Categorized Amazon Settlements
A2X generates journals for each settlement and posts them to your accounting software. When a settlement is detected, A2X efficiently loads the corresponding transactions. It generates a complete outline of revenue, expenses, and other vital data specific to that sales channel. This organized approach ensures the accessibility of your financial information.
A2X can also aggregate sales by SKU (Stock Keeping Unit), product type, country, or other relevant parameters. This level of customization allows you to analyze and track sales performance based on the specific metrics that hold the utmost importance to your business.
🏦 Bank Account Reconciliation
Receiving payments from Amazon can be complex, as funds are often deposited in batches, combining transactions from multiple orders. This consolidation can pose challenges for sellers who strive to accurately reconcile their transactions from their accounts.
A2X makes this process easier by compiling the transaction data and summing it up to match the bank deposits. The application considers factors such as fees and refunds to create a summary that accurately reflects the funds deposited by Amazon.
Businesses can easily trace and verify cash flow by comparing the rundown against the bank deposit records. This level of transparency promotes financial integrity and facilitates effective financial reporting and analysis.
📈 Scalability for Business Growth
A2X is built to handle large transaction volumes, ensuring you can process financial activities as you scale your business. You won't have to worry about outgrowing the tool's capabilities or experiencing performance issues.
The accounting app also adapts to changes in your business structure or operational requirements. Whether you expand to new Amazon marketplaces, diversify your product offerings, or adjust your accounting processes, A2X is easily configurable to meet your changing needs.
⌛ Time Savings and Complexity Reduction
Numerous tasks within Amazon operations can be a major time drain. Because A2X recognizes the importance of saving time, it efficiently manages repetitive processes on your behalf through automation.
By leveraging A2X's time-saving and complexity-reducing features, you can free up valuable resources and devote more energy to boosting Amazon sales. Spend less on manual accounting tasks and more on strategic initiatives that drive success.
💻 Seamless Integration With Financial Software
One way to save time is by harnessing the potential of tools and technology. Luckily, you can integrate A2X with popular financial software like QuickBooks Online (QBO) and Xero. It automatically fetches and organizes complex details, such as sales, fees, refunds, and other transaction data, into a format that aligns with these cloud-based accounting platforms.
The integration reduces the chances of errors or discrepancies. You can enjoy the peace of mind of having reconciled financial records month after month without breaking a sweat.
A2X for Amazon and QuickBooks Online Integration
Intuit, the developer of QuickBooks, has approved A2X as an integration application for the Amazon marketplace and QuickBooks Online accounts.
Integrating Amazon with QuickBooks Online through A2X is a straightforward process. Here's how it works:
Visit QuickBooks App Store.
Search for the keyword "Amazon" once you're already on the site.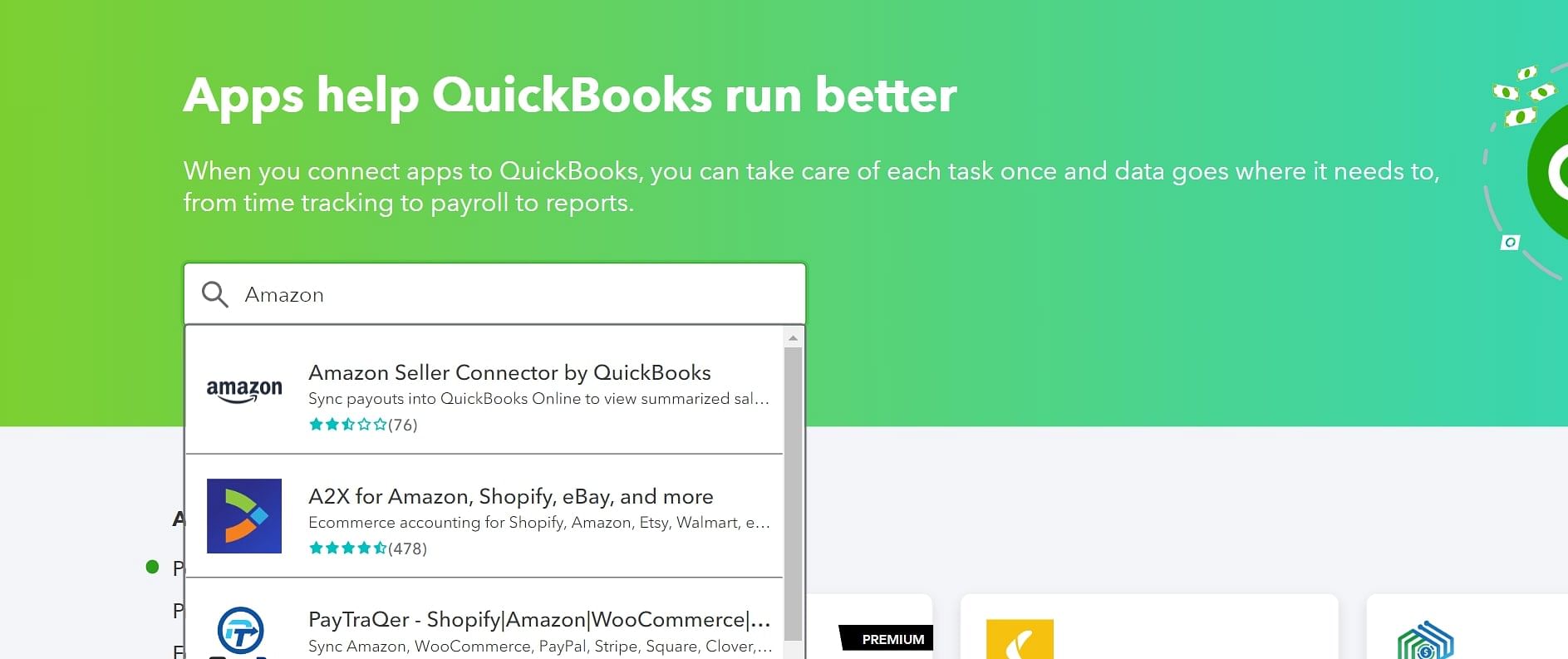 You will find a list of available integration applications. A2X is part of that list.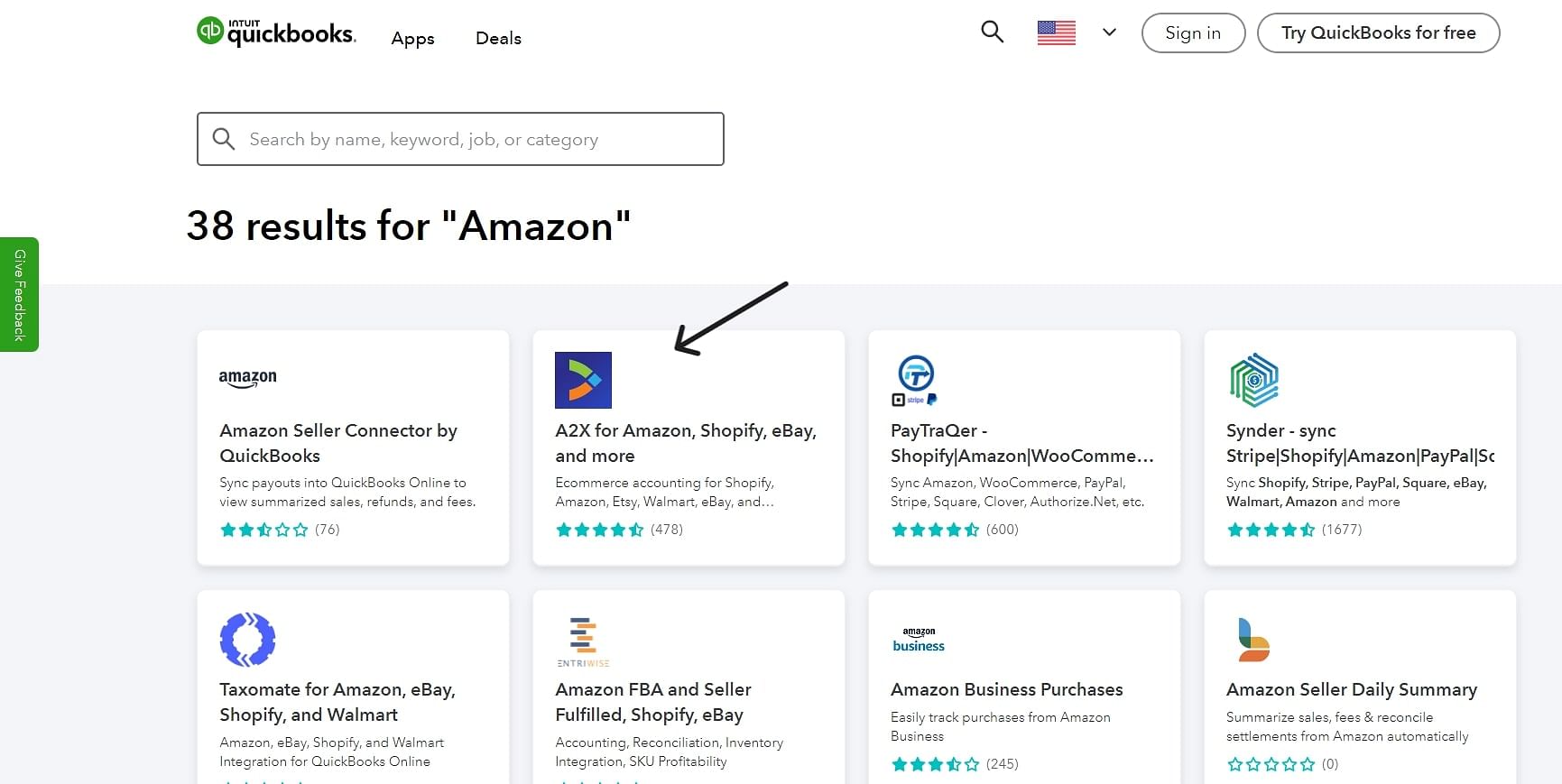 Click on it and learn more about the application. Take in all the information provided because these will give you an overview of the application.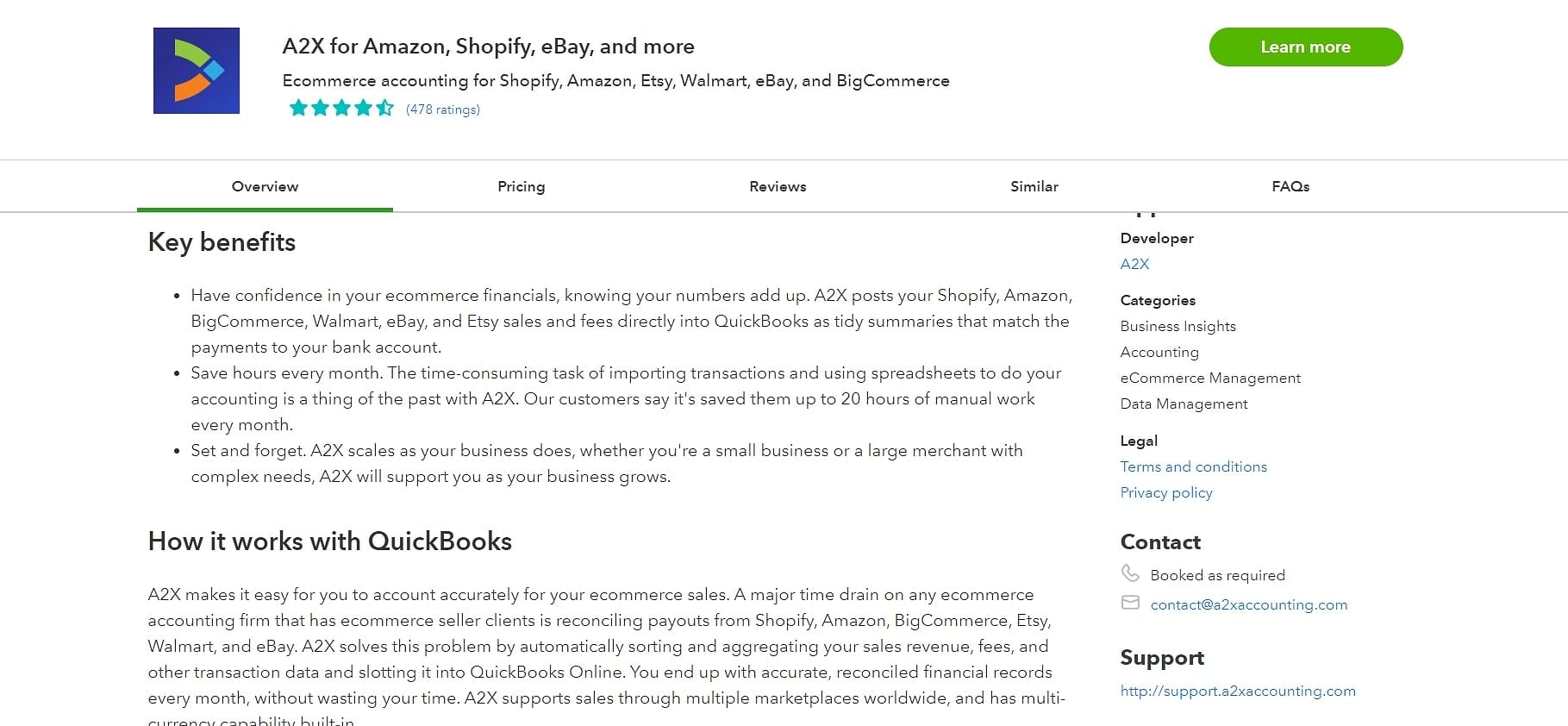 If you are satisfied with its capabilities and certain it fits your business needs, click the "Learn More" button on the upper right side of the page.
You will be redirected to the A2X web page.
Click "Try A2X for free."
Choose which channel you will use. In this case, it's Amazon.
Provide login credentials for validation.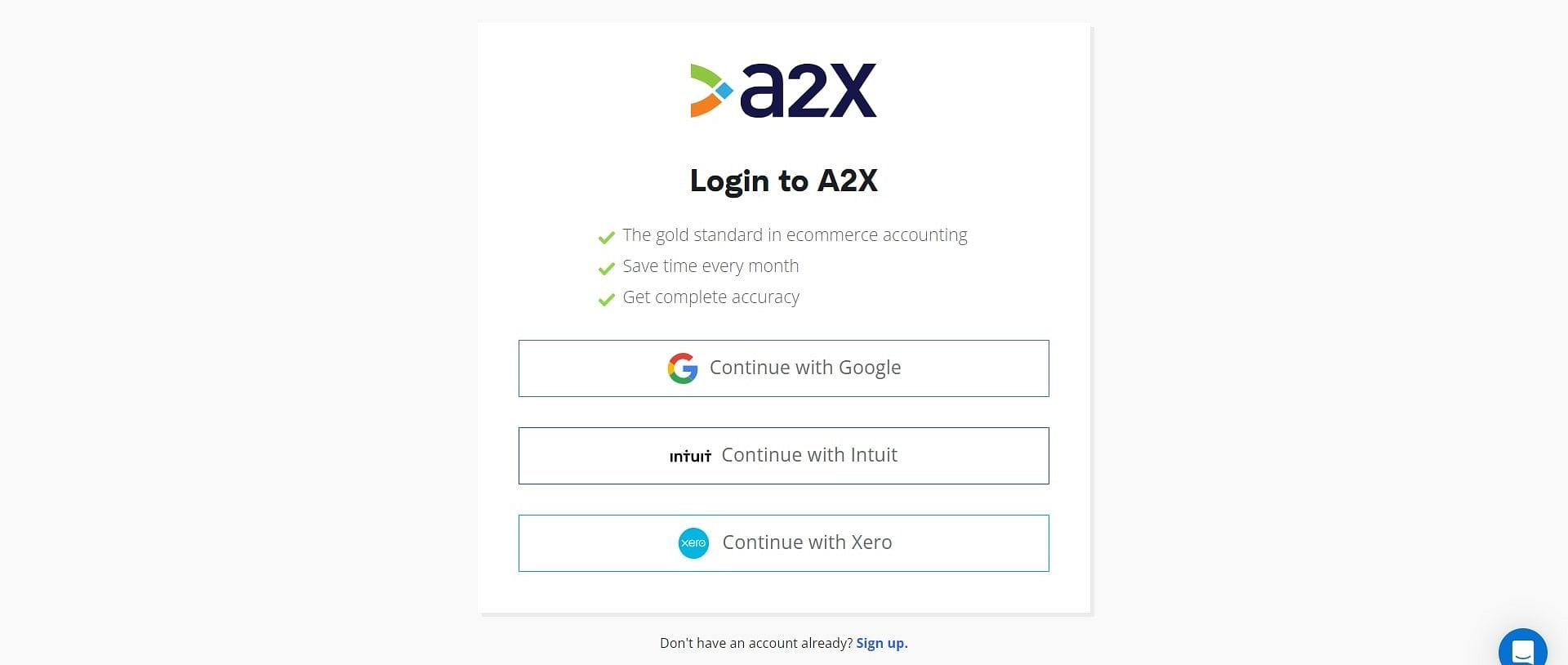 After you've completed this step, you are now good to integrate your Amazon account and QBO.
Are You Ready for A2x?
Accounting is complicated, especially for sellers on the world's largest ecommerce platform. But, there is a solution that can simplify your accounting processes: A2X. It can help you connect your Amazon account to QuickBooks Online and other software while organizing your transactions.
If you're still unsure about updating your accounting processes and need additional support, Unloop is here to help. Say hi to better and easier Amazon accounting with our dedicated team—no need to worry about the stress and confusion of managing your accounts alone.
So what are you waiting for? Book a call today!