Disclaimer: Please note this article is not financial advice. The purpose of our blog is purely educational, so please consult a professional accountant or financial advisor before making any financial decision.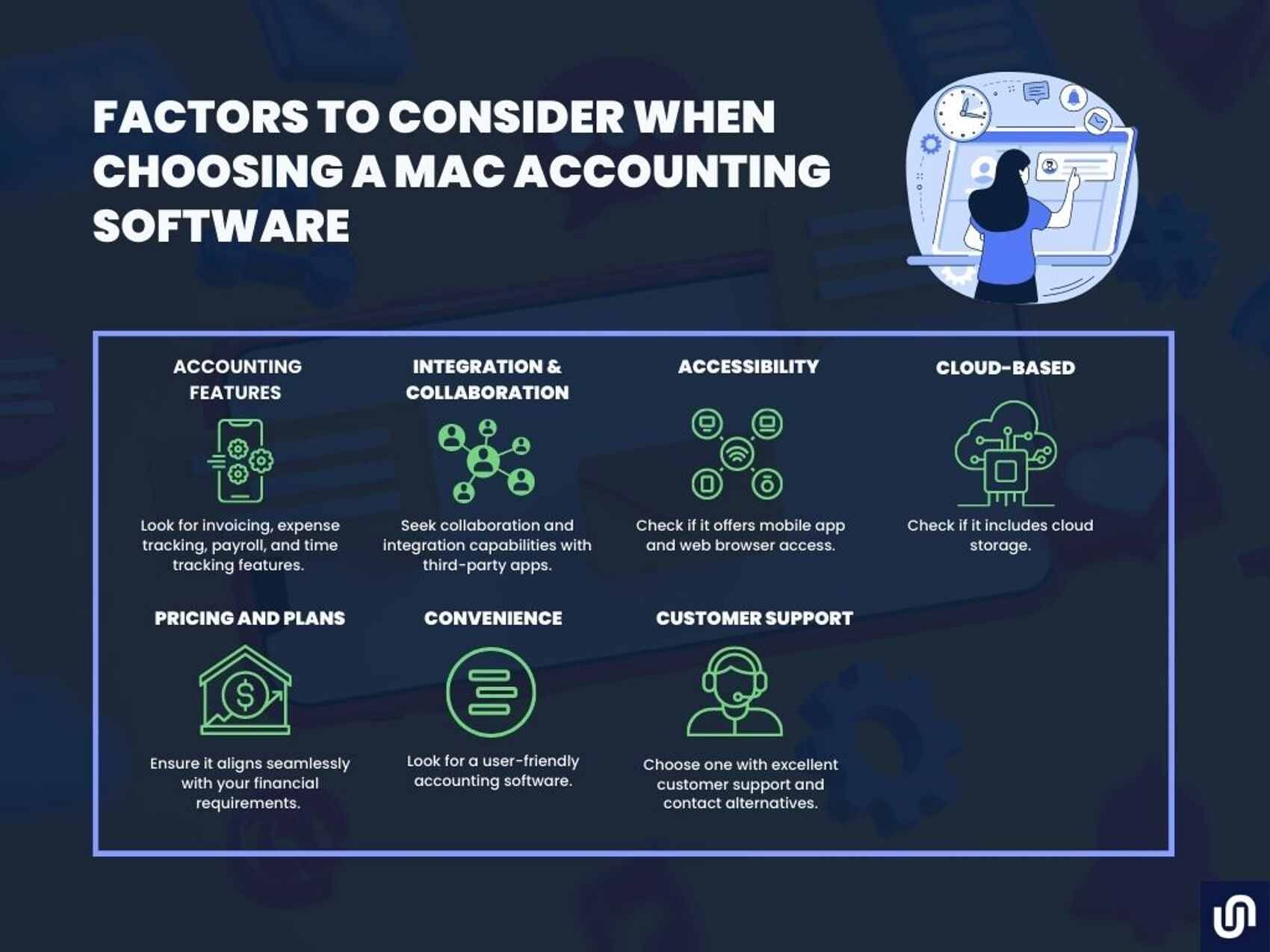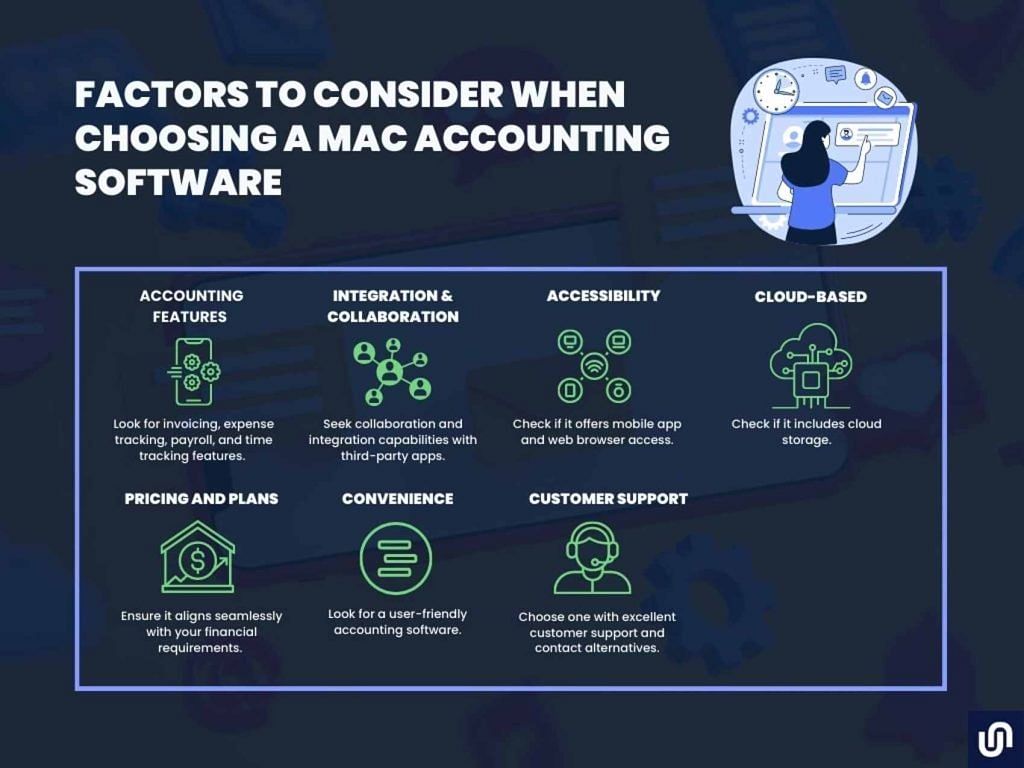 The right software is crucial in managing finances and staying on top of your business's accounting needs. As a Mac user, you're already familiar with the sleek design and user-friendly interface that Apple products offer. So, why settle for anything less than Apple accounting software?
If you are a Mac user, don't get stuck with shoddy Mac versions of software originally programmed for PCs. Let's dig deeper into this article and find out the best accounting software for Mac users. Plus, learn the factors to consider when selecting them.
Factors to Consider When Choosing a Mac Accounting Software
When choosing a Mac accounting software, it's important to consider several factors to help you select the best accounting solution for your business needs.
To determine which accounting software for Mac best serves your needs, consider the following:
The nature of your business
The size of your company
Your budget for accounting software
The complexity of your financial transactions
Aside from these factors, also consider the following when finding the right Mac accounting software:
Key Accounting Features
Considering the accounting software features and functions is important before selecting it for your business. These project management tools determine how effectively you can manage your financial records, track transactions, and accomplish more accounting tasks. Here's a quick list to begin with:
Invoicing
When selecting accounting software, expect a streamlined invoicing process that allows you to create customized, professional invoices easily. Many accounting software programs offer templates you can tailor to your business.
Some software also includes automatic invoicing for recurring transactions and one-click invoice sending.
Expense Tracking
Most accounting software nowadays offers intuitive expense-tracking features. Such features allow you to categorize expenses, import bank transactions, and create expense reports. Additionally, it monitors your spending patterns, which is beneficial for budgeting and reducing unnecessary costs.
Some software even allows you to attach digital receipts to transactions, making your documentation organized and easily accessible.
Payroll and Tax
The best software solutions offer automated payroll calculations and tax compliance. Elevate your business operations with additional features like direct deposit, employee self-service portals, and leave tracking to simplify your workload and enhance overall productivity.
Time Tracking
With the time tracking features available in accounting software, you can ensure you're billing clients accurately and fairly. It also allows you to monitor the time spent on tasks, record billable hours, and generate timesheets for your employees.
Integration and Collaboration
If you are an Apple person, you know that the tech giant's core belief is that collaboration is essential for innovation. Seamlessly integrate your financial data across Apple devices with software that fosters teamwork and propels your business forward.
💡 Look for a certain level of collaboration and integration with other software that would set your accounting tool apart.
Integrations With Other Software
Your accounting software should be able to integrate with third-party applications seamlessly. Integrations can help you automate critical financial processes, reduce manual data entry, and increase productivity.
For example, you can connect your software with popular customer relationship management (CRM) tools, invoicing and payment processing platforms like Shopify and Stripe, or collaboration tools like Slack and Google Workspace.
Collaboration and Unlimited Users
One of the important features you must look for in accounting software is its collaboration capabilities. With real-time collaboration, you and your team can work together on financial documents, spreadsheets, and reports from anywhere, using any Apple device.
Additionally, the software should allow unlimited user access with control, meaning you can grant access to as many people as you need within your organization. This enables you to delegate tasks, assign permissions, and ensure your team can collaborate effectively on your financial data.
Accessibility
As a business owner, there are essential things you have to do for your business other than accounting tasks. One is how easily you and your team can collect and analyze information.
📱 It's important to ensure you can still access your financial data and manage them while on the go.
Mobile App
When choosing accounting software for your Mac, consider if it has a mobile app version. A good mobile app will allow you to manage your finances anywhere and anytime, making it easy to keep track of transactions, send invoices, and more from your iPhone or iPad.
Web Browser Access
Besides having a mobile app, it's also crucial for accounting software to provide seamless web browser access. This means you can log in to your account from any device, such as your Mac or even an iPad, without needing to install the software.
Cloud-Based
Cloud-based accounting software offers numerous benefits for your business. If your financial data is stored in the cloud, you can access it from any Apple device, as long as you have a stable internet connection.
Here are more benefits of cloud accounting software:
Protection from data theft and corruption
Accessibility
Collaboration-friendly
Quick generation of reports
Saves your time from manual data entry
Pricing and Plans
Pricing is an important factor small business owners should consider when choosing their accounting software. You must select small business accounting software that optimizes your accounting processes without hurting your budget.
Free Trial
Whether you own a small or large enterprise, it's always crucial to review the pricing plans available to ensure your accounting software meets your needs before committing to a subscription. Fortunately, many top-rated accounting software options offer a free trial for you to test their features.
💡Use this chance to explore the software's interface, integrations, and capabilities to determine if it fits your business.
Subscription Pricing
Once you've tried the software, find the most suitable subscription pricing. Ask yourself these questions:
How big is the size of your business?
What are your accounting needs?
How much is your budget for accounting software?
As your business grows, you might require additional functions, such as advanced inventory management features. Be sure to review your budget before diving into new investments.
📈 Analyze your long-term needs and potential growth to ensure the software can adapt to your future demands.
Ease of Use
Ease of use should be a top priority when choosing the best accounting software for your business.
⏳ A user-friendly application will save you time and reduce the chances of errors in your financial records.
The user interface should be clean and intuitive. This enables you to navigate through the software with minimal effort.
Look for software that avoids clutter and places frequently accessed functions within easy reach.
Consider the speed and responsiveness of the application. Slow-loading software or lagging screens can be frustrating, especially when managing finances on a tight schedule.
Make sure the software is optimized for Mac devices. It should handle your specific business requirements without slowing down.
Good Customer Support
Apple offers top-notch customer support. Make sure your accounting software is capable of that service quality too. Having support staff who understand Mac inside and out is great! However, it is also important to have an accounting application that includes alternative communication options, such as the following:
Free online forums
Tutorial videos
Help guides
These resources will help you get started and maintain momentum in using accounting software.
The 3 Best Apple Accounting Software for Mac Users
Now that you know the factors to consider when selecting accounting software for your Mac device, let's explore some of the top accounting software options available:
QuickBooks for Mac
QuickBooks for Mac is a user-friendly accounting software for Mac users. You can choose from the online cloud or desktop version. QuickBooks for Mac also offers a 30-day free trial period.
| QuickBooks Desktop for Mac | QuickBooks for Mac Online |
| --- | --- |
| Need to download updates | Available smartphone app |
| Customize invoices and other financial statements | Information is backed up in the cloud |
| Can add payroll for an additional fee to the plan | Syncs bank transactions automatically |
Zoho Invoice
Zoho Invoice could be the best free accounting software for Mac users, especially small businesses. Apart from being free of charge, here are the other things you can acquire when you sign up with Zoho:
Intuitive and clutter-free user interface. The software is super easy to navigate and allows you to create and send invoices and payment transactions within seconds.
Smooth and feature-laden. It has an excellent user experience with amazing features for Mac loyalists.
Time tracking at its best. You can capture work hours by simply starting the desktop timer and syncing it to the web app.
Great customer service. Zoho's customer support will guide you from start to finish.
Cloud accessibility. You can manage your invoices on the net, just like managing your files on iCloud.
It's also essential to note that Zoho is not as comprehensive compared to paid accounting software.
| Pros | Cons |
| --- | --- |
| Free (pay only for add-ons) | Limited features |
| Simple and intuitive | Has a limit of 1000 invoices per year |
| Cloud-based | |
FreshBooks
FreshBooks is another reliable cloud-based accounting software fit for your Mac computer. This application lets you receive payments, send invoices, and track expenses. You can also collaborate with your colleagues and clients easily.
| Pros | Cons |
| --- | --- |
| Advanced accounting features | Can be difficult to use |
| Cloud-based | May not suit large businesses |
| Available smartphone app | |
FreshBooks guarantees that it has all the right accounting features for your Mac to satisfy your bookkeeping needs. Other things that you can enjoy with FreshBooks are:
Automation of tasks such as client follow-ups, time tracking, and organizing expenses
Looking more professional by showing your clients sleek estimates and appropriately-designed invoices to flex your brand
Final Thoughts
Accounting software for Mac is not that hard to find; different, popular accounting solutions are doing their best to accommodate business owners on all platforms. Still undecided about which one to utilize? We recommend selecting from the suggested accounting solutions above.
We highly suggest beginning with QuickBooks Online: not only is it a very popular option for small businesses with its user-friendly interface, but you can also try it for free before buying a subscription.
If you're still in doubt, contact us professionals at Unloop. We can help you with your accounting and bookkeeping needs. We'll also help you choose the right accounting software for your business. Book a call with us to get started!