Disclaimer: Please note this article is not financial advice. The purpose of our blog is purely educational, so please consult a professional accountant or financial advisor before making any financial decision.
Are you struggling to streamline your finances? Hiring remote bookkeeping services could be the perfect solution for you! Expanding technology has made it easier for business owners to find skilled professionals who can manage financial tasks from a distance.
By opting for online bookkeeping services, you can save time, money, and resources that can be better focused on growing your venture. Imagine the convenience of having a bookkeeper who can update, track, and manage your financial affairs without needing a physical presence in your office. Sounds innovative!
If you're eager to do hassle-free financial management, here is comprehensive information on hiring an online bookkeeping service.
Are Virtual Bookkeeping Services In Demand?
| | | | | |
| --- | --- | --- | --- | --- |
| Occupational Title | Employment, 2021 | Job Openings Each Year | Projected Employment, 2031 | Change, 2021-2031 |
| Bookkeeping, accounting, auditing clerks | 1,707,800 | 197,600 | 1,630,600 | -5% |
Source: Bureau of Labor Statistics
Based on the data provided by the Bureau of Labor Statistics, it is evident that the decrease in demand for traditional financial workers such as bookkeeping, accounting, and auditing is a direct result of technological advancements. A growing preference for online bookkeeping and accounting services accompanies this shift.
Technological changes improved efficiency by automating tasks and reducing the required manual data entry and primary bookkeeping workforce. Using accounting software and employing seamless collaborations also enabled virtual accountants to concentrate on delivering specialized financial support.
Are Online Bookkeeping Services Recommended for Small Businesses?
While big companies may have the resources to hire an entire accounting firm, small business owners often face budget constraints and limited staff. So, yes! Online bookkeeping services can be a cost-effective and efficient solution for small enterprises to manage their finances effectively.
Instead of hiring a full-time in-house bookkeeper, which can be costly in terms of salaries, benefits, and office space, outsourced bookkeeping services save on expenses associated with maintaining an internal employee.
Financial management expertise is also on the list of benefits when hiring a virtual bookkeeping service. They are well-versed in payroll services, bookkeeping software, and industry best practices. With their knowledge, small businesses can ensure accurate financial data, proper record-keeping, and compliance with financial regulations.
And with the burden of bookkeeping lifted, small firms can focus on their core operations, make informed financial decisions, and contribute to the growth and success of their business.
The Benefits of Hiring the Best Online Bookkeeping Services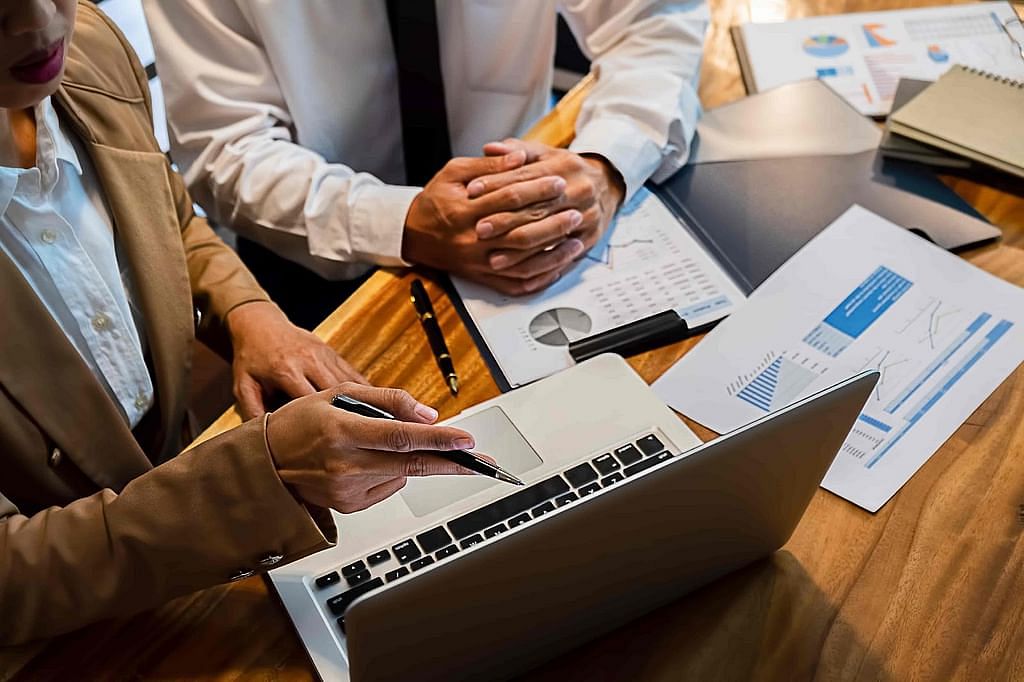 Everyone knows the hassle of handling business operations, regardless of size. From regularly running the place to managing employee salaries, monthly expenses, investments, tax services, financial statements, and advertising, there are a lot of duties to address. If you're not well adept at this kind of work, it can be a catalyst for the downfall of your venture.
Luckily, you can now offload the burden with the advent of online services. Not only can you automate many aspects of your business, but they can also offer a wide range of solutions tailored to your specific needs.
It starts with collaborating with the best virtual bookkeeping services. But how can you say they are the right fit for you? Take a look at the essential benefits they can offer:
Detailed Recording
Money comes in and out almost every day. You employ it in your manufacturing process, and clients return it to you when they buy products or pay for services. Sometimes, keeping track of all the financial transactions around you poses challenges.
From accounts payable to accounts receivable, the ideal bookkeeping service will keep a detailed record of all financial statements that happen in your company. They can also do this process more efficiently, constantly updating you with accurate gains and expenses.
Secured Financial Data
It's only natural to ask yourself, "Are online bookkeeping services secure?" Rest assured, they prioritize the security of sensitive financial information.
The best bookkeeping service implements robust security measures to protect your financial data. They use advanced encryption technology and state-of-the-art security protocols to keep the transmission and storage of your financial details inaccessible to unauthorized people.
This commitment to data security provides you with the peace of mind you deserve, knowing your financial information is in safe hands.
Strategic Planning
Sometimes you have to add more or cut short supplies to meet consumer demands. That's where a dedicated bookkeeper can facilitate your strategic planning efforts.
A competent virtual bookkeeper can provide in-depth financial forecasts and projections, leveraging the convenience of online platforms. With their help, you can easily predict the outcome for the coming months and carefully plan to avoid any loss.
They can also deliver accurate predictions regarding future demand and supply requirements by analyzing patterns and trends in your financial data.
Instant Financial Reports
Even small businesses have a group of investors that help build and run the business. As the owner, it's your responsibility to keep them informed on every detail.
Fortunately, the best online bookkeepers will update you on monthly financial reports. These documents provide an overview of the company's performance, including the balance sheet, income statement, and cash flow statement.
You can instantly view and download the reports through secure online platforms whenever needed. You can also share these financial reports with the involved parties, informing them about your current performance and progress.
Law Abiding
A professional bookkeeper will always strive to meet the latest legal regulations. Given the advantage of virtual work arrangements, they can efficiently fulfill their obligations in meeting legal standards.
Being well-versed in accounting and financial regulations, they can stay abreast of any law changes that may impact business finances. They know the tax filing laws, reporting requirements, and relevant rules specific to your industry or region.
Virtual bookkeepers can also remotely discuss the timely submission of necessary documents and compliance with legal deadlines. There is no need for in-person meetings through real-time discussions, video conferences, or messaging.
Tax-Ready Financials
A reputable bookkeeping firm knows how to file your tax returns. They understand the changes in tax codes, deductions, credits, and other important information about optimizing your tax position.
In addition to the technical aspects of tax preparation services, bookkeeping firms can also offer valuable sales tax advice. They can assess your financial situation, identify potential deductions or credits that apply to your business, and provide recommendations to help you stay in good standing with tax authorities.
Bank Reconciliation
Reconciling your bank accounts is critical to maintaining accurate financial records. Remote bookkeeping services make this process simple and efficient.
They automatically sync your bank transactions with your accounting software, helping you identify discrepancies and ensuring all entries are accounted for. This way, you'll have a clear picture of your financial health and be able to make better-informed financial decisions.
Simplified Invoice and Bill Pay
With remote bookkeeping services, you can easily manage and track your invoices, ensuring you get paid on time. Plus, paying your bills becomes a breeze as most platforms offer automated bill pay options to ensure you never miss a deadline. Say goodbye to late fees and hello to improved cash flow!
Where Can You Find the Best Online Bookkeeping Service?
Are you searching for an agency that offers the expertise of a dedicated accountant and bookkeeper? Look no further than Unloop. We can help you shed light on the essentials and carve a path to success.
We can handle your finances smoothly and give fresh insight to develop your business. All you have to do is choose your plan, and a professional bookkeeper will be on board with you. From there, all your finances are accounted for, and you will receive regular updates about the performance of your company and financial analysis reports.
When you decide to partner with us, our bookkeeping package includes the following:
📅Monthly updates on income and cash flow statements as well as balance sheets
💻Hubdoc, DEXT, Quickbooks Online, or Xero subscriptions.
🤓Endless experts supporting your business's financial accounts and tax advice
📧An open line of communication with your bookkeeper on Slack or other messaging apps
Choose Unloop Today!
There's so much more to learn when you start a business; from management, budgeting, and payroll processing to finances—you must be focused and hands-on with all aspects to expand and reach success. Subscribing to remote bookkeeping services to handle your assets, investments, and financial records will be crucial to your growth.
Unloop wants to help build your empire and generate more income. That is why we're giving you the best financial ecommerce services at the most affordable price. Book a call now, and let's discuss the perfect plan for your business!