Staying organized, advanced, and efficient is more important than ever, especially in today's fast-paced business environment. Large companies and businesses often have the resources to hire an in-house bookkeeper. But how do you redefine modern entrepreneurship if you're a small business owner? Enter remote bookkeeping services.
Gone are the days when small business owners were limited by budget constraints that hindered their ability to access professional assistance. With online bookkeeping services, you can modernize your business operations and ensure your company's financial health is always in check.
Transform the way you run your small business. Read this article now and discover how remote bookkeeping services can empower you to thrive in the digital age.
The Nature of Virtual Bookkeeping Services
Thanks to technology, bookkeeping services are now available virtually.
Virtual bookkeeping agencies specialize in remote bookkeeping services. They work with you by relying on the financial data you send them online. They bring a human touch to the digital world, combining their knowledge with advanced technology to provide accurate, reliable, and efficient online bookkeeping services for small business owners.
There are certain scenarios when outsourcing bookkeeping services makes the most sense for your business: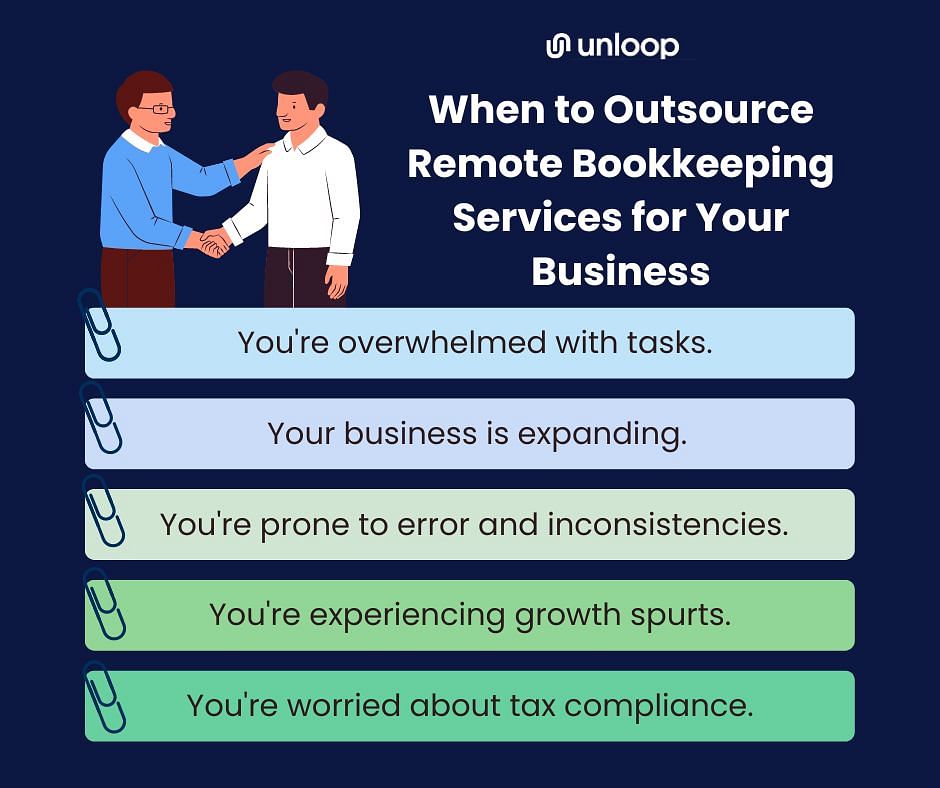 Transacting with a virtual bookkeeping business does not mean a computer will do your job. The people working behind an online bookkeeping service are freelance bookkeepers responsible for overseeing your transactions. They are the ones who will explain everything to you.
Are online bookkeeping services secure? Absolutely! You can communicate with your virtual bookkeeper via email, phone, or video, ensuring a smooth and transparent experience. These people may also provide integrations with other business tools to streamline processes while prioritizing the confidentiality and protection of your financial data.
Like an on-site bookkeeper other companies employ, these skilled individuals can prepare various financial documents for you. These include:
Tasks and Services
Bank Reconciliation
Keeping your financial records match your bank statements
Invoicing
Creating and sending invoices to your clients
Bill Payment
Managing and paying your business expenses
Financial Reporting
Producing monthly financial statements, such as balance sheets and profit and loss reports
Accounts Payable and Accounts Receivable
Tracking funds entering and leaving your business
Payroll Management
Making sure employees are paid accurately and on time
In addition to these tasks, some bookkeeping companies offer additional features like:

Payroll Services
Tax Preparation Services
CFO Services
Catch-up Bookkeeping Services
With reduced errors, compliance support, and valuable business insights, virtual bookkeeping services empower you to make confident decisions and drive your small business forward.
In-House vs. Remote Bookkeeping Services
Modern times and the presence of technology have changed how things work. The choice between in-house and remote bookkeeping services has become more relevant and important for many companies.
We believe that remote bookkeeping is now the name of the game. Apart from its cost-saving advantages, here's why it is gaining prominence.
Flexible and Varied Plans: Unlike hiring permanent staff with fixed pay, you can pick plans that match your budget and company needs with virtual bookkeeping companies.
Client-Oriented: Aside from hard skills, agencies equip their people with soft skills. Service providers should double the quality of customer service when the work is remote. All your concerns are always attended to.
Well-Versed in Taxes: The advantage of remote bookkeepers is their experience handling many accounts. Their knowledge of sales taxes isn't only from the books but from experience in handling the sales taxes of their clients from different locations.
Everything Done Online: If you decide a virtual bookkeeping service is right for you, signing up is just a few calls and clicks away. Visiting physical offices requires no hassle as all transactions are done online.
Here's an example of how Unloop's bookkeeping services help clients online: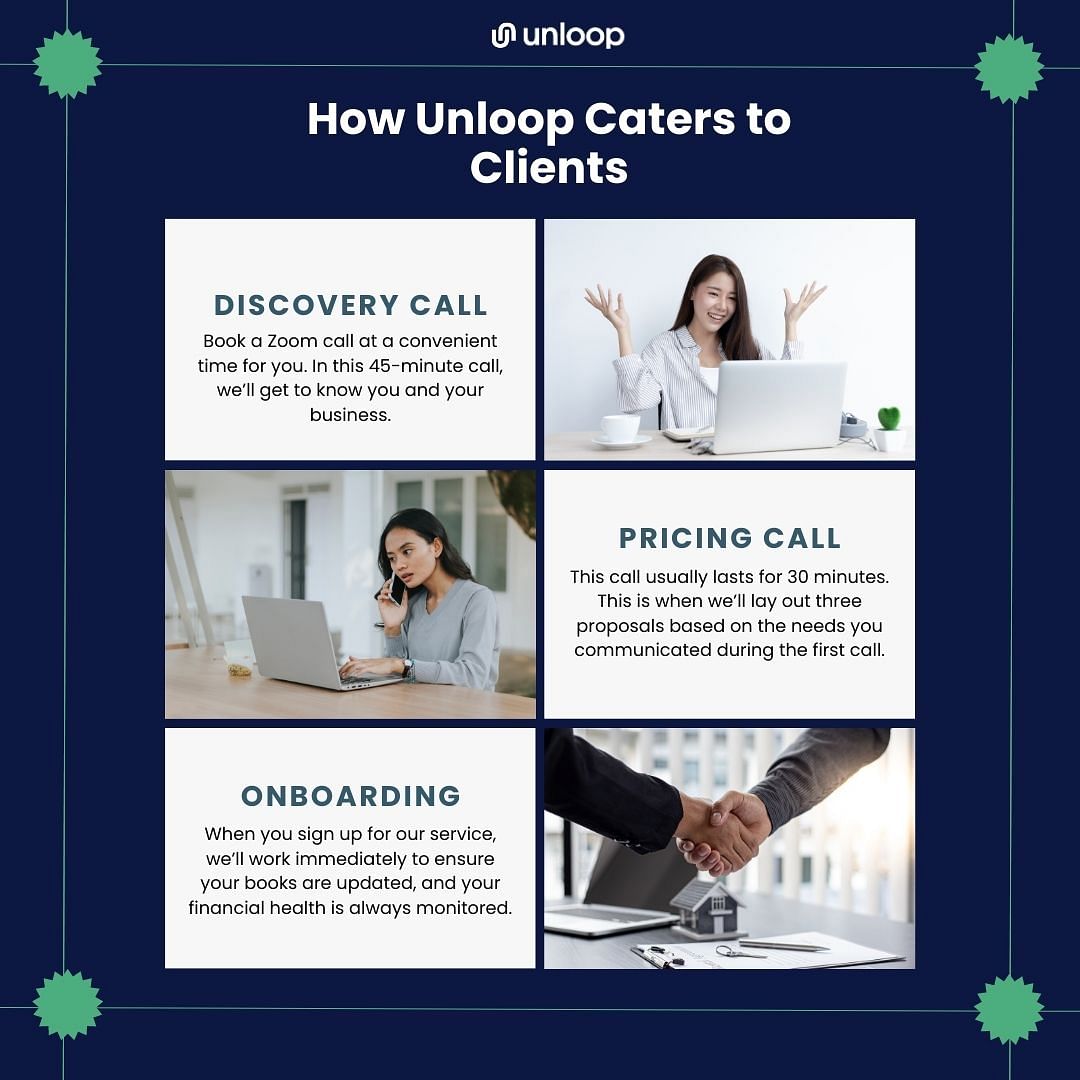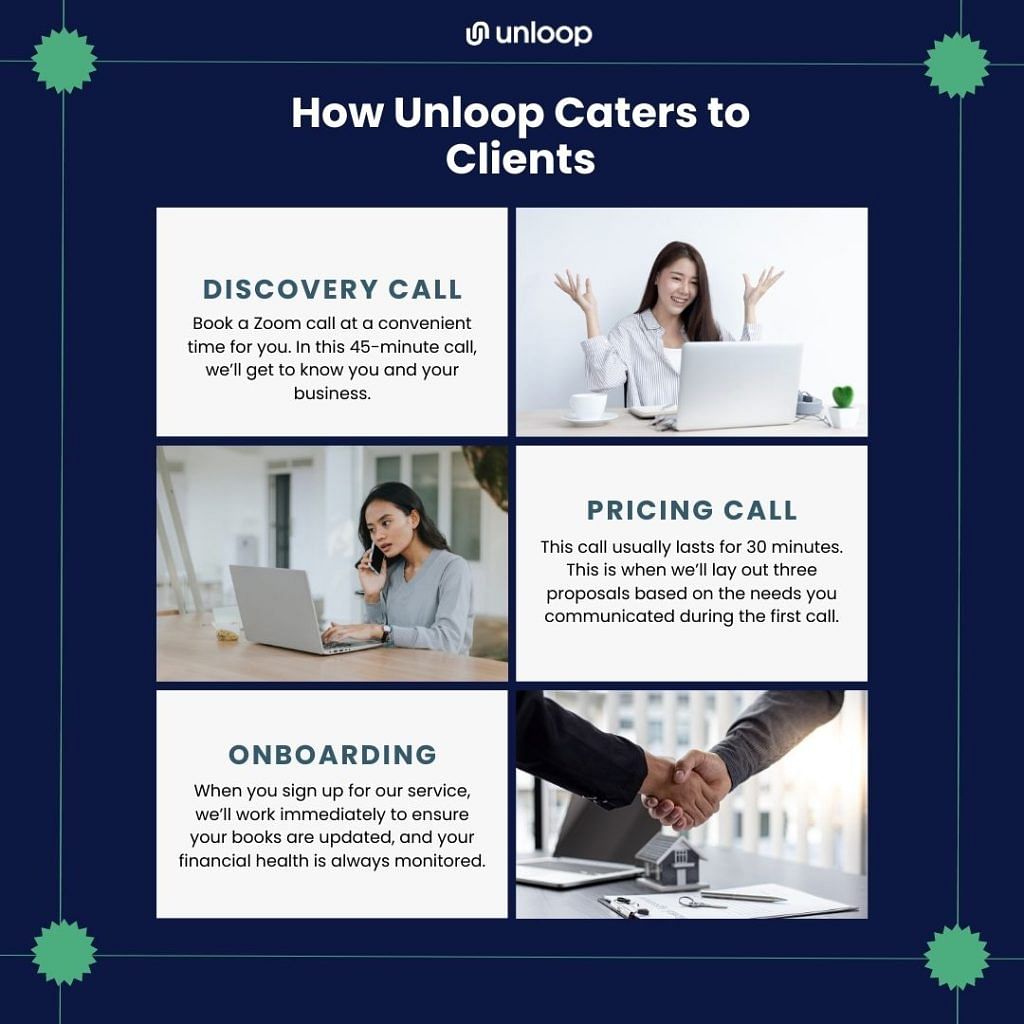 How Remote Bookkeeping Services Benefit Small Businesses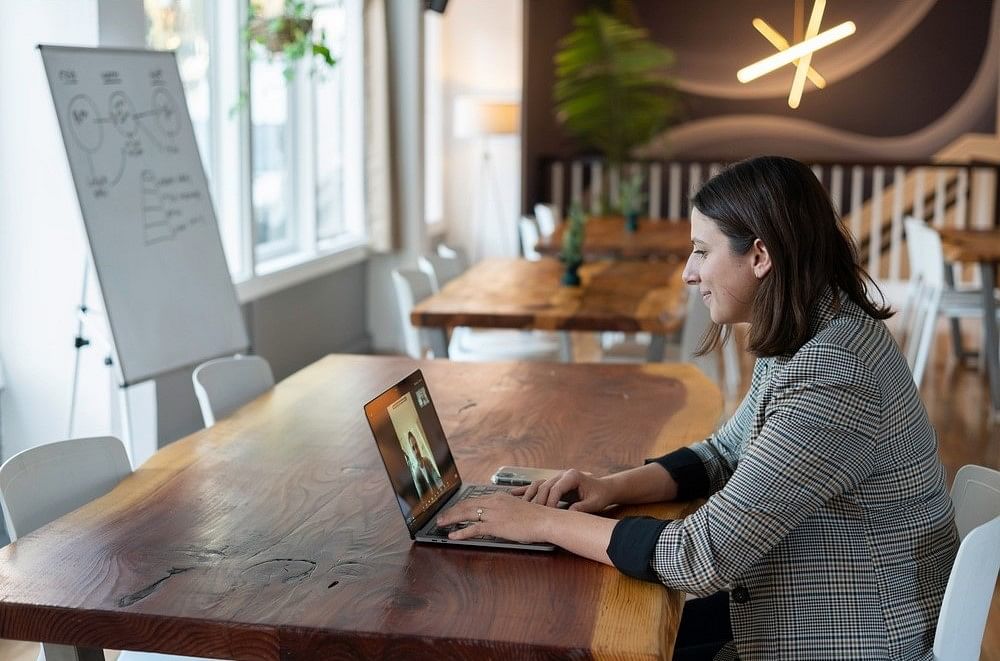 As you can see, remote bookkeeping services are a game-changer for your small business. But aside from the advantages mentioned above, here's why we're so confident in recommending them.
✅ Business Size: Whether you're a solopreneur or a growing company, remote bookkeeping services have your back. They're designed to cater to the needs of businesses like yours, ensuring your financial records are impeccably managed.
✅ Business Entity: Remote bookkeeping services are perfectly aligned for small enterprises that operate as ecommerce businesses. They can provide the advanced tools and knowledge to handle financial operations effectively.
✅ Flexibility and Scalability: A dedicated bookkeeper from accounting services will keep your financial activities sleek and polished, no matter how much your business expands.
✅ Comfort with Technology: Remote bookkeeping relies on accounting software and other digital tools. Small business owners who aspire to innovate their performances are keen on adopting and using these tools.
✅ Data Privacy and Security: The financial industry is no exception to data breaches, as sensitive information such as account numbers and financial records are often stored electronically. With remote bookkeeping, you can ensure that their data is properly protected.
✅ Training and Resources: Hiring a remote bookkeeping service provider can free up training resources better spent on hiring key personnel to grow and maintain your business, especially in today's job environment and economy.
✅ Less Mistake: Money is the lifeblood of any business. But keeping track of your income and expenses can be a full-time job and may rob you of other vital activities. A good bookkeeper will help you comply with tax laws and avoid costly mistakes that could jeopardize your business.
Bookkeeping Made Smarter With Bookkeeping Software
In the modern era of bookkeeping, embracing the right tools and solutions is essential for smarter financial management. Cloud-based accounting software, in particular, is built to have less room for errors. With its integration feature, you can record financial transactions automatically.
For remote bookkeepers, selecting the right bookkeeping software is a breeze as long as it caters to your preferences. But aside from suitability, more common factors are used to evaluate a software's overall effectiveness.
With the right software in place, bookkeepers can simplify the business process, allowing you to help focus on what matters most—meeting the digital demands of today's business landscape.
Here are a few top contenders:
1. QuickBooks Online
QuickBooks Online is one of the most reputable bookkeeping software. Renowned for its reliability and versatility, this software is scalable to the needs of your business. With an industry-specific solution, QuickBooks Online can seamlessly adapt to various business types—wholesale, nonprofit, contractual, retail, or others.
QuickBooks Online proves to be an invaluable asset to remote bookkeepers. The software manages data transfer and enhances communication between bookkeepers and their clients. It simplifies collaboration, allowing them to generate financial reports and give real-time insights to their clients.
2. Xero
The key selling point of Xero is its ability to integrate over 1,000 apps, making it convenient and accessible for monitoring finances anywhere. This software is perfect for small businesses due to its affordable price and collaborative features available at a low price point.
Xero matches the transactions you enter on the application and your bank transactions. However, it's still essential to cross-check and confirm the matches to maintain accuracy and control over your financial transactions.
Inventory management presents a unique challenge for small business owners, but Xero rises. It offers comprehensive inventory management capabilities across all plans with no additional costs. You can track your stock levels, manage orders, and stay on top of your inventory from the comfort of your home.
3. Zoho Books
From sending invoices and tracking your bills and expenses to securing organized and categorized reports for your business, Zoho Books can ease your accounting workload. It offers excellent customer service support and a beginner-friendly interface, making it attractive for small business owners on a budget.
Managing taxes can be a daunting task. But with Zoho Books, you can confidently handle tax filing and ensure accurate tax preparation, saving you time and stress during tax season.
4. Fathom
Fathom is an accounting software offering multiple features such as different analyses, financial statements, performance metrics, etc. All of its features are available in all its packages.
Fathom is unique because it allows unlimited users to collaborate and use its features, even with the lowest subscription fee. Their pricing depends on the number of companies you would like to include. They also offer custom plans upon request.
It allows clients to see how changes and movements in their finances will affect each other with the "What If" scenario analysis. This is especially useful for small business owners who want to forecast with little knowledge of finance.
Frequently Asked Questions About Outsourcing Bookkeeping
Do you have any inquiries about remote bookkeeping services? Don't worry; we have the answers you need!
How much does it cost to outsource bookkeeping?
The cost of outsourcing bookkeeping will differ depending on the size of your organization and the specific services you need. Although bookkeeping service providers charge much less than in-house bookkeepers, not all companies offer the same rates.
How do I find a reputable outsourced bookkeeping service?
There are several ways to outsource a reputable bookkeeper, including asking for recommendations from other business owners, searching online directories, or contacting professional associations. Once you've found a few potential service providers, check references and get quotes before making your final decision.
Can I outsource just a portion of my bookkeeping?
Yes, you can typically choose to outsource only certain aspects of your bookkeeping, such as preparing financial statements or tracking payables. This is ideal if you want to maintain some control over your finances but don't have the time, skills, or resources to do everything yourself.
Unloop Offers the Best Online Bookkeeping Services
Embracing the presence of remote bookkeeping services signifies a transformative opportunity for your small business. You can modernize your operations, optimize efficiency with powerful bookkeeping tools, and shift your focus toward growth and profitability. After all, who wouldn't want to stand out in this competitive landscape?
At Unloop, your business finances are in good hands. Even if you're a small-scale business, we can provide expert remote bookkeeping services that rival larger enterprises.
Our services include:
📌 Bookkeeping Tasks
📌 Advisory Services
📌 Tax Advice
📌 Sales Tax Services
📌 Financial Statements
📌 Forecasting
📌 Accounts Payable
📌 And More!
Achieve sound financial planning with the help of our qualified remote bookkeepers. Book a call now!