Disclaimer: Please note this article is not financial advice. The purpose of our blog is purely educational, so please consult a professional accountant or financial advisor before making any financial decision.
Are you running an ecommerce business? If yes, you know the online marketing platform is dynamic and highly competitive. Financial management can be especially tricky due to the unique characteristics and challenges associated with the businesses it caters to. You don't just need an accountant—you need an ecommerce accountant specializing in online businesses.
If you have started a business before, you may have gained some knowledge in managing and running your current venture. But when it comes to the online market, accounting works differently.
In this article, we'll learn more about the role of an expert in ecommerce accounting, why you should consider hiring one, and what makes a good accountant.
Ecommerce Accountants: Who Are They?
As an ecommerce business owner, many things must be done before your profit starts rolling into your bank account. Some of the most crucial processes are accounting and bookkeeping services, which are a must for your small company's financial management needs.
Bookkeepers vs. Accountants
These services may sound the same if you're new to the business. But their roles are distinct, and both services are equally important for your business's success.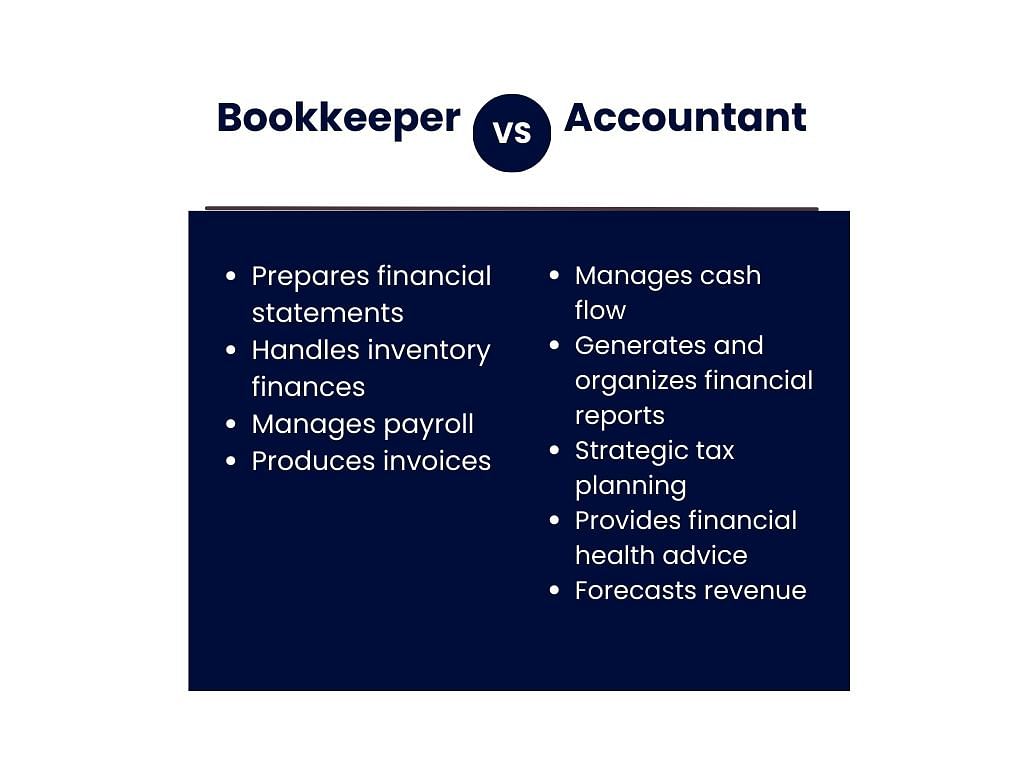 💡 To put it plainly, an expert bookkeeper keeps all the records of your business transactions.
You can see it as keeping notes for your business expenses and income. Here are some tasks a bookkeeper does:
Financial statement preparation. A bookkeeper is responsible for recording financial transactions and organizing and maintaining financial records.
Inventory management. They record and track inventory transactions and update inventory documents.
Managing payroll. A bookkeeper helps with processing employee wages and deductions.
Producing invoices. Bookkeepers help in producing invoices, entering bills, and sending payments.
💡 On the other hand, accountants use your financial information for analysis.
All the financial data from your bookkeeping can assess the current status of your ecommerce business. Here are some tasks an accountant can help you with:
Monitor cash flow management and provide metrics to see your cash position.
Generate and prepare financial reports (balance sheet, tax returns, etc.) to show your business's financial standing.
Tax planning. Identify tax-saving opportunities, and share advice on minimizing tax liabilities.
Share advice and recommendations on your business's financial health and inventory management.
Forecast your potential income in the coming months or years to help you with major business decisions.
How Do Accountants Help In Ecommerce Accounting?
Aside from those we mentioned above, accountants can do several vital tasks for your ecommerce business. Let's take a closer look at these tasks to see the advantages these experts in ecommerce accounting can provide you.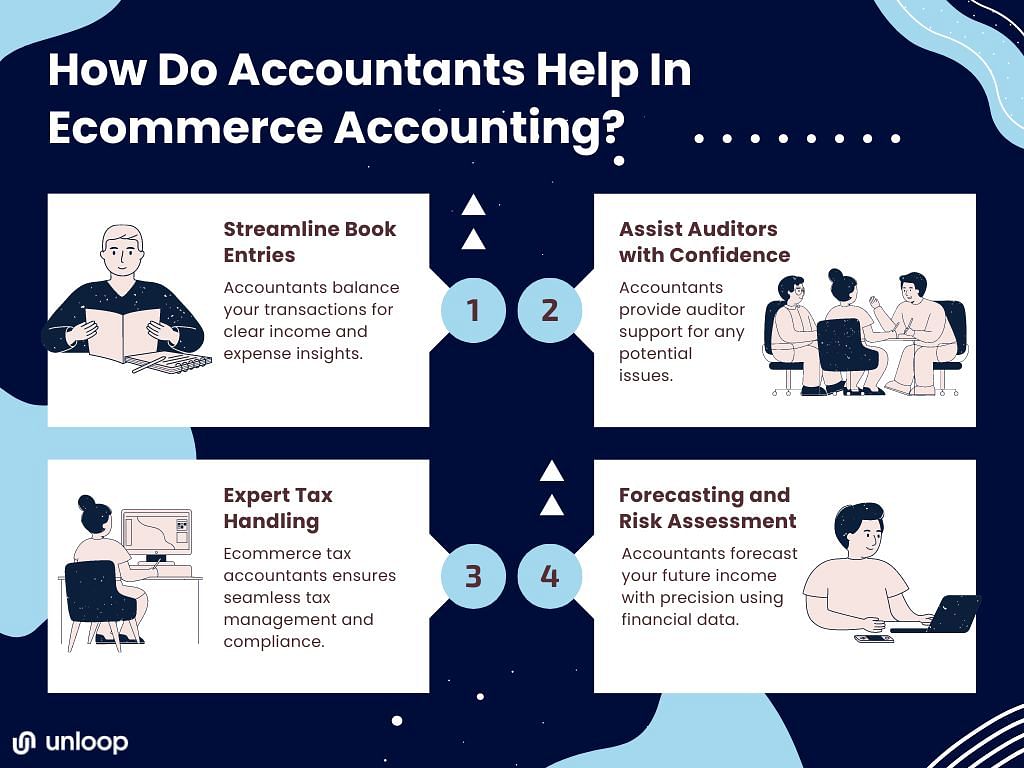 Preparing and Adjusting Book Entries
An accountant's job is to make sense of your business's financial records. Your initial financial records only show transactions, so the full picture remains unclear. Your accountants balance these transactions so you understand the flow of your income and expenses.
They also help track the accurate dates and times of your financial activities. In some businesses, there are scheduled financial transactions. But if you're inexperienced, you might interpret this as lost money. Accountants can help with these issues and keep your books clean and organized.
Collaborating With Your Business's Auditors
Many new sellers think that small businesses are exempted from auditing. But in reality, most tax collection agencies allocate resources to audit small businesses because these enterprises often file taxes incorrectly.
💡Audits are done by an independent auditor who thoroughly examines your books. They ensure all your financial statements' data go where it's intended to as recorded in your books.
Accountants help ensure you have accurate financial information, and they can work with the auditor to address any potential issues. Additionally, when your audit reports come out well, it opens you to loan opportunities and even sponsor partners that can help expand your business.
Handling All Tax-Related Matters
Collecting and filing taxes can be very confusing, especially sales tax in the ecommerce market. You'll burn through your profit by paying more than needed or incur fees if you don't know how the taxing system works. Ecommerce tax accountants ensure you avoid this and maintain smooth and compliant tax handling.
For example, ecommerce business owners on Amazon must collect and remit sales taxes after reaching 200 separate sales transactions. However, this threshold varies depending on state sales tax laws. Policies also differ depending on the ecommerce platforms the sellers are using.
Your accountants can help you
price your products to collect the proper sales tax,
pay taxes on time to avoid issues,
ensure timely and accurate sales tax compliance,
get discounts on your taxes; and even
find ways to make you eligible for exemptions.
Precise Forecasting and Risk Analysis
The data in your books are not only helpful for your past and present situation. Your accountants can also use it to forecast your future income. Recorded data creates a pattern that experts in ecommerce accounting interpret to see how much you will earn in the coming months.
Ecommerce trends also change rapidly. Ecommerce sellers like you can't have the same strategy for the whole year; doing so will make it difficult to stay on top of your competitors. Forecasting is essential in detecting these details, enabling you to assess your next move and achieve optimal results.
You can plan with your partner e commerce accountants about
changing prices,
identifying unique challenges on ecommerce platforms,
maximizing your inventories, and even
the types of goods you should sell.
What to Look for When Hiring an Ecommerce Accountant
Hiring external accounting and other services may seem unnecessary and not-so-secure to you, but they will benefit your business in the long run. Of course, choosing the correct expert to trust is essential. If you are to invest in external services, you should get the right one.
Here are the top things to consider when hiring an ecommerce accountant:
Relevant Ecommerce Experience
Look for an accountant with specialized experience in ecommerce businesses. The systems in sales channel platforms such as Amazon or Shopify differ, so managing your expenses may vary. Accountants with relevant experience in ecommerce know how to properly navigate and elevate your business through these dynamic, competitive environments.
Proficiency with Accounting Tools
Competent ecommerce accountants are well-versed in popular platforms like QuickBooks Online, Xero, or other accounting software. Their proficiency with such tools streamlines the accounting processes and boosts work efficiency.
Understanding of Tax Implications for Ecommerce
Ecommerce businesses face unique tax considerations, especially when dealing with sales tax, international transactions, and nexus laws. Your chosen accountant should have a thorough understanding of tax regulations and be able to ensure compliance with relevant tax laws.
Proactive Financial Analysis and Planning
Exceptional ecommerce accountants proactively analyze financial data, identify trends, and provide strategic insights for a business's growth. Look for an accountant who offers detailed financial forecasts, cash flow analysis, and budgeting guidance.
With their support, you can make informed decisions, allocate resources effectively, and navigate online marketplace fluctuations more confidently.
Final Thoughts
Are you convinced that ecommerce accountants can help you with your business needs? Then, it's a wise move to hire ecommerce accounting services. Don't go wasting hard-earned money on mediocre service. At Unloop, we give the best service to ecommerce companies.
We have bookkeeping, income, and sales tax services perfect for small businesses. We also use the best accounting software to automate our processes. Our experts are experienced in handling ecommerce businesses, so you know you are in good hands from day one.
Book a call with us today, and let's accomplish all your ecommerce accounting needs!