Disclaimer: Please note this article is not financial advice. The purpose of our blog is purely educational, so please consult a professional accountant or financial advisor before making any financial decision.
In recent years, ecommerce platforms like Amazon have undeniably taken a greater role in the economy and our lifestyles. So if you wish to survive the competitive ecommerce world this 2023, hiring an Amazon bookkeeper isn't just a nice-to-have—it's essential.
Let us convince you why hiring bookkeeping services for Amazon sellers is not only a mere luxury for those who can afford them but an indispensable key to online success.
Why the Future Is Bright for Amazon FBA Sellers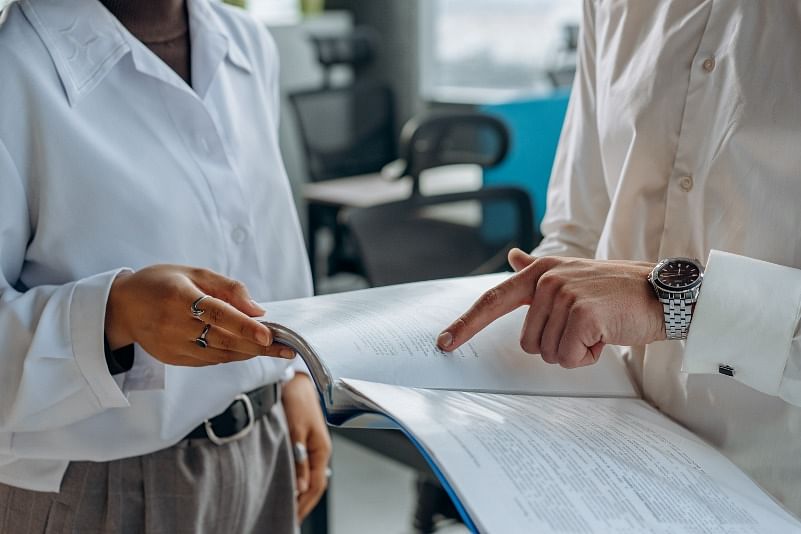 There will always be skeptics, and it isn't a bad thing. It's only natural to know that the ecommerce industry isn't just a passing trend before jumping on the bandwagon.
Ensuring long-term growth becomes especially important when investing your money to buy initial inventory and hire employees.
Is setting up a store and selling on the world's largest online retailer worth it? Yes! Here are a few reasons establishing a business on Amazon is ideal.
1. Amazon Surpasses Traditional Retailers
Big-box stores like Walmart and Target always come to mind when shopping. Be it grocery items, furniture, or appliances, the go-to for almost everything you need is a big-box store. For this reason, physical retailers enjoy a steady supply of customers, keeping their aisles busy and parking lots full.
However, in 2020, Amazon's Gross Merchandise Value (GMV) exceeded that of Walmart. Amazon achieved a 41% GMV growth, while Walmart grew by 10%. These numbers translate to the volume of sales made within a year.
Given this trajectory, it's clear that Amazon is on an upward swing, and today might be a good time to get involved.
2. Amazon Continues to Enjoy Market Supremacy
When asked about ecommerce, which company comes to mind? If Amazon isn't the first thing you thought about, you might be living in a cave! Amazon has truly taken over the ecommerce market.
Projections for Amazon promise a favorable outlook for the company and ecommerce in general, as analysts predicted that Amazon would take 50% of the ecommerce market share. The marketplace is nearing this benchmark after taking almost 40% of the market share in 2022.
Source: Data from Statista.com
How does this translate for Amazon sellers like you? If you want to increase your products' visibility, be smart and put them up on display on Amazon. The more people visit Amazon, the higher the chances of translating traffic into actual sales.
3. Mobile Ecommerce Steadily Gains Ground
Smartphones have become inseparable from us. We have been doing most of our daily activities with the help of these gadgets. For instance, a meal can be delivered right to your home's doorstep through a mobile app.
Taking advantage of this shift to mobile use, ecommerce platforms like Amazon optimize their websites and apps to work seamlessly with mobile devices. This leads to mobile commerce being projected to exceed $510 billion in sales in 2023.
You can gain from this projected growth by having your products accessible on mobile devices through the Amazon app. In fact, the Amazon app is listed as one of the top mobile commerce platforms, gaining close to 21 million monthly active users and almost 35 million downloads in 2022.
4. Social Commerce Generates Interest and Traffic
Consuming all sorts of content on social media platforms is addicting. Entrepreneurs have seized this valuable opportunity by buying ad spaces and building a marketing strategy for social commerce.
With a well-managed and engaging social media page, you can convert traffic on your page to sales on your Amazon store. You can even tap influencers and micro-influencers to generate interest in your products.
As long as social media remains popular, you can use the platform to promote your products and increase your brand's visibility on the Amazon marketplace.
What Can an Amazon Bookkeeper Do for Your Small Business?
Thanks to your hard work and a touch of luck, you've managed to grow your ecommerce business, receiving thousands of orders daily. Congratulations! But can you keep up?
Scaling up your business means adding new members to what used to be a one-person team. Unless you have eight tentacles, you cannot juggle crucial tasks like inventory management, shipment, and accounting via your Amazon Seller Central account.
That's why you must hire bookkeeping services to keep your financial transactions in order and avoid financial trouble. And the best part? Hiring professional bookkeepers is as easy as booking a call!
Read more to familiarize yourself with what bookkeepers can do for you and your growing business.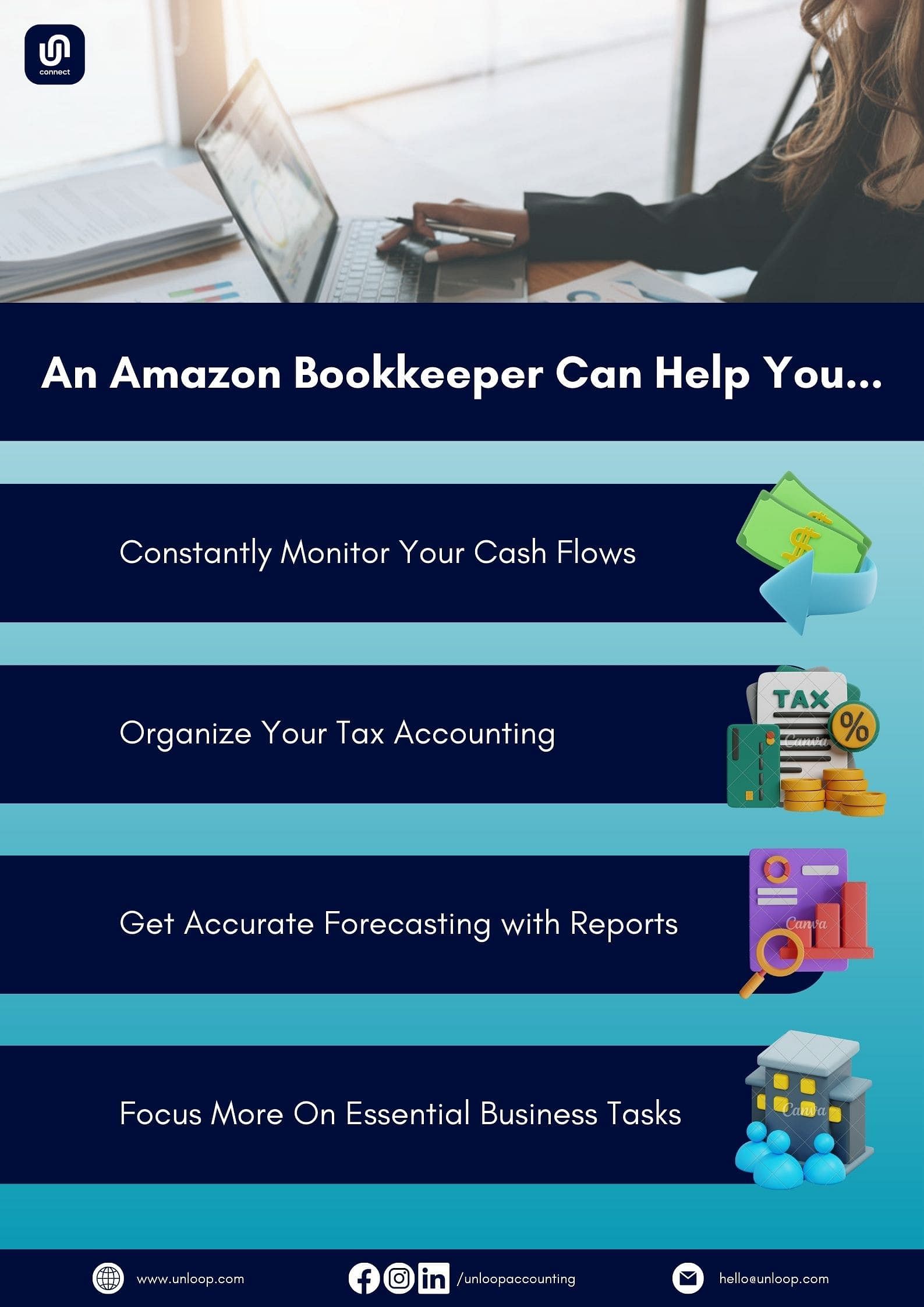 Track Your Cash Inflows and Outflows
You must have a system that keeps track of the number of goods sold and the money going in and leaving your business. New small business owners can get away with collecting receipts and encoding them manually on their self-made spreadsheets.
But as you scale up your operations, manual entry will be time-consuming and prone to costly errors. Hiring an Amazon accountant or bookkeeper with an accrual accounting system will help you monitor your cash inflow and outflow. They can do all the work on your behalf.
No matter how busy your daily business operations are, you can always rely on your bookkeeper to consider every penny that goes in and out of your business.
Keep Your Taxes in Order
Losing receipts and skipping accounting for your daily income and expenses is all too easy. But even though you're unlikely to face immediate legal consequences for such lapses, you must still do your due diligence concerning money matters.
Your negligence might result in penalties from government auditors when tax season comes. A tight schedule is no excuse for overlooking your tax accounting. So, it's time for you to hire a team of professional bookkeepers to settle and minimize your taxes for you.
While you still have to file taxes yourself, bookkeepers prepare everything to account for every cent you owe the government.
See the Bigger Picture
Are you a hands-on business owner? Nothing beats being in the trenches of your growing business and attending to every transaction yourself. But too much involvement on the ground may prevent you from seeing the bigger picture. You need to zoom out to check how your small business is doing.
Professional bookkeepers employ the best bookkeeping software for Amazon sellers to generate summary reports about your business' performance.
For example, is your business making money? Which quarter saw growth in Amazon sales? You can answer all these questions by glancing at your summary report.
Use Data for Projections
In addition to tracking your daily earnings, you should also set targets for the future growth of your business.
Of course, you'll have milestones and deadlines to meet along the way. However, crafting a timetable should be based on past performance and cash flow for it to be realistic and achievable.
Fortunately, you can instantly skip the complicated math and request a projections report with an experienced ecommerce bookkeeper. You can rely on their projections based on the data gathered from your business's past performance. They even use cloud accounting software that takes additional data from current trends observed in the market.
Find Exceptional Amazon Accounting Services Today!
2023 might just be the best time to become an Amazon FBA seller. Aspiring ecommerce businesses will definitely benefit from the current industry trends, including social commerce and mobile commerce.
However, you will need help in such a risky yet rewarding endeavor. Amazon bookkeeping and ecommerce accounting can be difficult without the help of professional accounting services. 
So don't let your Amazon business get caught in the tangle of accounting and sales tax liability web! Ditch your clunky Google Sheet spreadsheets and hire a reliable Amazon seller bookkeeping service today!
Book a call now and check out our bookkeeping services for budding entrepreneurs like you!