Disclaimer: Please note this article is not financial advice. The purpose of our blog is purely educational, so please consult a professional accountant or financial advisor before making any financial decision.
Starting a business requires a lot of courage, effort, and resources. You'll need a solid business plan to see if your idea will work. An important aspect of this plan involves deciding what platform to incorporate into managing your finances. In this context, every business owner needs the Peachtree software, well-known for its excellent accounting capabilities.
Let's uncover the various features of Peachtree to determine if it's the right and best accounting software for you and your business.
Essential Software Features: What Factors Should You Look Out For?
Business owners typically have three choices when handling their company's books and managing finances:
hire a CPA firm,
purchase bookkeeping software, or
use a spreadsheet program like Excel.
While they have their respective benefits, their usefulness depends on specific factors. The first option depends on the CPA's time working on the financial side of your business. The second option relies on cost. And for the last option, you must be extremely keen and careful when using the tool.
Thankfully, a modern accountant's toolkit has developed from pen and paper to sophisticated computer accounting software, like Peachtree (now Sage 50).
Peachtree accounting software enables small to mid-sized businesses to simplify their accounting processes, detect and reduce accounting issues, and save money in the long run.
Before discussing what Peachtree can bring, it's best first to learn what makes an accounting solution exceptional. What should small and mid-sized business entrepreneurs consider before purchasing any software?
The software should possess basic and advanced accounting features, such as
Customizable financial reporting
Real-time income and expense tracking
Organized budgeting and forecasting processes
Efficient inventory management
Multi-currency support
User-friendly interface
Robust data security
Integration with other essential accounting tools or programs.
🧐 Another component to check is the software's Enterprise Resource Planning (ERP) systems. The ERP system connects, organizes, and automates essential processes, such as accounting tasks, inventory management, and customer relationship management.

Users can choose among three options, depending on their unique business needs: on-premise, cloud-based, or a combination. On-premise software is directly installed in the company's systems, while cloud-based accounting software uploads data to a server.

Peachtree Software: The Accounting Software for Midsize Companies & Small Businesses
Let's now delve into the nitty-gritty of the Peachtree software. What makes it the ideal accounting solution for small and medium-sized businesses?
This software essentially allows accountants and business owners to monitor, control, and manage a wide range of accounting tasks, including
Accounts payable and receivable reconciliation
Financial data and auditing invoice generation
Banking transactions and payroll management
Spreadsheets for data import and editing
Integration of scanned documents such as cheques, receipts, and invoices with AutoEntry integration, removing paper from the accounting process
Peachtree can also help you run your business more effectively by offering a time-saving, all-in-one solution for financial statements, customer billing, money flow, stock control, taxes, etc.
Below is a short demo on Peachtree or Sage 50 accounting to give you an overview of how the software functions.
The Benefits of Peachtree Accounting Software
Peachtree is a popular midsize business accounting software because it supplies the basic accounting features they need. But of course, there is more to it than you think.
Here are more benefits of using Peachtree.
Easy to Install
One of the advantages of using Peachtree is that you can set it up in less than 30 minutes. You don't need to understand much about accounting to start running it. To set it up, you must include all information about the following:
Your company
Clients
Distributors
Stockpiles or service items
Chart of financial statements
Security
On-screen guidelines are also provided for proper setup. Lastly, you can choose from the preloaded account in the general ledger or start creating your own in the Peachtree space.
Easy to Use
The features in this software work like locating buttons on the screen. Peachtree's ease of use stems from its easy-to-navigate user interface and simple command buttons. When you click a button, it redirects you straight to a corresponding window where you can enter all the requested details.
If you need accounting software that doesn't require a huge learning curve, Peachtree is right for you!
Cost-Effective
An even greater advantage of using Peachtree is it's a low-cost solution. According to Sage, you can pay anywhere from a few hundred bucks to a few thousand dollars depending on the version you buy. This feature is reasonable for the level of performance and efficiency that you get from Peachtree.
Functionality
Peachtree is a complete accounting system. It's designed to handle various aspects of financial management for businesses, including tasks such as:
Sending receipts to customers
Receiving payments
Entering accounts payable to vendors
Printing cheques
Paying workers
Tracking expenses
Writing journal entries
Performing internal audits to determine errors or discrepancies
Generating various preloaded reports
This software aims to provide a complete solution for your accounting needs.
The Drawbacks of Peachtree
Unfortunately, no software is flawless. Here are the factors and features that the small business accounting software needs improvement on:
It requires basic accounting know-how.
If you're unfamiliar with accounting terms and inexperienced with technology, setting up and using accounting software might be time-consuming and difficult.
It's less suitable for bigger and faster businesses.
Sage 50 and Sage 50cloud are perfect for small to midsize businesses with a few hundred customers and accounts, but they are not recommended for corporations or fast-growing businesses.
Their customer service needs improvement.
Sage Accounting's customer service can still be improved. According to some users, they're slow to respond, and some advisors may give conflicting information.
How Peachtree Can Help Make Your Accounting More Efficient
With all its features and drawbacks laid out, it's time to learn how Peachtree ensures smooth, effortless, and error-free business accounting.
Tailoring to Your Accounting Needs: Peachtree's dashboard is highly customizable to ensure you access the most pertinent information for your business needs. The software also provides various project management tools to improve productivity.
Managing Data and User Security Levels: Modify settings based on your security clearance, especially for changing sensitive information. However, making changes to a prior period will impact your financial statements only within that period.
Generating Insightful Data for Financial Analysis: With Peachtree's Intelligence Reporting, you won't miss out on gaining crucial insights and information to make better business choices and improve your company's overall performance.
Ensuring Well-Kept Inventories: Efficiently monitor your inventory levels based on factors such as color, size, and style to ensure less room for errors and easier replenishment.
Accompanying Your Company's Growth: Easily update and enhance your tools as your business expands with Peachtree's countless system upgrades, solutions, and integrations. Peachtree also offers around-the-clock online advising and coaching.
4 Alternatives to Peachtree
Despite these features, Peachtree accounting still has its blind spots. And with something as serious as accounting, blindspots will only hinder accuracy, financial performance, and overall growth.
For this reason, we've listed four ideal alternatives to Peachtree software that can help small to mid-sized companies: QuickBooks online, Xero Accounting, FreshBooks Accounting, and Wave Accounting.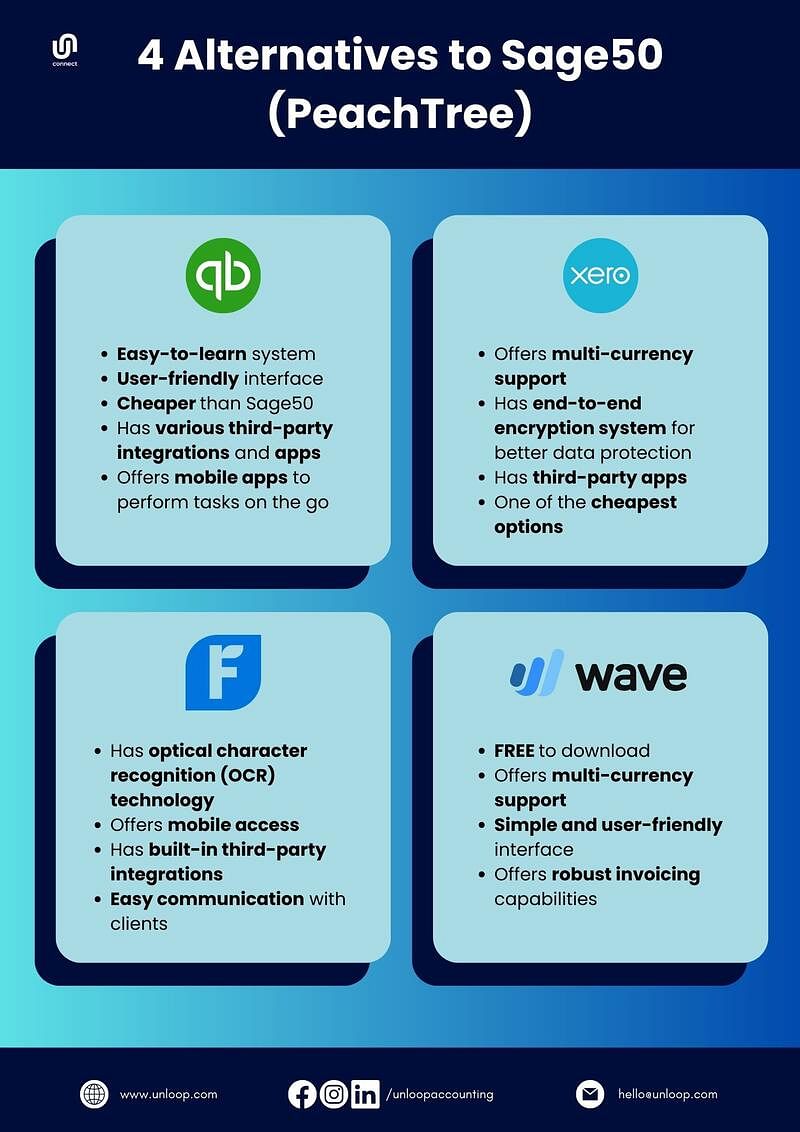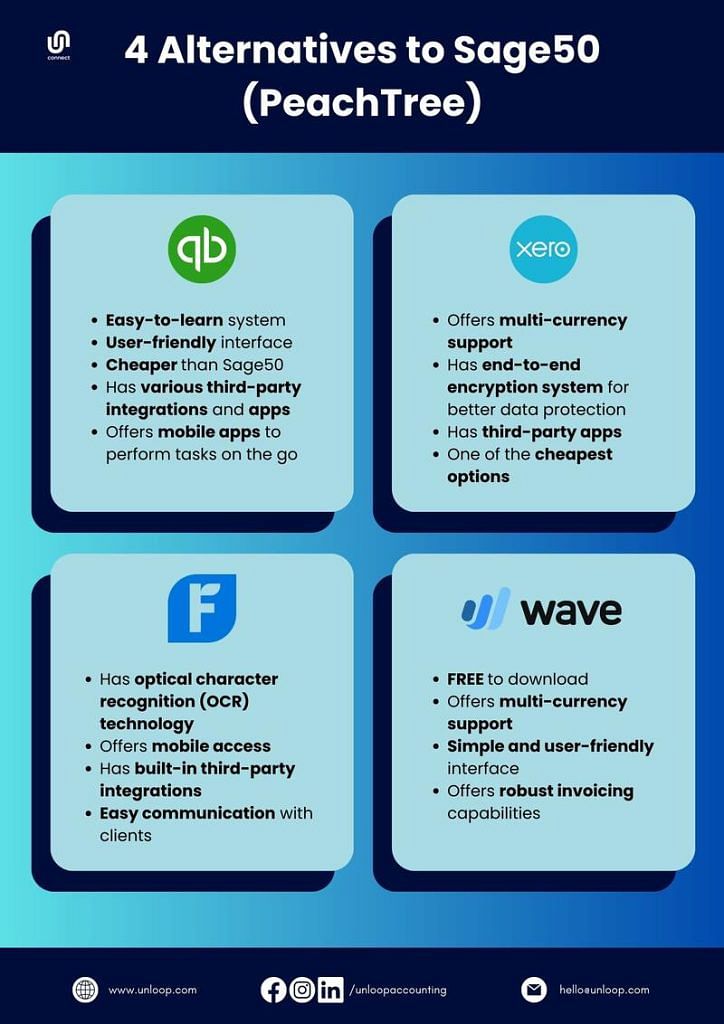 Final Thoughts
Like any accounting tool, understanding Peachtree and knowing how to use it efficiently will make you better at recognizing revenue, doing business accounting with confidence, and analyzing the general financial activities of your business.
Even for accounting specialists, managing a company's information and providing accurate financial data on time can be complex and time-consuming. Business management software like Peachtree can make things much easier.
Its reporting and analysis feature allows you to create annual, quarterly, or weekly financial statements. This software can assist you whether you work for a large corporation, a group of corporations, or a small business. However, it also has limitations, so consider various factors when choosing your accounting software.
If you're having difficulty selecting and using a tool, Unloop is here to help! We deliver customized plans for ecommerce business founders and use the best accounting software to better understand and manage your business finances.
Book a call with us today!