Disclaimer: Please note this article is not financial advice. The purpose of our blog is purely educational, so please consult a professional accountant or financial advisor before making any financial decision.
Hearing the word accounting leaves our brains in tangles. The thought of crunching numbers and organizing financial records is already enough to give us a headache. And now, we have a new beast to conquer: accounting for an ecommerce business.
From the arduous task of sorting through business transaction receipts to enduring late-night sessions in front of computer screens, the very idea of it makes us want to pack up and leave the ecommerce world even before we get started.
This leaves us wondering whether accounting for ecommerce businesses is truly simple. But don't worry! This article aims to provide all the answers right away.
A Simple Definition of Accounting for Ecommerce Business
Accounting for ecommerce still functions like regular accounting, but it's specifically designed for online businesses.
In simple terms, it means keeping track of money-related activities when you sell things online. Such activities include recording, analyzing, and managing financial transactions for the digital store. From there, you can understand your finances, make smart decisions, and stay compliant with standard rules in the fast-paced online market.
Since everything happens online, you need a way to quickly collect and handle all this financial data. That's where accounting software comes in handy. It's an innovative tool that many ecommerce companies use to keep their financial reports organized and make their accounting tasks easier.
Here are some of the popular accounting software used by most ecommerce business owners:

Quickbooks
Xero
Freshbooks
Starting an ecommerce accounting system means choosing one of these accounting solutions. By doing so, you can effectively manage the financial aspects of your ecommerce store and set yourself up for success.
4 Facets of Ecommerce Business Accounting
Although ecommerce business accounting requires tools and software, its core functions remain unchanged. Your business' internal system must include these three facets to build a reliable accounting arm for your online venture.
1. Bookkeeping
Bookkeeping is the accounting task of recording transactions. This process follows a step-by-step cycle to keep everything accurate, starting by overseeing business transaction data.
In an ecommerce setting, data will be collected from you via electronic means. It can be gathered in different ways, including:
Spreadsheet file
PDF file scans
Data migration from other accounting software and online marketplaces
Once all the data is collected, the bookkeeper running the accounting tool will start creating or managing a chart of accounts. They will sort the financial information into different categories (e.g., sales and expenses) and record each transaction along with its corresponding amounts.
The bookkeeper's job is to make sure all the numbers are right. They'll double-check everything with a special report called a trial balance. If everything looks good and the numbers add up correctly, the process moves on to the next step.
2. Financial Reporting
Aside from bookkeeping tasks, generating financial statements is also important. Any ecommerce business owner can benefit from this since it gives you a clear picture of your overall performance in the market, which you can interpret later on.
Key financial statements are composed of three: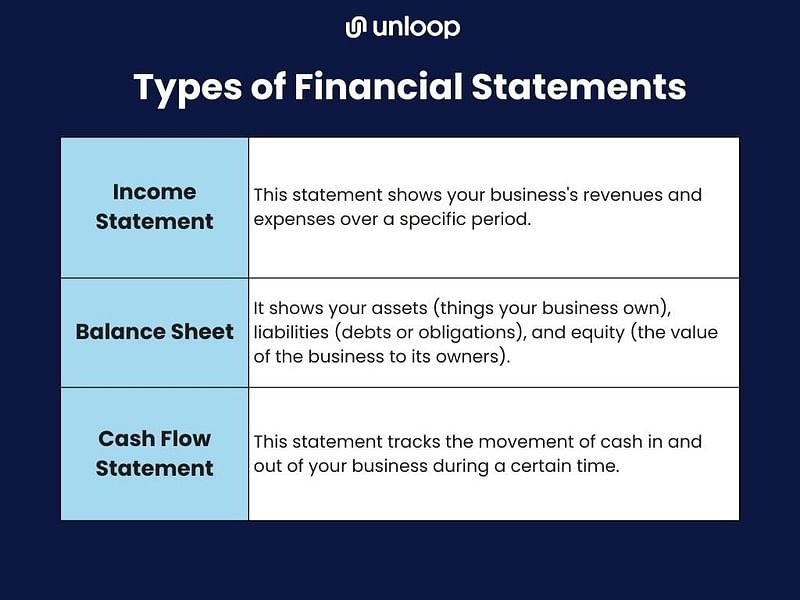 From income to cash flow statements, you can determine if your business is making a profit, generating enough cash to cover expenses, or experiencing losses.
3. Tax Filing
Ignoring sales tax responsibilities is not an option in ecommerce marketplaces.
Failing to collect and remit sales tax can result in severe repercussions, including penalties, fines, and potential legal troubles. As an ecommerce business owner, adhering to proper tax filing procedures is imperative to keep things hassle-free.
4. Inventory Management
Effective inventory management ensures the right amount of products is available to meet customer demand while minimizing excess stock.
From an accounting perspective, inventory directly affects the cost of goods sold (COGS), representing the cost of producing or purchasing the goods sold during a specific period. By tracking inventory levels and associated costs, you can identify the true cost of goods sold and, subsequently, the gross profit.
2 Accounting Methods for Ecommerce Businesses
Speaking of organization and management, ecommerce businesses have two primary accounting methods to choose from:
1. Cash-Basis Accounting Method
This approach records transactions when actual cash is received or paid out. Revenue is recognized at the time of payment receipt, and expenses are recorded when payments are made.
This method provides an easy way to track cash flow. It is also suitable for smaller ecommerce businesses with lower sales volumes and simpler inventory tracking needs.
2. Accrual Accounting Method
This method records transactions when they occur, irrespective of the cash exchange timing. Revenue is recognized at the time of the sale, even if payment is yet to be received. Meanwhile, expenses are recognized when goods or services are received, regardless of payment timing.
The accrual accounting method offers a broader view of the business's financial status over time. It is also commonly used by larger enterprises with higher sales volumes and more complex inventory management needs.
Accounting Services That Simplify Your Business's Numbers
Like traditional accounting, you can hire an ecommerce accounting service for your store. But in case you have little to no idea what to look for when shopping around for a service, take a look at these:
Seamless Data Onboarding
You're busy, and everyone understands that. But your competition won't wait for you. Even if you aim to use certain accounting systems, catching up can take some time. This is where a good accounting team can enhance your efficiency. They should know how to integrate accounting software with your online store for a smooth and synced recording.
Inclusive Bookkeeping Services
Subscribing for the accounting software alone doesn't entitle you to a bookkeeper. While it provides you with the means to perform bookkeeping tasks, the real magic happens when you combine the power of technology with skilled human expertise.
Inclusive bookkeeping services offer you the best of both worlds—efficient accounting software combined with the insights and proficiency of a dedicated bookkeeper. Their combination ensures that your business grows and financial needs are met.
Consistent Financial Statement Generation
Sometimes, asking a bookkeeper to create a financial statement may cost you extra. But you always have a better option—seek a service that can give you a consistent and precise financial statement, whether you need them or not.
Bank Reconciliation
Reconciling can be a tedious task. It is tremendously important that the numbers on the books match the money in the business bank account. That's how you know everything is recorded accurately.
With an experienced accounting service overseeing this process, you can rest assured that your financial information is protected from suspicious activities.
Ecommerce Accounting Made Easy With Unloop
Ecommerce accounting has never been easier, just like the familiar practices we used before. However, we understand that not all businesses can keep up with the increasing demands of accounting tasks.
Unloop caters to all the services mentioned above and more. We are a team of experts who know accounting software and are adept at bookkeeping. The best part is we know how ecommerce businesses work.
Let us handle the numbers while you focus on success. Book a call now!