Disclaimer: Please note this article is not financial advice. The purpose of our blog is purely educational, so please consult a professional accountant or financial advisor before making any financial decision.
You don't aim to earn a profit in a nonprofit organization. You work with a motive to serve the general public—whether it be for educational, religious, or charitable purposes. But this doesn't exempt you from the financial challenges that require effective management. Adopting the best accounting software for nonprofits becomes crucial to overcome these burdens.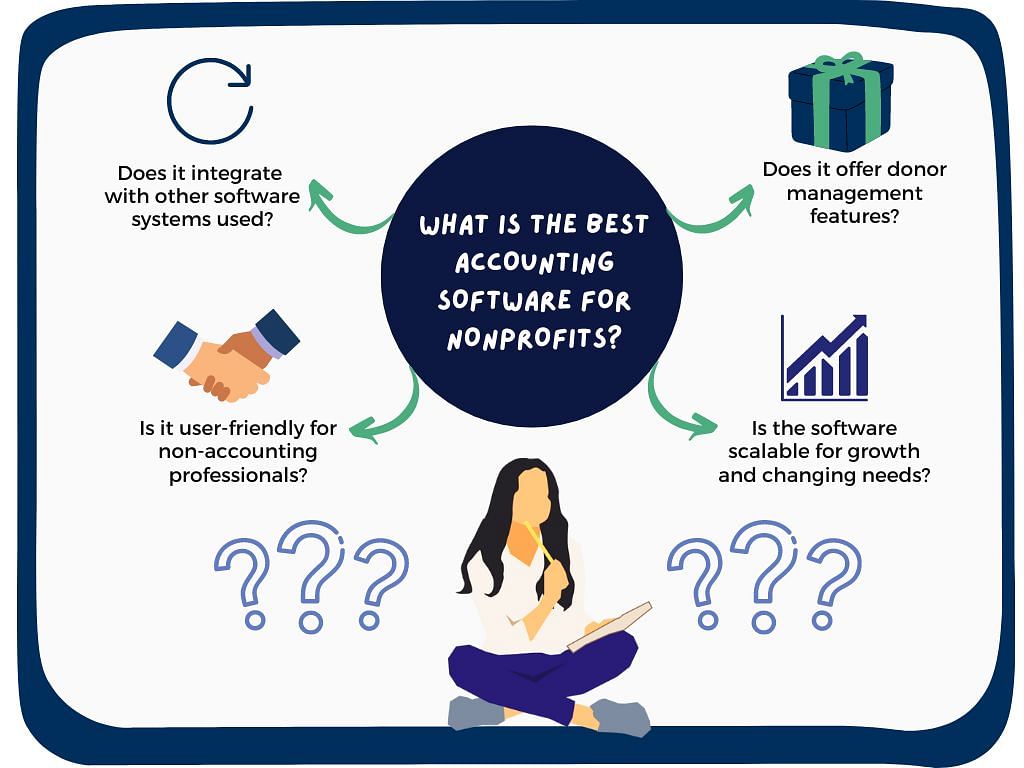 While your organization may not be driven by profit, you still deal with monetary transactions such as donations, memberships, and grants. You must organize and comply with financial management regulations, albeit differently.
This article will guide you in understanding the importance of leveraging the right nonprofit accounting software and maximizing its benefits. But before that, let's talk about the distinctive nature of nonprofit organizations in accounting.
An Overview of How Nonprofit Accounting Works
Accounting for nonprofit organizations is an interesting study. It doesn't work the same as regular accounting because its motive is to serve the community rather than earn a profit. Government authorities understand this and have made concessions in tax regulations, accounting methods, and financial reporting requirements.
Here is a basic guide on how nonprofit accounting works.
The Preferred Accounting Method
Nonprofits usually choose between cash and accrual accounting.
Cash-Based Accounting: It records cash upon receipt and expenses when they're paid. Generally, it works for small nonprofit groups only.
Accrual-Based Accounting: The ideal method for larger nonprofits with multiple sources of funds. It focuses on the revenue's incurrence rather than the actual payment date.
Example:
A financial contract was set up in January, but the payment was made or received in March.

For cash-based accounting: You'll record the expense in March.
For accrual accounting: You'll record the expense in January.
Generating Reports
Unlike companies and online businesses, nonprofit organizations exist to serve the public interest and fulfill a specific mission. This fundamental difference in purpose translates into various accounting practices.
In generating reports, nonprofits prioritize accountability and transparency, emphasizing proper stewardship of resources received through donations, grants, and other funding sources. They also practice specialized techniques such as fund accounting and donor management to track funds and donor-imposed restrictions.
The key financial statements commonly issued by nonprofit organizations are as follows:
Financial Statements
Statement of Financial Position
Also known as the balance sheet, it outlines the organization's liabilities, assets, and debts.
Statement of Activities
Shows the different income sources and expenses incurred by the organization over a specified period.
Cash Flow Statement
Illustrates cash movement in and out of the organization, providing insights into its liquidity.
Statement of Functional Expense
Lists of funds you spend on different functions within the organization, such as administrative or fundraising.
Tax Obligations
Nonprofits apply for a tax-exempt status using Form 1023. The authority (IRS or CRA) then decides whether your organization qualifies as charitable. Once you are officially tax-exempt, you don't have to pay federal income taxes and even property and sales taxes.
However, you're still required to pay for an annual tax return. You will still report your revenue and expenses to the tax authority.

🔔 REMINDER 🔔
You must file and submit Form 990 on the designated payment schedule to pay for the annual tax return.
The Ever-Present Need for Nonprofit Accounting Software
As briefly mentioned, nonprofit accounting works differently from businesses. The accounting method, tax compliance, procedures, and types of financial documents are not similar to what authorities would require for a for-profit.
But if we talk about why you need to use software, it all goes down to the same reasons.
Since you have various sources of income, it can be overwhelming and confusing to manage. Getting these data mixed up can cause financial troubles, particularly when following certain reporting protocols.

Large and growing nonprofit organizations generate increasing volumes of data, which can be difficult to manage manually.

It's tricky to juggle different tracking and recording apps or methods for each source of revenue. You need to sync data and integrate apps to make the work easier.

Some days, you or someone from your accounting staff might get sick and be unable to show up in the office. If such a day happens to be reporting day, it will be difficult for you to comply on time.
What Are Some of the Best Accounting Software for Nonprofits?
Choosing the best accounting software programs for nonprofit institutions lies in aligning their functions with your unique needs. Of course, everyone has different preferences, but we are here to help you find the perfect match that ticks all the boxes for your accounting tasks.
In selecting nonprofit financial software, opt for solutions that seamlessly integrate with your workflows and cater to your nonprofit's size, budget, and needs. Some of the best nonprofit fund accounting software include:
Top Providers
Description
Xero
Xero, a popular cloud-based software, shines in expense tracking and management, helping you stay on top of your organization's financial health.
The cash summary report provides a comprehensive cash position overview, enabling analysis of income, expenses, and available funds.
Aplos
As a full-featured CRM, Aplos enables you to manage your members and donors effectively.
The True Fund accounting feature helps you comply with donation restrictions, promoting transparency and accountability.

Sage Intacct

Sage Intacct has comprehensive trackingand billing capabilities for accurate management and grand funds reports.
This software includes nonprofit specific features like multi-user and currency.Collaborate with your team across different locations.Effortlessly handle transactions in multiple currencies.


QuickBooks Online
QuickBooks Online comes with easy expense sorting, allowing nonprofits to categorize revenue expenditures by fund or program.
Create custom reports based on the data that matters most to the organization.Get valuable insights into your financial performance. Streamline donation processes by syncing bank accounts for instant expense tracking and cash flow updates.

Zoho Books
Zoho Books supports collaboration by allowing users to add remote employees and volunteers as individual users, providing role-based access and facilitating seamless teamwork. Accounting features like customizable payment pages and multi-currency support enable acceptance of global donations, breaking geographical barriers.


Netsuite ERP
NetSuite's fund accounting framework revolutionizes the stewardship of funds for nonprofits through diverse revenue streams and accurate expense tracking.
Offers real-time access to over 250 standard and customized reports.Gain insights into fund balances, grant activity, inventory management, and financial performance.

FreshBooks
FreshBooks offers a complete software package that allows users to run reports, track expenses, and log time for employees, all within one platform.
Creating sleek invoices and estimates takes seconds.Convenient online payment options allow supporters to contribute and ensure faster donation processing.Automated late payment reminds you that payments are received promptly, minimizing funding delays.
Unloop: Your Trusted Partner for Accounting Needs
Nonprofit accounting can be tricky. You have to keep track of different sources of income while staying compliant with the regulations. Fortunately, accounting software for nonprofits is a good way to manage these tasks with minimal error (and stress).
While the market offers many promising options, you only need to find one that caters the most to your needs. But what if you seek more than just an accounting and bookkeeping solution? What if you want something that does even more for your nonprofit or ecommerce business? Accounting tools are good, but they might not cover everything you need.
At Unloop, we believe in combining cutting-edge technology with the expertise of skilled bookkeepers and accountants. By leveraging automated data entry and bookkeeping, we free up time for our professionals to focus on in-depth analysis and provide valuable insights for your ecommerce business. Give us a call and work with us today.