Disclaimer: Please note this article is not financial advice. The purpose of our blog is purely educational, so please consult a professional accountant or financial advisor before making any financial decision.
The financial aspect of a business is extensive. The day-to-day work is one thing, and the big picture is another story. Aside from financial records, you rely on market behavior and strategic planning.
It is difficult for one person to absorb all this information, so specialists for each area take charge. However, some people still confuse accountants, bookkeepers, and financial advisors because of their interlinking roles in financial management. Thus, if you're a business owner looking for the right person, you need to know each finance specialist first.
In that case, let this article help you understand. If you're looking for someone to look at your company's financial standing, you might be interested in working with a financial reporting analyst.
Financial Reporting Analysts vs. Accountants: What's the Difference?
Before we head straight to a financial analyst's specific roles, let's have a quick refresher on a common mix-up. It can be confusing for those new to these terms to know the difference between financial reporting analysts and accountants. So here are the things that set them apart.
Accountants and financial analysts both review financial data. However, accountants can work on a daily basis while financial analysts focus on major past, current, and future aspects.
Financial analysts use an accountant's generated reports to plan new strategies.
Accountants examine, audit, and review financial data (e.g., financial statement analysis). Financial analysts, on the other hand, focus on market behavior and economic trends to forecast financial situations.
On average, financial analysts earn more than accountants.
If you want someone to use financial data to recommend, opt for a financial analyst. If you want to ensure accuracy, choose an accountant.
What Are the Duties of a Financial Reporting Analyst?
We hope the short discussion above has helped clarify the confusion between the two significant roles in financial management.
If you decide to hire a financial analyst, don't forget to look at their credentials. They need two primary achievements: a degree in finance and a CFA certification.
However, there are acceptable alternatives to these titles. For example, an economics or mathematics degree and a CPA certification may suffice. Still, being a CFA offers a greater advantage.
Now let's discuss the specific tasks of a financial analyst. Find out if they match your needs and you need to hire one.
Gathers Financial Information
The first thing a reporting analyst does is collect data to analyze. They gather financial data from accountants and other associated departments, such as internal databases, government agencies, and third-party providers.
What kind of information do they get? The analyst usually asks for any necessary quantitative data, such as historical reports, stock price data, and statistics.
Manages Collected Financial Data
Once the financial analyst has gathered all the necessary information, they organize them into a database or data management platform like Excel. Then, they modify the raw data to retain only the most important information to help them conduct accurate analysis. Although they get neat reports from accountants, analysts still need to reorganize those details from their end.
Analyzes the Big Picture of an Organization
A reporting analyst in finance is in charge of the big picture of a company's financial health.
After collecting and organizing the data, they start to analyze them. It includes looking into certain metrics: fixed and variable costs, gross and net margins, returns on equity and assets, and many more. Then, they conduct a competitive analysis to see where the company stands in the current market trends.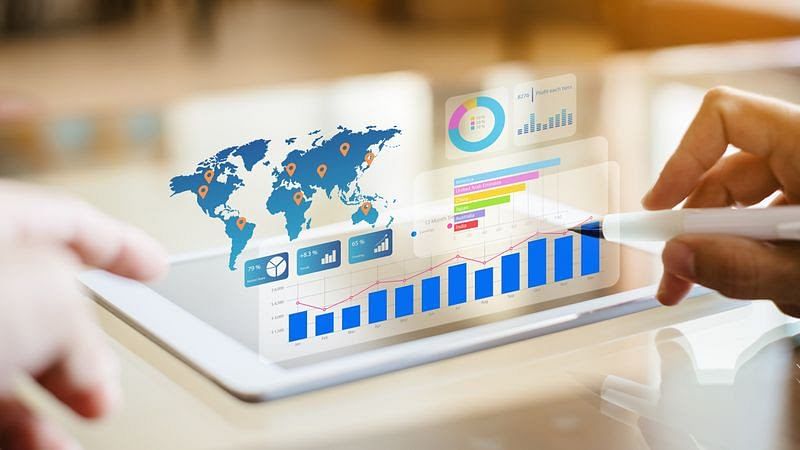 Generates External Reports
When state regulatory agencies ask a company for financial reports, the financial analyst usually gets this work done. It could be financial audits, consolidated financial statements, interim financial statements, or other necessary financial documents. Regulatory agencies, investors, or shareholders with interest in the organization often request these documents.
Presents Data to the Company Leadership
A financial analyst generates a report from the data gathered and presents it to company managers and executives. The report may be in graphs or spreadsheets that showcase the business's overall performance and profitability. Together, analysts and the board of directors build growth strategies for the organization.
The analyst also forecasts and projects company performance with recommendations on improving several aspects, such as (but not limited to) cost-cutting, operational efficiency, revenue growth, and customer satisfaction.
Ensure the Accuracy of Your Books with Unloop
Analyzing the bigger picture and planning the future of your business in the financial aspect are crucial. For these tasks, a financial analyst can be very handy. They gather data and analyze them to forecast profitability and recommend effective strategies.
But before you proceed, here's a question for you: are your books accurate, organized, and up-to-date to generate insights and growth strategies? If not, you need to focus on that first. Without the correct data, you and your analyst cannot come up with the right strategies.
If you realize that you need to start from there, let Unloop help you with bookkeeping and accounting duties.
We serve Amazon, Shopify, international Amazon, and multichannel sellers in the USA and Canada. Our services include bookkeeping, as well as income tax and sales tax support with the help of partner accounting firms. We ensure that working on your books is hassle-free, accurate, and compliant with the requirements.
Get started with Unloop today!