If you're a small business owner, you know that there are many things to keep track of. From bookkeeping and accounting to taxes and filing, it can seem like there's never enough time to get everything done. That's where professional services come in—you can focus on running your business by outsourcing your bookkeeping, accounting, and tax needs, and delegating the tasks to experts.
In this article, we'll discuss just this. We'll go through the different bookkeeping, accounting, and tax management tasks and explain their importance for your business. Keep reading to learn more!
Bookkeeping
Many beginners in business management think that bookkeeping and accounting are the same when the two are very different. Bookkeeping deals with the tiniest details of your finances. Bookkeepers are the ones who gather all business transactions in one place by investing in bookkeeping software. With these tools, the bookkeeper categorizes and organizes all your business transactions.
They ensure that banks and other payment gateways are integrated into the software for easy recording and monitoring. They also utilize Optical Character Recognition technology to capture any details on receipts and documents, so they go into the books as text data. 
Invoicing, payments to suppliers, and payment acquisition from clients are also part of their jobs. And if you have any employees, timesheets and payroll management will be other responsibilities under their wing.
Why Does Your Business Need Bookkeeping?
To get you ready with all the details about your finances that you must declare during tax season.
To keep you out of the tax bureau's watch list of companies who pay late, do not pay taxes, or submit mistakes with declarations.
To monitor all the money coming in and out of your account, even when transactions occur through various channels.
They allow you to raise red flags on malicious transactions, check them immediately, and address them.
They create a financial data acquisition system in the company by coordinating with different departments and heads.
To provide up-to-date and accurate details in the accounting report for your accountant to use.
What is Accounting?
The accountant may be a separate employee from your company bookkeeper, and they have separate tasks to fulfill. Your accountant is responsible for generating reports from all the data acquired by the bookkeeper. 
They are also the individual to talk to for tax planning and forecasting business finances. With the help of the right tools, you'll be able to see how your business will look in the next quarters to years. This data will be the basis for financial suggestions to help you decide on your next steps.
Accountants are also well-versed with tax laws. With one, you won't have to worry about not adhering to regulations on sales, income, and corporate taxes.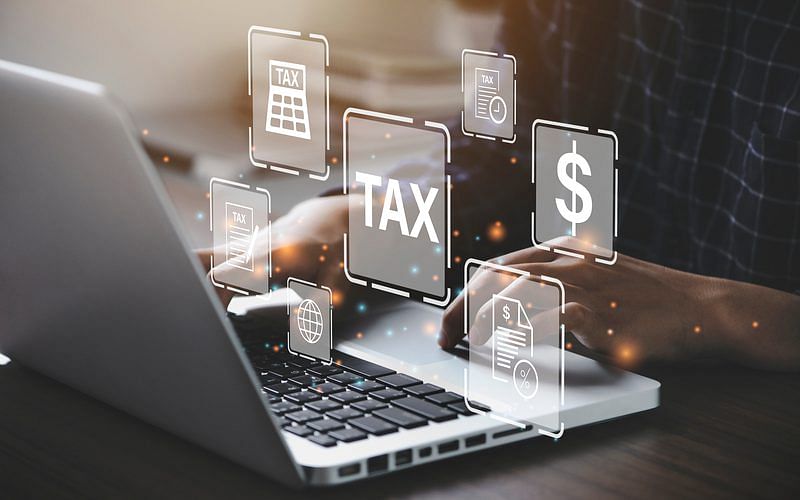 Why Does Your Business Need Accounting?
For income statements, balance sheets, and cash flow reports. Accountants can also tailor-fit reports and create templates if financial key performance indicators need separate reports.
Accountants are well-versed in the different and latest bookkeeping and accounting software. Skip the worry of learning the tools yourself, as your accountant can handle it.
Accountants, unlike bookkeepers, are more equipped to give financial suggestions and plans to help you make decisions.
While the bookkeeper's job is limited to tax document preparation, you can entrust accountants to file your taxes for you.
What Are Tax Services?
If you get financial management assistance from agencies, you can pick and choose which services to get. Do you only need help with taxes? Then, a tax service is just what you need.
Tax services will help you prepare your different taxes, like corporate taxes for the income your company incurs for the whole year, and you and your employees' income taxes. Although this service is offered separately, tax management cannot work without bookkeeping and accounting. It will help if you organize your income, expenses, and sales taxes. Then your accountant will help in tax remittance.
Why Does Your Business Need Tax Services?
When you get sales tax management assistance from an agency, the agency will help you determine your business tax nexus in different states.
The agency will also be in charge of registering your business to get sales tax permits.
When customers check out, your agency can help you exercise transparency by showing them the exact sales tax calculation.
Of course, the agency will also collect and remit your sales taxes and ensure you comply with the rules despite any changes.
For easy computation of corporate and income tax, especially when your books are organized.
Your agency will also assist you in filing your tax returns.
Unloop Bookkeeping, Accounting And Tax Services
Every small business should have bookkeeping, accounting, and tax services. Bookkeeping is the recording of financial transactions. Accounting interprets those records to determine profits or losses for a company. Tax services deals with preparing and filing taxes for a business. Bookkeeping, tax, and accounting services are equally important for any small business to succeed. There are many benefits to having these services done by professionals.
The great news is that Unloop provides online tax, accounting, and bookkeeping services which can help your business save time and money. All you need to do is book a call with us today so that we can discuss the details with you!