Software is one of the most crucial factors to carefully consider when choosing good bookkeeping and accounting services for your business. When searching for the best accounting software, the results will present you with various options. If you're not familiar with these technologies yet, it can be stressful to understand and make a choice.
We want to help you get a better understanding of one accounting software: Hubdoc. It helps to know that Hubdoc is already proven to aid many businesses in managing the accounting workflow. Still, wise buyers look for more important details before making a buying decision. It is best to check what exactly Hubdoc offers so you can figure out if your business could benefit from it.
Hubdoc Basics: What Is It All About?
Hubdoc is a management software that automatically stores and organizes financial documents. You can easily scan and upload documents, instantly send financial receipts within the organization, and set the step-by-step process via automation so you can save time and minimize the risk of human errors.
You can find the software or app in online stores like Google Play or iTunes for free. Upon installation, you need to create an account for your organization. Then, you can send Hubdoc invitations to your assigned accounting or bookkeeping teams so they can view, access, and update all necessary financial documents.
Hubdoc Features That Help Set the Financial Workflow at Ease
Now that you have an idea of what Hubdoc is all about, it's time to proceed with a discussion about its best features—the reasons why it would make a perfect document management system for your accounting and bookkeeping tasks. We enumerated the most important features below.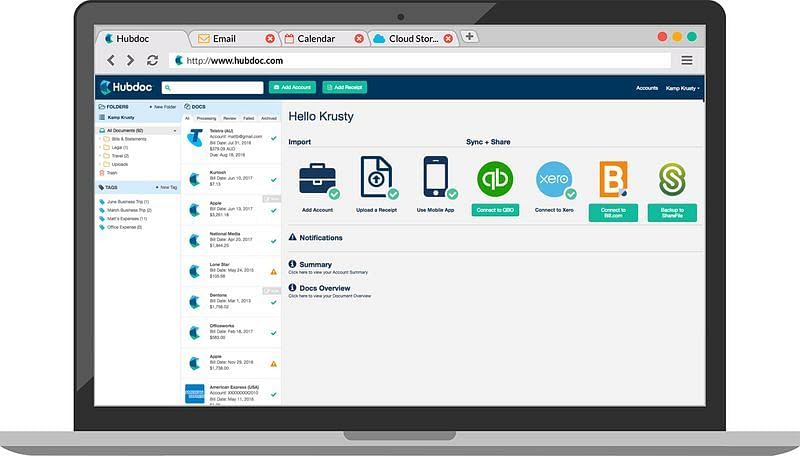 Data Over Paperwork
Say goodbye to the tons of papers you need to organize! Hubdoc transforms these into digital documents, extracting information from the scanned files using Optical Character Recognition and automatically creating sorted folders. What's more is that these data are verified, secure, and easily accessible across all devices.
Automation
Automation is a core characteristic of technology that relieves you of the hassle of manual accounting tasks. Hubdoc incorporates automation in its settings to keep accounting simple: sorting documents and folders, fetching bills, receipts, and bank statements from more than 800 financial providers and utilities.
Easy Integration With Other Platforms
Hubdoc also nails the game with its cross-platform accounting feature! You can easily integrate it to other related accounting software such as Xero, Quickbooks, and Bill to direct data publishing, audit-proofing, and bank reconciliation. If you're concerned about difficulties with understanding, Hubdoc support is there to guide you through the integration procedures.
User-Friendly
Hubdoc is a one-time, easy to install set-up, and user-friendly system. The set-up is similar to most apps you've been using for a while now. As previously mentioned, you can find the app on the App Store or Google Play and then create an account in it to get officially started. When using the software, you only need to learn about scanning documents because Hubdoc does the data entry and organization for you. If you need more clarification, the support team can provide tutorials to help you navigate through the program.
Stores Historical Data
Having an organized copy of previous data is crucial in creating financial reports. Hubdoc can pull historical bills, statements, and other necessary information for your financial reports moving forward. Once you have installed the software and registered an account for the organization, you can find a year's worth of historical documents available.
Ensures Security of Data
Data security is one of the most critical aspects of an accounting system. Hubdoc considers it a central feature, using strong and trusted safety technologies to protect personal data. Note that users are only allowed to view bank statements, accounts, bills, and more—you can't make any changes no matter the level of access you have. The following are some of Hubdoc's security features:
Transport Layer Security to encode confidential information
Third parties, like TRUSTe and McAfee monitor, verify and keep your data safe
Two-factor authentication during account login
Solid and high-quality passcard system
CCTV surveillance system
On-site security services
Final Thoughts
Without a doubt, Hubdoc makes accounting and bookkeeping easy. All the data you need are organized, secured, and stored in one place, ready for you to access with a single login. You no longer have to worry about lost paperwork, fetching documents from various sources, or managing a ton of records, because Hubdoc does them for you.
Unloop's bookkeeping services for small business owners include efficient bookkeeping and accounting software as part of the subscription plan! Once you become a subscriber, we will purchase Hubdoc, Quickbooks, and A2X to ensure the proper completion of your books.
Suppose you type "accounting services near me" and find Unloop, or need more information about small business accounting services. In that case, don't hesitate to give us a call! We accommodate clients from all over the US and Canada, and we are also remote! Additionally, you can try our services for free within a month to know more about what we can offer your business.